Are you looking for a tree removal service near you? With thousands of tree removal specialists in the industry, it can be daunting to choose the best fit for your project. Your search doesn't have to be difficult if you know what you want and do your homework.
To find the best tree removal company near you, you must be ready to research thoroughly. There are so many experienced professionals, but there are duds too. So, you should be vigilant during your search and compare several estimates before selecting a particular service.
This article will provide you with tips for finding the best tree service near you. It is important to note that the tree removal cost varies depending on its size, accessibility, and location.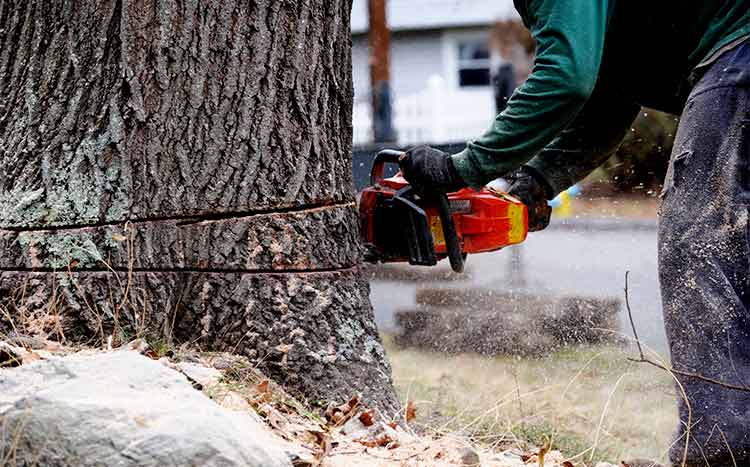 Homeowners pay an average of $871 to remove a tree, with a range of $500 to $1,243. On the low end, expect to pay $225, while the high end can be up to $4,500. The actual cost depends on the tree's height, access to heavy machinery, and the tree's diameter.
Removing a small tree of under 15 ft. costs about $225 to $500, while a medium tree of 15 ft. to 25 ft. costs about $500 to $900. A large tree of about 30 ft. to 60 ft. will cost between $900 and $2,500 to remove. Trees of up to 100 ft. or more are quite costly to remove because they are super large and tough. Removing an extra-large tree costs between $2,500 and $4,500.
It is essential to know your tree's size to avoid being duped by unprofessional tree removal services. The tree service you are looking to hire will measure your tree and give you a quote. To know the correct price range for the services, ensure you get at least three quotes from different companies.
This table gives you a summary of tree removal costs by size.
| Tree height | Low | High |
| --- | --- | --- |
| under 15 ft. | $225 | $500 |
| Up to 25 ft. | $500 | $900 |
| 30-60 ft. | $900 | $2,500 |
| up to 100 ft. | $2,500 | $4,500 |
Choosing a good tree removal services near me
The process of choosing a good tree removal service may seem tedious, but it is essential. The better your research is, the more chances you will find a trustworthy and reliable tree removal service. The following tips will guide you during your search for quality tree services near you.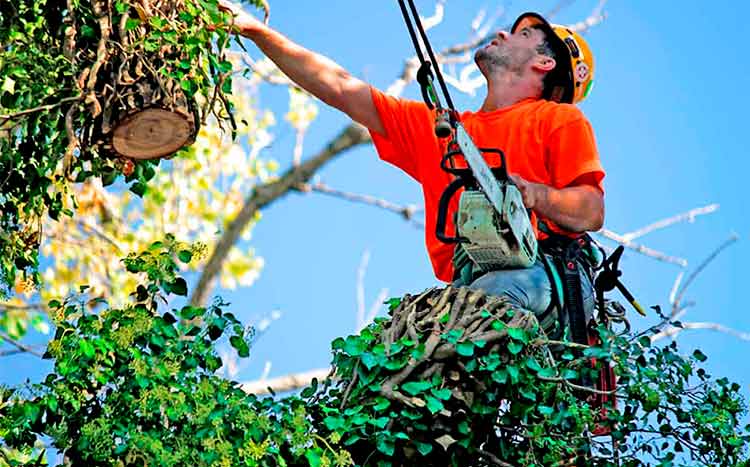 There is a huge difference between a certified arborist and an arborist, and you should know the difference before choosing a particular professional. A certified arborist has gone through proper training and understands the ISA and OSHA standards. The professional also has the knowledge and experience to remove trees safely. So, you should determine whether the professional you are about to hire is certified.
Ensure the professional you want to hire has the right equipment for the job. You will be at peace, knowing that your project is in good hands. Do not allow a tree expert to put on spikes when trimming the trees because this can harm the trees. Check whether the expert has the right tools for the job and if not, look for another specialist.
3. Public liability insurance
Insurance is one of the most important things you should check before choosing a tree specialist. A certified arborist will have proper insurance because they will not want to risk losing their job. More so, with proper insurance, your property will be covered in case of damages, and the professional will be insured in case of accidents.
Any renowned arborist will have referrals that can attest to the competence of their work. The expert should provide you with recommendations even before you ask. Without reliable recommendations, you should take a step back because you may not know whether the professional is genuine or not. You do not want to hire a professional that cannot be truthful to you from the start.
Questions to ask when hiring a tree removal service
There are several truth-revealing questions you need to ask potential tree services before you hire them. These questions will help you determine whether you are making the right decision or not.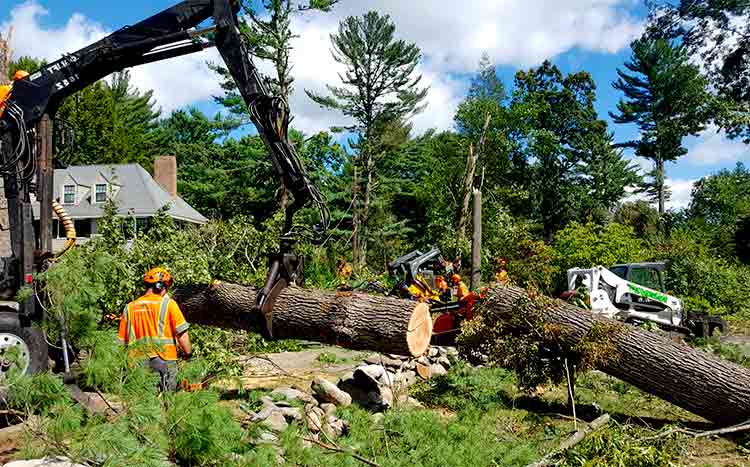 a. Do you have Insurance and a License?
Before you hire a contractor, you should determine whether they are licensed and insured. Ask all prospective hires, whether they are licensed and insured before you move to the next step. The experts should produce copies of their insurance and license, and you should determine whether they are legit and up-to-date. A tree professional with the right certification shows that they are genuine and operating within the federal regulations.
b. How many years have you been in the business?
The next question you need to ask the tree professionals is how long they have been in business. A company that has been operating for more than 4 years shows that they know their way around the work. Besides, ask the experts whether they are experienced in your issue to determine whether they are the right fit.
c. Do you provide a detailed estimate?
A professional tree service company will gauge your work and give you a detailed estimate even before you make a decision. The estimates give you a breakdown of the tree removal costs, so you will know what to expect. More so, estimates help you compare several companies, so you will have an idea of the price range.
d. What tools will you use?
Ask the company what type of tools they will use for the job, whether it is tree removal or trimming. Reliable tree services will have proper, well-serviced equipment. Ask the experts about the safety of the equipment and whether the employees will have protective gear. A company that takes care of its workers shows that they take safety seriously and reduce the risk of accidents and damages.
e. How long will the job take?
Tree work varies depending on the tree's size and the complexity of the job. A large tree will take longer to remove than a small tree. Similarly, an easily accessible tree will be easier and faster to remove than a tree located in the backyard. By asking how long the project will take, you can gauge how serious the tree service is. Always select the company that gives a reasonable timeline.
Hiring tree removal services in my area
Hiring a tree service is not as easy as it sounds. You have to research first and compare several companies before you choose a particular one. Below are tips to guide you during your hiring process.
Take the time to research extensively before you hire a particular tree specialist. There are so many things you need to determine first. These include certifications, insurance, license, referrals, and experience, among others.
You should also take the time to know whether the professional you are interested in is reputable by reading online reviews and checking their ratings on review websites. If you can contact the expert's past clients, you will learn so much more and know what to expect.
Even if you get negative reviews, do not be too quick to judge but rather find out what led to the bad experience. Also, do not trust too many positive reviews because no one is perfect, and too much positivity may be suspicious.
Once you find out everything necessary about the professional and are satisfied, the next step is to get an estimate. The tree specialist should give you an estimate before you make your choice. With the estimate, you will have an idea of what to expect, and you will be able to compare different professionals. Avoid any company that does not provide you with a clear and detailed estimate because you may have issues later.
The final step is to choose and hire a tree professional. If you feel satisfied with a particular professional, you can hire them and ensure they start the job as agreed. Ensure the price is reasonable and within your budget but not too low or too high.
Use a FREE service & Save Up To 43%
The fastest and easiest way to get 3 Estimates from the most affordable tree services near you would be by using this FREE service.
GoTreeQuotes quickly matches you with the 3 tree surgeons voted #1 by previous users in your area.
Scroll up to the top of the page and enter your ZIP Code in the blue form at the top of the page.
Give us a few details about your tree trimming or removal job, plus some contact information.
Your tree details are forwarded on to the closest three tree services, all voted best priced who will also price your tree job.