Step 1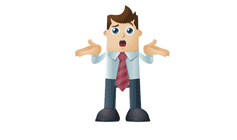 Answer a few questions
about your tree job.
Step 2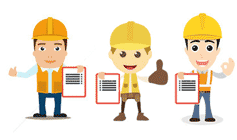 Within seconds, get matched
with top-rated local pros.
Step 3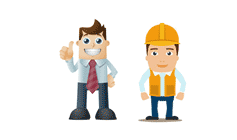 Compare quotes and choose the
best pro for the job.




Tree Limb Removal Cost Guide
Tree limb removal falls under tree trimming and the cost will depend on the size of the tree and the number of branches being removed.
The average cost of a single tree limb removal is $120. The prices range from $75 right up to $250. Removing very large limbs from huge trees can cost more.
Most people get a few limbs off their tree removed at a time, so if you want to price for tree trimming, you should read our cost guide.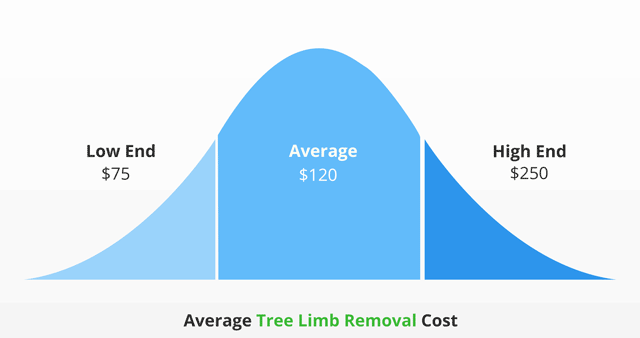 tree-limb-removal-cost-by-size
Tree limb removal cost by size
Small tree limb removal cost
Small limbs on a tree range from 2" – 4" in diameter. This would cost $35 – $195 to remove. The range in cost would depend largely on where the branch is located in the tree.
If it is near the ground and the job is as simple as walking up and cutting the limb, you are in for a very cheap job. If the tree limb is at the top of a tree growing over your roof or into some power lines, then the job just got more complicated…. and expensive!
Medium tree limb removal cost
A Medium-sized tree limb for removal would encompass tree branches from 4" – 6" in diameter. You could expect to pay between $190 and $370 to have a tree limb of this size removed.
This is a fair-sized branch and would take the skill of a qualified arborist to remove.
Again, the price would depend on where the limb is located in the tree and any obstacles below the limb being removed.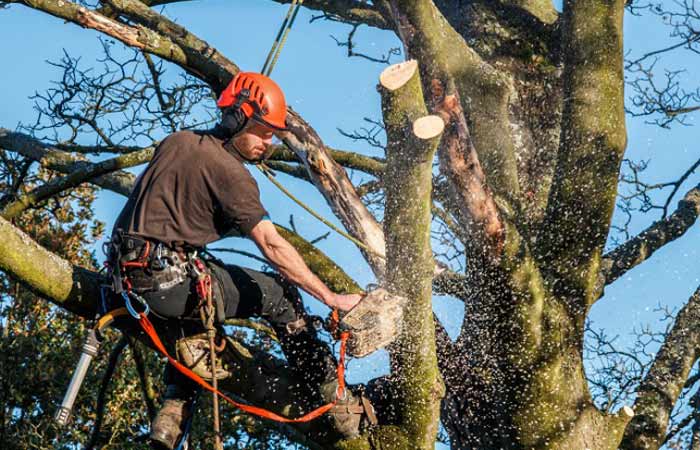 Large tree limb removal cost
Some large tree limbs can get expensive too remove. You can expect to pay between $450 and $1,200. I would consider anything larger than 6" in diameter to be a large tree limb.
The price varies greatly depending on the complexity of the job and the time taken to complete it.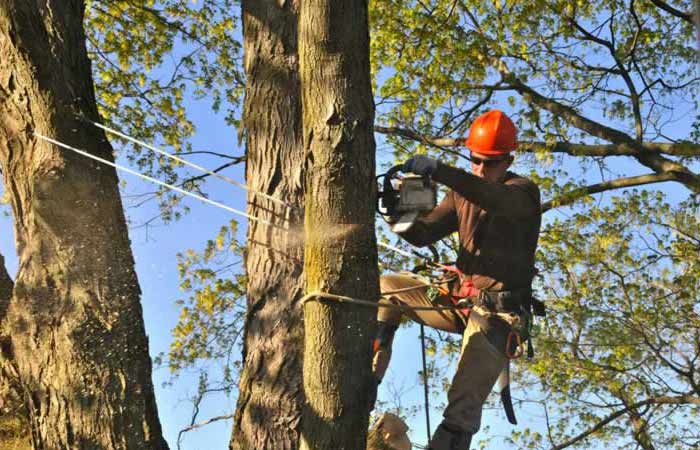 cost-of-broken-tree-limb-removal
Average tree limb removal cost
Limb size
Low
High
Small 2" - 4"
$35
$195
Medium 4" - 6"
$190
$370
Large 6" - 12 "
$450
$1,200

Average Limb removal cost

$253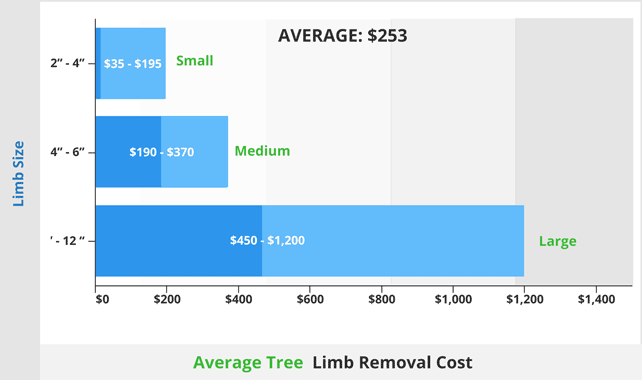 Cost of broken tree limb removal
The cost to remove broken tree limbs that have come down in a storm will cost about the same to remove as an attached limb. The average price will be $253.
The arborist will still need to scale the tree and tidy up the wound where the limb has snapped off.
For pricing, you can refer to the above examples for small, medium, and large limb removal costs.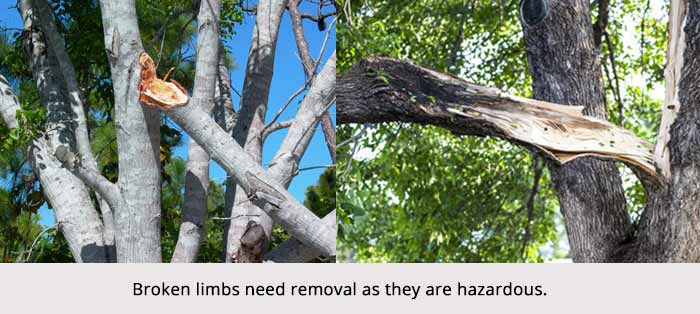 tree-limb-removal-services-near-me
Tree limb removal services near me
The fastest and easiest way to get 3 Estimates from the most affordable tree services near you would be by using this FREE service.
GoTreeQuotes helps to match you with the three local tree surgeons who have been voted previous users in your area as being quality acts.
Scroll up to the top of the page and enter your Zip code.

Fill out the quick 23-second form with details about your tree job.

Your tree details are forwarded on to the closest three tree services who will bid on your job at a great price.
Your best bet to finding a low-cost and reliable tree limb service near you is using this FREE service.
tree-Limbs-over-your-house-cost-more
Tree Limbs over your house cost more
Any tree limb that has an obstacle directly under it like a house, power lines or anything else that will slow the job down, is going to cost more money to remove.
An arborist will look at your limb removal job and work out how long it is going to take, then work out a price. The more time-consuming the job, the more it is going to cost.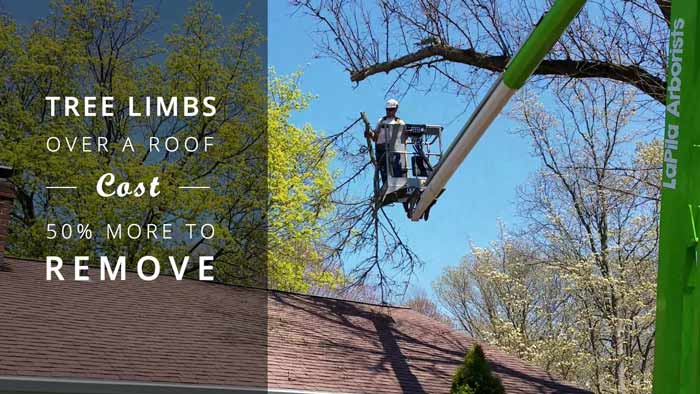 what-to-ask-when-getting-estimates
What to ask when getting estimates
If you opt to search for and hire tree services from a Google search, below are a few good questions to ask to make sure they are qualified and insured, plus so you get the best deal possible.
Qualifications and insurance papers
There are lots of wannabe arborists out there who open tree care businesses but are not qualified to do the work.
This is a huge concern especially when you enter into a business transaction with them and invite them onto your property to work. If they have an accident, you leave yourself wide open to litigation.
There are two things you need to ask every tree service company for when they are quoting your trimming job:
1. Qualifications
2. Public liability insurance
Qualifications – Your tree care professional needs to have completed an Arboriculture course and be a certified arborist. This qualifies him to work on trees at a professional level.
Public liability insurance – This covers you in case of an accident. The industry standard is 10 million in public liability insurance. If they make a mistake and put the tree limb through the roof of your house, you are covered.
Note: The company needs to give you a copy of their qualifications and insurance papers, not just flash them at you.
separate-price-to-remove-the-waste-yourself
Separate price to remove the waste yourself
Depending on the size of the tree limb being removed and the location of the tree on your property, it can be a lot cheaper asking the tree company to leave the branch on-site and you remove it yourself.
In some cases, you can save 50% off the price of removal.
If the tree in question is at the back of your property with poor rear access (it is only accessible through a side gate) and the tree limb needs to be lugged piece by piece to the front of your property for removal, then they will charge you less to just leave the waste on-site.
Time is money, so if you can save them time in any way, this will save you money.
You can then remove the branch over time in your green waste bin.
fallen-tree-limb-removal-responsibility
Fallen tree limb removal responsibility
If a tree limb has fallen off your tree and landed in your neighbour's yard, it is your responsibility to have it removed. The same is true if your neighbour's tree has shed a limb.
If it has done some damage to the fence or neighbours house, your home insurance will cover this.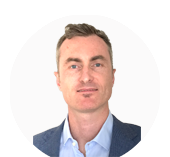 Author: Ben McInerney – Ben is a qualified arborist with 15 plus years of industry experience in Arboriculture. He ran a successful tree service before turning to writing and publishing. Ben is dedicated to providing users with the most accurate up-to-date information on everything trees.




Cost calculator for tree services