There are many reasons to remove a tree, such as structural instability, dead trees, diseased or roots damaging the foundations of a home. 
Tree removal typically costs $625 to $2,150 for a 40-foot tree. The median cost of tree removal is $1,265.
There are several factors that affect the cost of tree removal, such as tree size, type, accessibility, and condition. We discuss these factors and the cost of additional services.
The average cost of professional tree removal is $1,265. The final cost will depend on several factors, such as tree size and location on the property. Time of year is also a factor.
National average: $1,265
Typical range: $625 to $2,150 or $15 to $53 per foot.
You may be tempted with cheaper quotes from sub-par tree services or general garden services, but be sure to hire a certified arborist with public liability insurance. Tree removal is quite hazardous, so using a licensed arborist will protect you and your landscaped home against any unforeseen complications.
Factors that affect tree removal cost
Below are the top 5 factors that contribute to the cost of tree removal. There are other factors not mentioned such as time of year, state you live and the tree service used.
The bigger the tree the higher the cost. There are several dimensions to take into account when discussing tree size, they include:
Tree height
Canopy spread
Trunk diameter
Number of branches
The taller the tree, the more specialized equipment and skills that are required to do the job. The tree height is a major factor. The spread of the canopy and the number of branches that make up the canopy are also a factor. Think of the difference between the spread of an oak tree vs a time tree.
Trunk diameter is a large factor as it's weight and work required to remove it increases exponentially with it's size which also increases cost.
The species of tree plays a major role in the cost of removal. Each tree has unique characteristics such as height, canopy spread and trunk diameter.
All these factors and their importance were covered above in tree size, but it's worth mentioning tree type as the density of timber also changes, which adds to the time and cost of removal.
Softwood or palm trees are easier and faster to work on than hardwood trees.
| Tree Type | Characteristics | Average cost |
| --- | --- | --- |
| Sycamore | 85' tall with multiple trunks each 15" and weighing 4.2 tons in total | $1,800 |
| Eucalyptus | 80' tall with a single leader trunk with multiple large branches weighing 3.8 tons | $2,050 |
| Oak | 60' tall with 30" trunk and long thick branches weighing on average 4.6 tons | $2,300 |
| Pine | 70' tall with 20" single trunk and very small branches weighing 2 tons | $1,800 |
| Palm | 80' tall with single 12" trunk and fronds at the top of the tree weighing 2 tons | $720 |
| Date palm | 60' tall with single 50" trunk and large fronds at the tip weighing 4 tons | $1,490 |
| Maple | 45' tall with single main leader trunk and small bushy branches weighing 1.5 tons | $520 |
| Spruce | 65' tall single 11" trunk with small branches weighing 2.5 tons | $950 |
| Conifer | 50' tall with single 6" trunk and small bushy branches weighing 1 ton | $550 |
| Cottonwood | 40' tall with short base trunk 50" diameter and several leaders weighing 3.2 tons | $1,150 |
Arborists use various techniques to remove trees, with the go-to technique being climbing the tree using the Single Rope Technique (SRT). This is the cheapest method of removal because it doesn't involve large machines like cranes and bucket lifts.
If the tree is diseased or a safety hazard, climbing the tree is ruled out, and other more expensive techniques are employed.
As a general rule of thumb, you can expect to pay at least double for emergency tree removal, but it will all depend on the circumstances.
If a tree service has to come out after hours and face extra danger due to power lines or a hazardous tree, you can expect to pay a lot more for the job. You can save on emergency tree removal by letting emergency services first render the scene safe, then call a tree service to clean up the debris.
The cost of tree removal doesn't only depend on the tree itself; there are other considerations that also contribute to the overall expense.
Permits: Most trees will need a tree removal permit from the city to be removed. The cost is generally quite low, between $45 and $150 for a single tree. The process will take 2 – 4 weeks.
Access: In my experience, this is the second biggest factor after tree size and type. Poor access can double the time it takes to cut down and remove a tree, which can double the removal price. The larger the tree, the more poor access is emancipated and adds to the price.
Obstacles: Similar to access, but a distinct price factor is room to work around the tree. Power lines, clotheslines, fences, sheds and other breakables are removal times and costs factors. Removing obstacles where possible will reduce removal times and costs.
Time of year: Removing trees in winter is generally cheaper than in the warmer months. This is because tree work is seasonal, and things are always cheaper in the off-season.
There are several additional services arborists can perform with or in addition to tree removal. Some are included in the price of tree removal, but you will need to negotiate with the tree service you engage.
Stump Grinding and Removal
Most tree services include stump removal in the quoted price of tree removal, but others quote separately. Make sure this is marked on your quotation. If you have an old stump that needs to be removed separately, the prices vary based on the stump diameter.
You can expect to pay $150 – $300 for stumps under 15 inches. Stumps 15 – 30 inches will cost $301 to $500. Larger stumps can range in price right up to $1,000.
Tree debris is included in the price of tree removal. I would confirm this before the tree service begins. If you have carried out tree work yourself and have debris that needs removal, consult the price of mulching below. 
If you are looking to save money on tree removal, you can negotiate with the tree service to remove the debris yourself. This will save you about 30% off the cost.
Tree trimming costs about $275 to $825, depending on the size of the tree and the number of branches being removed. Regular tree trimming is essential to a tree's overall health, vigor and over all curb appeal. The cadence of trimming varies by species, age and growth rate of your tree.
Transplanting trees is common place in large landscaping projects, and will cost $200 – $600 for small trees. Larger trees will require heavy equipment and can run into the thousands. This is not a service all tree services offer, you may need to consult a specialized landscaping company.
Tree mulching is a service that is included with tree removal. This does not include spreading the mulch back on your garden, although more tree service will dump the mulch back in your driveway free of charge.
If you have removed a tree yourself and require mulch services you can expect to pay a fee back on the tree size being mulched.
20-foot tree: $300 – $450
40-foot tree: $550 – $680
60-foot tree: $700 – $890
Get Matched with a Tree Removal Expert in Your State
3 Trips to Save on Tree Removal
1. Dispose of waste yourself
Cutting down a tree is the easy part; removing it is what takes time for the tree service. Get a separate price for them to cut, leave the debris, and haul it to the tip yourself. 
In the case of palm trees, disposing of the waste yourself will save you 30 – 50% off the removal price. For regular trees, you can save 20 – 25% off.
Why not sell your tree's timber as firewood? This is only really worth it if you have a large tree, and doubly worth it if the tree is in your backyard and hard to get to.
Not only will you save money for removal as the tree removal companies will not have to spend time manually dragging and removing all the timber, but you can have an auction on eBay for the firewood. No need for log splitting; people will pay you for the timber, come pick it up for free, and split it themselves.
If you have a tree that is hard to get to, like in a backyard with no rear access, I suggest removing a section of fence to give access through your neighbor's place. If you have a boat or an old car in the way, remove it before you get a quote. This will give the arborist services better access for faster removal and a cheaper price.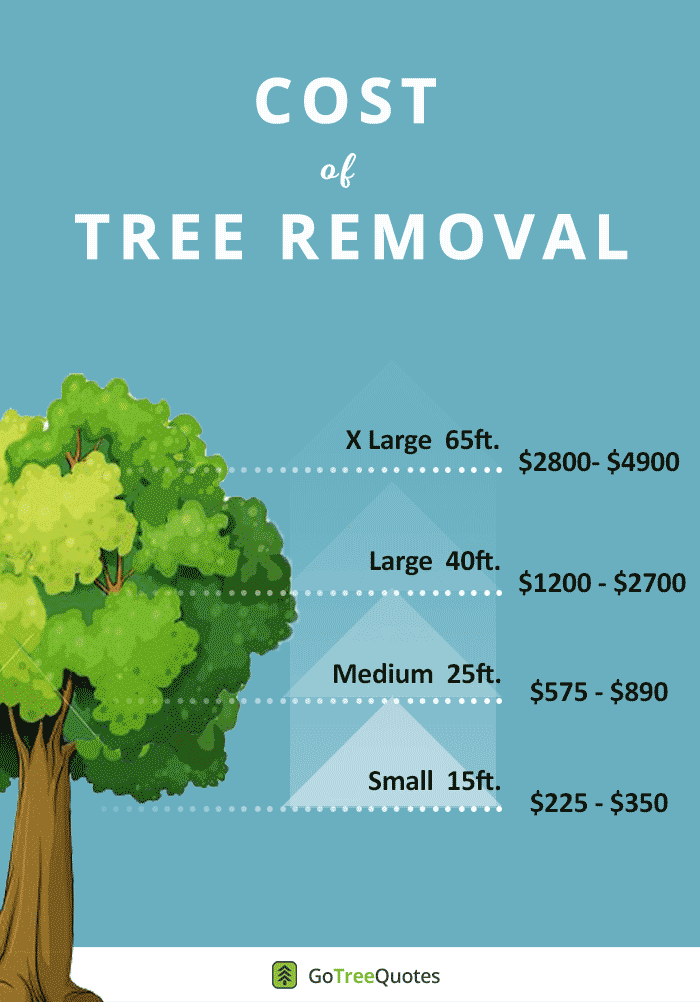 Featured and Trusted by:




Cost calculator for tree services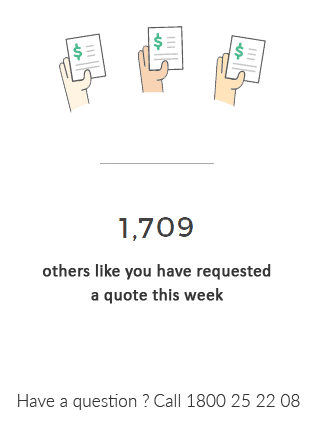 Tree Removal Costs by State
What it's going to cost you to remove a tree will vary from state to state due to a few factors. Population density, supply, and demand as well as the cost of living will all come into play.
In general, it would come down to the running costs of a tree removal service in your state or city. Obviously, the average cost to remove a tree in San Francisco would be more than in Fresno even though they are both in California.
| State | Tree removal cost | % difference |
| --- | --- | --- |
| United States Avg. | $871 | |
| Alabama | $688 | -21% |
| Alaska | $1,028 | 18% |
| Arizona | $819 | -6% |
| Arkansas | $645 | -26% |
| California | $1,036 | 19% |
| Colorado | $993 | 14% |
| Connecticut | $1,054 | 21% |
| Delaware | $897 | 3% |
| District of Columbia | $1,176 | 35% |
| Florida | $766 | -12% |
| Georgia | $810 | -7% |
| Hawaii | $1,106 | 27% |
| Idaho | $766 | -12% |
| Illinois | $897 | 3% |
| Indiana | $766 | -12% |
| Iowa | $827 | -5% |
| Kansas | $801 | -8% |
| Kentucky | $697 | -20% |
| Louisiana | $662 | -24% |
| Maine | $766 | -12% |
| Maryland | $1,150 | 32% |
| Massachusetts | $1,097 | 26% |
| Michigan | $784 | -10% |
| Minnesota | $967 | 11% |
| Mississippi | $618 | -29% |
| Missouri | $749 | -14% |
| Montana | $766 | -12% |
| Nebraska | $819 | -6% |
| Nevada | $810 | -7% |
| New Hampshire | $1,036 | 19% |
| New Jersey | $1,124 | 29% |
| New Mexico | $653 | -25% |
| New York | $1,481 | 70% |
| North Carolina | $740 | -15% |
| North Dakota | $958 | 10% |
| Ohio | $775 | -11% |
| Oklahoma | $714 | -18% |
| Oregon | $871 | 0% |
| Pennsylvania | $836 | -4% |
| Rhode Island | $888 | 2% |
| South Carolina | $723 | -17% |
| South Dakota | $775 | -11% |
| Tennessee | $723 | -17% |
| Texas | $836 | -4% |
| Utah | $984 | 13% |
| Vermont | $836 | -4% |
| Virginia | $1,002 | 15% |
| Washington | $1,019 | 17% |
| West Virginia | $610 | -30% |
| Wisconsin | $836 | -4% |
| Wyoming | $845 | -3% |