Step 1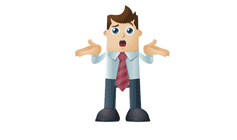 Answer Questions
about your tree job
Step 2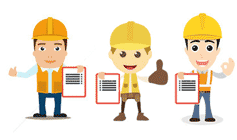 4 Local Pro's Compete
With Bids
Step 3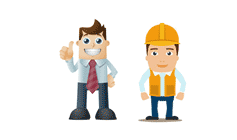 You Choose
The Best Ones




Complete Tree Removal Cost Guide 2021
Last updated: 12 May 2021
How much does tree removal cost?
The cost of tree removal varies depending on tree size, and how difficult or time-consuming it is to take down.
The average tree removal cost is $1,125 with the real range being $325 for small trees, right up to $7,900 for very large ones.
Be sure to get at least 3 estimates from local qualified arborists to secure a better deal on tree removal.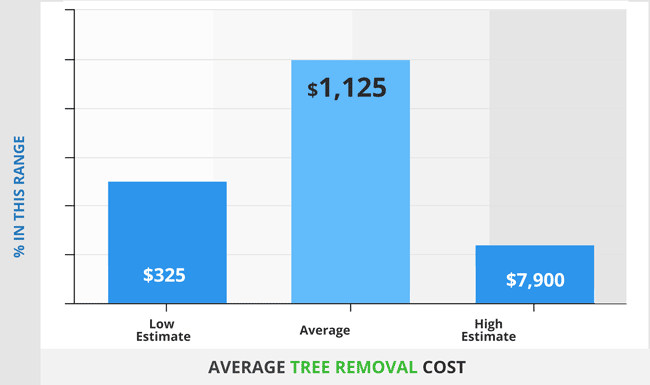 Cost to Cut Down a Tree
What's the difference? The cost to remove a tree is a little different from tree removal prices. The difference is the price would not include the removal of the tree and debris from the property, which is the most expensive and time-consuming part. The cost to cut down a tree starts at $345 and ranges right up to $1,500.
Cutting down a tree is not always as easy as just cutting it from the base, it would also include climbing a more difficult tree or using heavy equipment like a crane.
| Characteristics | Average cost |
| --- | --- |
| National Average | $1,125 |
| Min. Cost | $225 |
| Max. Cost | $8,900 |
| Real Average Range | $325 - $7,900 |
Tree Removal Cost by Tree Size
Cost to removal a

Small tree
The cost to remove a small tree ranges from $200 – $500. I would classify a small tree as being 5 – 15ft. in height and a trunk diameter no larger than 6 inches.
Examples of small trees include:
Crepe Myrtle
Flowering Dogwood
Franklin Tree
Lemon tree
Magnolia
Japanese Maple
Medium tree

removal price
A medium tree will cost you between $500 and $900 for complete removal. Some factors such as location in your yard and access may vary price slightly. A medium tree can be defined as a tree 15 – 25ft. in height.
Examples of medium trees include:
Cypress
Liquidamber
American Holly
Date Palm
Large tree

removal cost
Larger trees obviously cost more for removal due to the large amounts of foliage and timber that needs to be removed. You can expect to pay between $900 and $2500. A large tree is any tree that is 25 – 60 ft. in height.
Examples of small trees include:
Eucalyptus sp.
Radiata Pine
Cottonwood
Bald Cypress
American elm
X-Large tree

removal estimate
Extra-large trees are a little less common in suburbia and can be defined as any tree that is taller than 60ft. Some of them range right up to 120 ft. You can expect to pay $2500 – $4500 for complete including the stump.
Examples of small trees include:
Giant Sequoia
Mountain Ash
Spruce
Noble Fir tree
Sugar gum
White Pine
Tree Removal Cost Per Tree
The average cost to remove a tree is $871 which works out to be $29 per foot. This is based on the average tree size of 30 ft. We have broken this down further for you by tree size to get a look at averages.
| Size | Height | Average cost |
| --- | --- | --- |
| Small | Up to 15 ft. | $225 – $500 |
| Medium | 15 – 25 ft. | $500 – $900 |
| Large | 25 – 60 ft. | $900 – $2500 |
| Extra Large | 60 – 120 ft | $2500 – $4500 |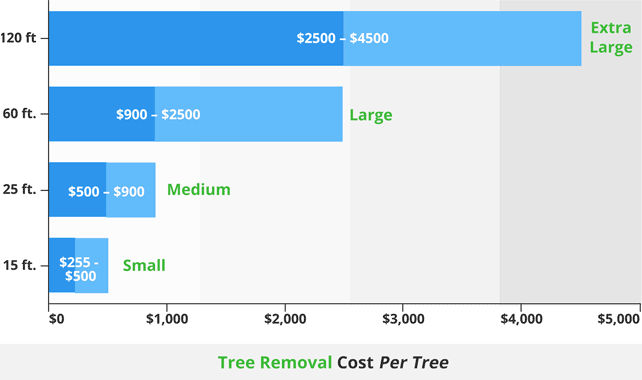 Average Tree Removal Cost by Species
Other than the height of a tree and the location/ access, the tree type or species plays a major role. Each tree has it's own characteristics which lend itself to price changes. Think of an Oak tree with huge long branches vs. a Palm tree which is essentially a trunk with a few leaves at the top.
Please see the table below for the average price of trees by type.
| Tree Type | Characteristics | Average cost |
| --- | --- | --- |
| Sycamore | 85' tall with multiple trunks each 15" and weighing 4.2 tons in total | $1,800 |
| Eucalyptus | 80' tall with a single leader trunk with multiple large branches weighing 3.8 tons | $2,050 |
| Oak | 60' tall with 30" trunk and long thick branches weighing on average 4.6 tons | $2,300 |
| Pine | 70' tall with 20" single trunk and very small branches weighing 2 tons | $1,800 |
| Palm | 80' tall with single 12" trunk and fronds at the top of the tree weighing 2 tons | $720 |
| Date palm | 60' tall with single 50" trunk and large fronds at the tip weighing 4 tons | $1,490 |
| Maple | 45' tall with single main leader trunk and small bushy branches weighing 1.5 tons | $520 |
| Spruce | 65' tall single 11" trunk with small branches weighing 2.5 tons | $950 |
| Conifer | 50' tall with single 6" trunk and small bushy branches weighing 1 ton | $550 |
| Cottonwood | 40' tall with short base trunk 50" diameter and several leaders weighing 3.2 tons | $1,150 |
Sycamore tree removal cost
The average cost to remove a Sycamore tree is $1,800. This price is based on the average mature size of a Sycamore tree is 85 ft. tall with multiple trunks each 15" and weighing 4.2 tons in total. You can save money on sycamore tree removal by granting better access to tree services to the tree.
Eucalyptus tree removal cost
Based on the average Eucalyptus tree being 80 feet tall with a single leader trunk and multiple large branches, the average cost to cut it down is $2,050. Eucalyptus trees are some of the densest timber on the planet weighing up to 1 ton per cubic meter of timber.
Oaktree removal cost
The average cost to cut down an oak tree 60' tall with a 30" trunk is $2,300. Oak trees are known for their long thick branches that can grow out over homes and power lines. Because of these Oak trees are particularly cumbersome to work with and do take time to remove. They also yield a large amount of timber and have an average weight in excess of 3 tons.
Pine tree removal cost
A Pine tree will cost you $1,600 on average to remove. There are many types of time trees, but on average they grow to 70 ft. tall with a 20" single trunk and very small branches. They are quite easy to work on in confined spaces as their branches have a small spread.
Palm tree removal cost
Palm trees will grow to 70 ft. tall with a single 12" trunk as seen with the iconic palms lining the streets in Beverly Hills. $720 is the average to remove a palm tree if there is good access for an Elevated work platform. The weight per tree can top 2 tons due to a large amount of water stored by palm trees in their trunk.
Date palm removal cost
Canary Island Date Palms cost $1,490 on average to remove which is on average double the price of a regular palm. The extra cost is due to the trunk being three times the diameter at 50 inches. These trees take more time and generally a crane is used to assist in their removal.
Maple tree removal cost
Maple trees cost on average $520 to remove. They are quite light timber and don't grow all that tall topping out at 45 ft. With a single main leader trunk and very small light branches, these trees are a breeze to remove and the price of removal reflects that.
Spruce tree removal cost
Spruce grows to 65 ft. tall with a single 11" trunk with small branches. To cut a Spruce tree down customers are paying $950 on average. They are very similar to your average pine tree in that they are quite easy to deal with in confined spaces.
Conifer removal cost
Conifers are quite easy to remove and will cost $420 on average to do so. Growing to 45 ft. tall with a single 6 inches in diameter trunk and small bushy branches, conifers are a joy to work on. As conifers generally come in rows, the price per tree with be reduced when removing a bulk number of trees.
Cottonwood removal cost
The average 40 ft. tall Cottonwood tree will cost $1,150 to remove. Traditionally with a short base trunk 50 inches diameter, then several second-order trunks growing off that, these trees can be time-consuming to remove. If you can give the tree service good access to the tree for heavy machinery then you can save money.
Tree Removal Cost Case Studies
Below, I have taken photographs of different tree species of various sizes and discussed the price you could expect to pay to remove this type of tree. Hopefully, with an image of a tree that is similar to yours, you can get a rough idea of the price.
Average Cost of Tree Removal?
The average tree removal cost is $871 so far in 2019. This is a handy fact, but really has no bearing on the cost of your tree.
Trees come in all shapes and sizes, so only by studying a bit more information below will you get a more accurate indication of exactly how much you can expect to pay to remove your tree.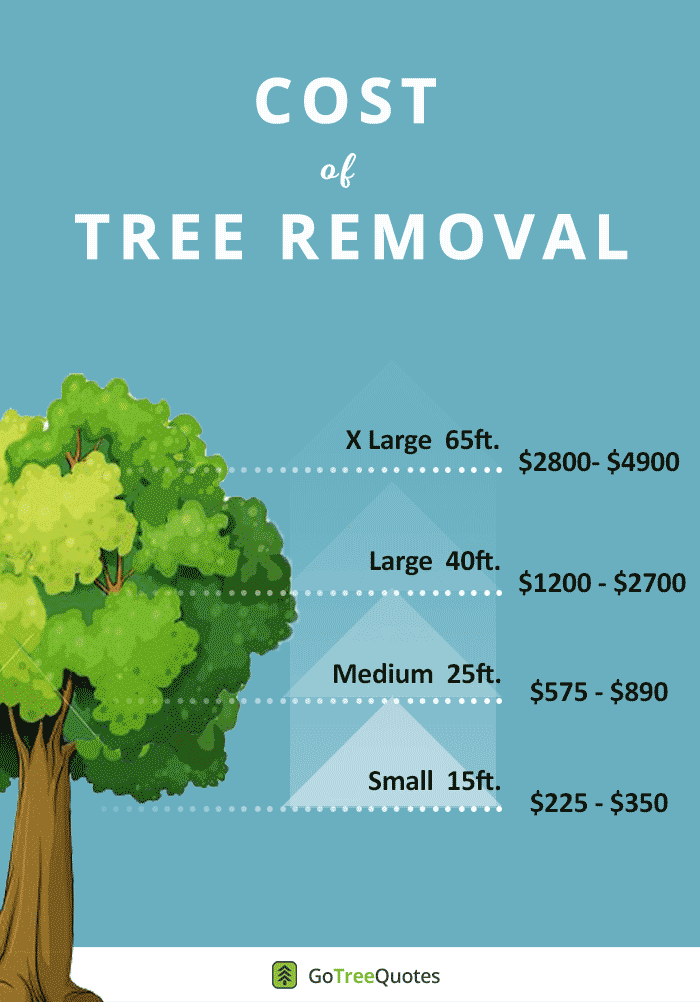 Is professional tree removal worth it?
If you are pretty handy with power equipment in general, you should be able to handle a chainsaw ok. If you want to remove a tree yourself, I suggest you do it on trees that are smaller than 15 ft high.
Anything that requires a ladder to access I suggest you use a professional tree removal service. Pro arborists have the necessary climbing gear and expertise to make short work of tree removal.
What is the best time of year for tree removal?
Winter is by far the best time of year to remove a tree or have it trimmed.
When trimming trees, it is important to have it done in winter as your tree will be less vulnerable to pests and diseases such as borer and oak wilt as they are a lot less active in winter.
For tree removal, you stand to save a lot of money on the cost of tree removal in winter. You will save 20% on average.
Why is tree removal in winter cheaper? Is this because tree companies have very little work in winter and typically bid a lot lower prices to win that work.
How Tree Removal Cost Calculated?
There are a lot of variables to take into consideration when calculating the cost to remove a tree. The way an arborist would normally calculate the cost of removing a tree is to come out for a site visit to visually see the tree, view the access to the tree, and any obstacles around the tree. They can then determine how much time it will take to safely dismantle the tree and take everything away.
As tree removal services do not charge an hourly rate, but charge by the job, there is no magic formula they use for calculating the cost to cut down a tree.
Every local tree cutting service is different, so they use their own formula specific to their business.
All businesses have different overheads, staff members, and a wide variety of equipment used to remove trees. All these cost factors specific to their individual business need to be taken into consideration when pricing your tree removal job, so they can guarantee their time is not wasted and they can make a profit.
Can you negotiate tree removal prices?
Just like buying a used car or a house, tree service estimates can be negotiated to get a better deal. Before I go into a couple of good techniques, it is worth mentioning that quality and safety should also be at the top of your radar and not just the cheapest price you can get.
Bait and switch – After you have 3 or 4 estimates, why not ring around and get them bidding against each other. Normally there is always the one you want, but they are too expensive, so ring them back up and let them know that you want to go with them, but you have a cheaper estimate from X tree service and see if they can match it.
Drop sale – A good way of getting a better price is reducing their workload. If you agree for them to leave the firewood (then you place a sign on the street "free firewood") or even if you agree to remove a panel of fencing for better access and make the tree more accessible, tree services are always willing to negotiate for less work.
Keep the stump – Stump removal is always quite expensive. By keeping the stump and using it as a garden feature, or asking them to throw it in with the price and not charging separately is always a great haggling point.
There are many ways you can sweeten the deal for the tree service which will lead to a cheaper price. Either get creative or just play hard ball.




Cost calculator for tree removal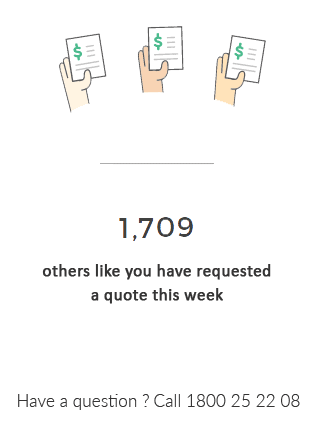 Is stump removal included?
The above cost calculator we have put together does not take into account the separate cost of stump removal but includes the cost of stump removal in the estimate when removing a tree.
We have been working on a separate tool to calculate just the cost of stump removal, but we have found that including tree and stump removal as a package seems to work best and is one of the more popular search terms by users.
Tree Removal Cost Factors
Below, we're going to go into a little bit more detail discussing some more factors that will contribute to the cost to remove a tree. Again in the calculator, we have left these particular variables out as selection criteria yet as an average they have been factored into the cost.
This is where a small bit of variance does come in which can either work in your favor or against you.
Here they are in no particular order:
Time of year
These factors are in no particular order but it did make sense to stick this one at the top. Time of year is a very important factor when it comes to the cost of tree removal.

Getting your tree removed in spring and summer will have you paying a premium price for the service. It's much like trying to book a hotel by the beach during the summer holidays. There is a lot more demand during this period and you'll simply pay more.
During the winter months, most tree companies go into hibernation (pun intended) as they do not have enough work to sustain them. Some can thrive in winter if they have a side business such as selling firewood, but for most tree services they continue doing whatever tree work they can find. This is great news as you are on the right side of the supply and demand chain with tree services falling over each other trying to win your business. At the end of the day, you will pay less.
Tree size
Tree size is an obvious one, so I won't go into too much detail, but the bigger the tree the more you will pay. Now there is a difference between how tall a tree is and how "big" it is. When I say big, you need to factor in the number of branches and spread of the tree.
Number of branches
Some trees have a single straight trunk with lots of small branches which are really easy to work on. Others will have like an oak tree will have large branches it extends out a long way. These are a lot more time-consuming to work on and will cost you a lot more money to remove.
Trunk diameter
The diameter of the tree trunk is generally directly tied to the size of the tree. The taller the tree, the larger the diameter of the trunk needed to support that tree. That being said you do get some trees that are tall with a very slender trunk. These are a lot easier to handle a lot less time-consuming and less manual labor required. A good general rule of thumb to consider when calculating the cost of tree removal is, the more volume of timber the more it will cost you to have the tree removed.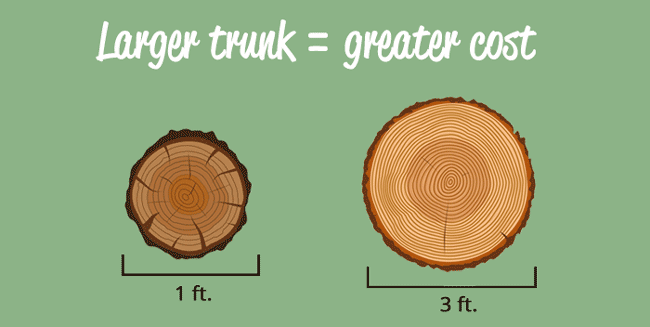 Location on property
This is a really big factor and has been added as selection criteria in the tree removal cost calculator. Imagine you had two identical trees one of them was in your front yard which was easily assessable by heavy machinery and the other tree of the exact size and shape is in your backyard with very poor rear access.
The tree in the front yard will most likely cost you half the price of a tree in your backyard. The reason being there is a lot more manual labor involved in transporting the tree from the backyard to the front without the assistance of heavy machinery. This takes time and time is money.
Pro tip: You can negate this extra cost by granting the best access possible to the tree in your backyard. If you don't have a driveway with good rear access, maybe your neighbor does? Putting them on your Christmas card list and asking them if they would mind you removing a section of fence so the tree services can access your backyard through their driveway will save you hundreds of dollars.
Obstacles
This is a very big factor depending on the obstacle the tree services face. If a tree is overhanging your house obviously the house cannot be moved to make the removal of the tree easier. The arborist will just have to work around it.
But other things like pot plants, fences, and even power lines to your house can all be removed or repositioned to make the removal or pruning job a lot easier for the tree service company.
Pro tip: The easier it is for the arborist to remove your tree, the less money it is going to cost you. Remove any obstacles around the tree before the tree comes down. It is important that you do this or indicate your intention to do this during the quoting process. The tree service needs to know exactly what they are working with when pricing your job.
The company quoting your job
This factor is probably one of the biggest ones people don't take into account. There are many types of tree companies of various sizes that approach their business model differently. If you get three quotes from the first companies that you find in an internet search, chances are you were going to be paying more for tree lopping.
It is not blind luck or coincidence that those companies were the first ones that you came across. These companies pay a lot of money to be in top positions.
Their large marketing budgets will net them a lot more leads and phone calls, but they will need to quote higher prices to recoup the large amounts of money they do spend on marketing. So don't be afraid to check page 2 of Google results or Yelp.
Tree Removal Cost Factors by Importance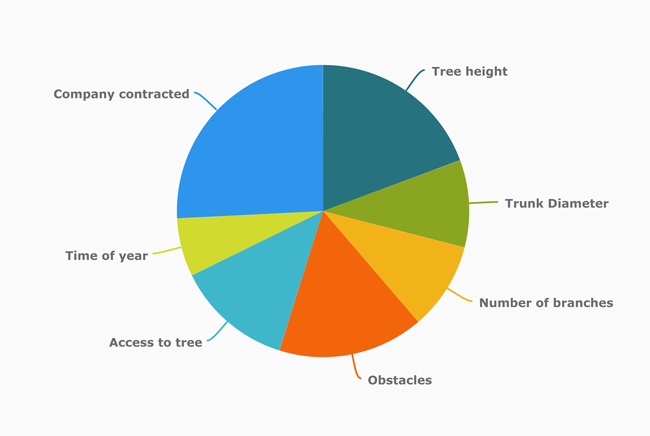 How to Save on Tree Removal
There are many things you can control in reducing the cost of removing a tree from your property.
In no particular order, they are listed below with an explanation.
Do the work in winter
This one we have touched on a little above. Because there is so little work and many companies trying to win the work, you will find in most cases they drop their prices 20 – 30% in the cooler months.
Grant better access to the tree
Giving the tree service better access is also a very big deal. If you are able to remove a section of fence to allow the tree service to enter via your neighbour's yard, or maybe you back onto a Laneway or park, you will save them time and yourself a lot of money.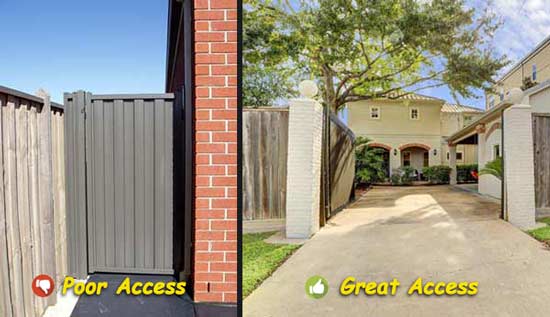 Remove obstacles
There are lots of obstacles that you might not even think of being a big deal but can add to the time taken to remove the tree which will inadvertently cost you more money.
Tree pruning and removal is pretty rough and tumble. If you have anything delicate near the tree being trimmed or removed such as pot plant, outdoor furniture, kids play equipment, etc. this will have the dead tree service company dancing around it all trying not to damage anything. Even a nicely manicured lawn or a beautiful garden bed under the tree can seriously slow things up.
If you make it clear during the quoting process that you will remove everything out of the way before they start the job, you'll find this simple trick can save you quite a bit of money.
Dispose of waste yourself
Depending on the size location, and type of tree being removed it is debatable whether this can save you money.
In the case of palm trees, on the other hand, disposing of the waste yourself is going to save you 30 – 50% off the price of removal.
Palm trees are not like regular trees, they are actually quite acidic and cannot be chipped in a mulching machine and re-sold by the tree removal services as garden cover. The whole tree needs to be dumped at a waste disposal facility as general waste and not green waste. This is actually quite expensive with most places charging in the hundreds of dollars per tonne. Because palm trees are full of water and quite heavy, the costs add up quickly.
If you were to dispose of the green waste yourself either in your garbage bin over time, or if your local council has clean-ups for free, you can place the palm logs on the sidewalk for free removal.
Fire sale on firewood
Why not sell your trees timber as firewood? This is only really worth it if you have a large tree, and doubly worth it if the tree is in your back yard and hard to get to. Rather than paying the tree service to remove the whole tree, just ask them to remove the branches. Also, ask the trunk to be cut into firewood size logs.
Not only will you save money for removal as the tree company will not have to spend time manually loading and removing all the timber, but you can have an auction on eBay for the firewood. People will pay you for the timber and come pick it up for free.
Tree Trimming and Cutting Cost
Tree trimming is calculated in a similar way to tree removal. All the above factors come into play when calculating pruning costs, but obviously, in general, the cost of tree trimming is a lot cheaper than full tree removal.
The average cost of trimming a tree is $438. The real range is between $120 and $1200.
Small trees less than 20 ft. high cost $250 to $525 when trimming up to 30% of the tree's foliage.
Medium trees start at $390 and go right up to $720 depending on the tree species, number of branches and the obstacles around trees such as power lines.
Large trees will cost you anywhere from $500 to $1,200 to trim no more than 30% of the branches.
Different tree trimming techniques cost different amounts also. A crown lift is removing all bottom branches of the tree effectively lifting the canopy off the ground is the cheapest trim by far.
Other techniques such as canopy reduction will need the tree services to trim a little off each and every branch on the tree. They will also need to do the trimming on the ends of the branches which are the hardens to get to.
The cost of palm tree removal does vary quite a bit from the regular tree removal. In essence, they are two totally different jobs and a palm tree is really just one long trunk with a few leaves on top. They are going to be a lot easier for the tree removal services to work on, so the cost to calculate their removal is a bit different.
The average cost of palm tree removal is $429. At the low end, you might only pay $150, but at the high end of the spectrum you can pay up to $3000.
This is a topic we will have to cover in more detail and is beyond the scope of this article.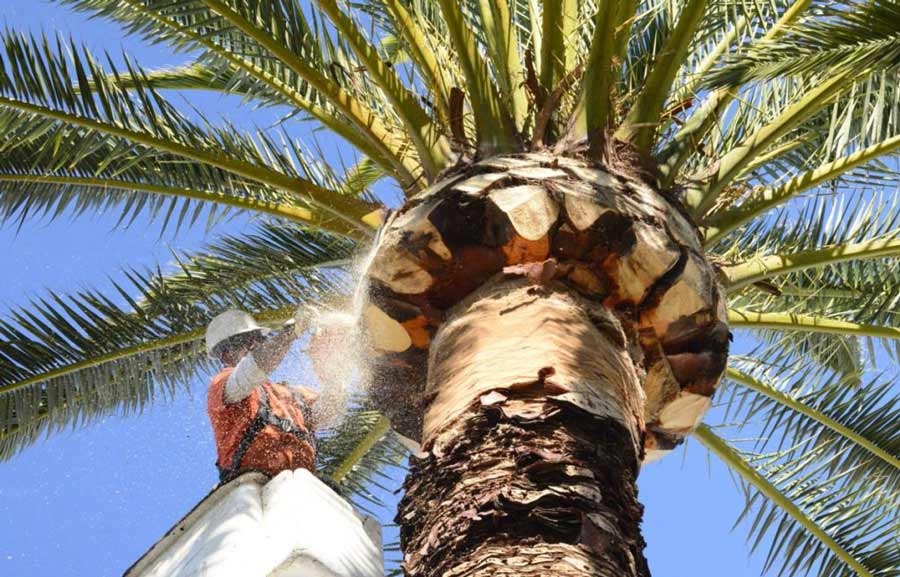 Tree Removal Cost by State
Tree removal prices can vary from state to state due to a few factors.
Population density, supply, and demand as well as the cost of living will all come into play.
In general, it would come down to the running costs of a tree business in your state or city. Obviously, the cost to remove a tree in San Francisco would be more than in Fresno even though they are both in California.
The cost of housing, office space, insurance, and the average wages for the area will affect the price of local services. The cost to cut down and remove a tree is no different.
| State | Tree removal cost | % difference |
| --- | --- | --- |
| United States Avg. | $871 | |
| Alabama | $688 | -21% |
| Alaska | $1,028 | 18% |
| Arizona | $819 | -6% |
| Arkansas | $645 | -26% |
| California | $1,036 | 19% |
| Colorado | $993 | 14% |
| Connecticut | $1,054 | 21% |
| Delaware | $897 | 3% |
| District of Columbia | $1,176 | 35% |
| Florida | $766 | -12% |
| Georgia | $810 | -7% |
| Hawaii | $1,106 | 27% |
| Idaho | $766 | -12% |
| Illinois | $897 | 3% |
| Indiana | $766 | -12% |
| Iowa | $827 | -5% |
| Kansas | $801 | -8% |
| Kentucky | $697 | -20% |
| Louisiana | $662 | -24% |
| Maine | $766 | -12% |
| Maryland | $1,150 | 32% |
| Massachusetts | $1,097 | 26% |
| Michigan | $784 | -10% |
| Minnesota | $967 | 11% |
| Mississippi | $618 | -29% |
| Missouri | $749 | -14% |
| Montana | $766 | -12% |
| Nebraska | $819 | -6% |
| Nevada | $810 | -7% |
| New Hampshire | $1,036 | 19% |
| New Jersey | $1,124 | 29% |
| New Mexico | $653 | -25% |
| New York | $1,481 | 70% |
| North Carolina | $740 | -15% |
| North Dakota | $958 | 10% |
| Ohio | $775 | -11% |
| Oklahoma | $714 | -18% |
| Oregon | $871 | 0% |
| Pennsylvania | $836 | -4% |
| Rhode Island | $888 | 2% |
| South Carolina | $723 | -17% |
| South Dakota | $775 | -11% |
| Tennessee | $723 | -17% |
| Texas | $836 | -4% |
| Utah | $984 | 13% |
| Vermont | $836 | -4% |
| Virginia | $1,002 | 15% |
| Washington | $1,019 | 17% |
| West Virginia | $610 | -30% |
| Wisconsin | $836 | -4% |
| Wyoming | $845 | -3% |
Emergency Tree Removal Cost
As a general rule of thumb, you can expect to pay double for emergency tree removal. It will all depend on the circumstances though.
If it's a Sunday afternoon and a tree on your property has fallen through a fence, power lines, or even a house, then you will need someone to come out in a hurry to help remove the tree. But as you can imagine, getting a tree service after hours or on weekends is going to cost you more.
The same is true when a storm has swept through your town or city and knocked over hundreds of trees. Due to the high demand, tree removal is going to cost you a lot more than it would on a regular day.
Emergency tree removal costs $2,190 on average. Weekends are always more expensive also if the tree is still in a very dangerous position.
Emergency tree removal can only be carried out by trained professionals and is not to be attempted by the novice tree service. Special power-line training, as well as supervision by emergency services and paramedics, is required in emergency situations.
Home to save on emergency tree removal
Firstly, if the tree has come down or is dangerous, you should call emergency tree removal services first to render the tree safe. This is a free service and will not cost you a thing.
Once the tree is safe, you are best to take your time to get quotes and wait for the right price. If it's regarding storm-damaged trees, you might have to wait for a few weeks before getting a tree service out. Once all the emergency work has died down, they will begin quoting normal prices again.
Land clearing is a different service to just regular tree removal because it is priced by the acre and not per tree.
The average cost of tree removal per acre is $3,680. This includes a mix of different sized trees with average density. The price can vary from $950 right up to $6,700.
There are actually two different types of companies you can call for land clearing, a tree company or a demolition/ Building company. Tree services have the equipment to remove trees, but generally not the machinery to level and grade land.
In the case of leveling ground for building, you are best going with a construction company with heavy machinery. If you call a tree removal service, you will have to pay once for the trees to be removed and again for the grading to be done. Hiring one company for both tasks will save you time and surely a lot of money in the process.
Cheap tree removal services near me
Finding cheap local tree removal services is not as hard as you think. Follow these steps to 50% or greater savings:
1. Don't go with the companies at the top of search results. They pay a lot to be there and will pass those costs onto you.
2. If you are not in a rush, hire in winter. By hiring in the off-season you will save 20-30% off regular prices. This is due to an over-supply of tree services and very little demand.
3. Get a gardener to do the job. Tree services generally charge twice as much as gardeners. This is only valid for trees 15ft (I story house height) or smaller. Anything larger will need to be done by a certified arborist.
4. Use GoTreeQuotes FREE services to request 3 quotes from local tree services. All recommended have been voted "best priced" by previous users. These are obligation-free quotes.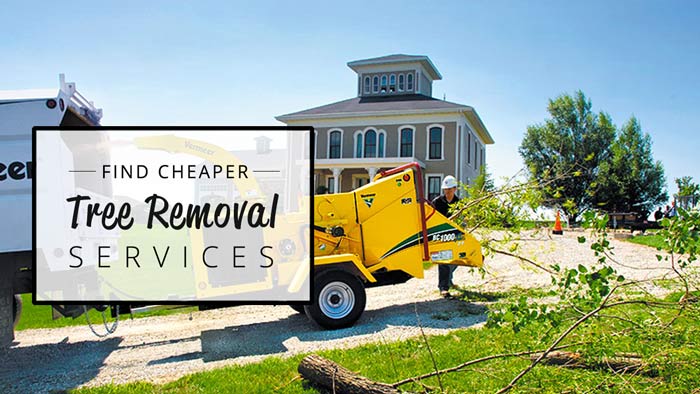 How Much to DIY Tree Removal?
Removing a tree yourself is only recommended if the tree is 15 feet in height or smaller. Trees that are larger than this will require the expertise of a certified arborist.
Trying to removing a tree whilst on a step ladder is extremely dangerous and is not recommended. If you can do the job while on the ground, then go for it. If not, please call a professional.
Cost of chainsaw hire
You will need to hire a chainsaw which normally costs about $60 for a half-day hire or $90 for a full day. You will need to brush up on your chainsaw safety skills first, but this is generally something they can run through with you at the hire shop.
Green waste dumping fees
Green waste can be expensive to dump, so if possible it is recommended that you dispose of it over time in your green waste bin, or wait for a city clean-up and place the waste material from your tree removal on the sidewalk.
Dumping at a local waste depot will cost $60 to $250 per ton for green waste depending on your city.
FAQ's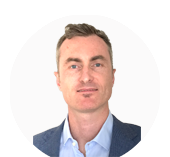 Author: Ben McInerney – Ben is a qualified arborist with 15 plus years of industry experience in Arboriculture. He ran a successful tree service before turning to writing and publishing. Ben is dedicated to providing users with the most accurate up-to-date information on everything trees.
[/vc_column]




Enter the location of
your tree job