Find a tree removal service near you

Step 1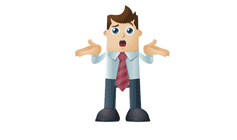 Answer a few questions
about your tree job.
Step 2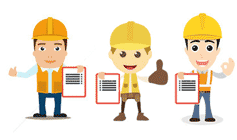 Within seconds, get matched
with top-rated local pros.
Step 3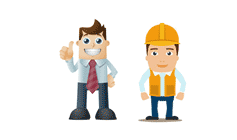 Compare quotes and choose the
best pro for the job.




Stump Grinding cost
Last updated: 25 March 2021
After cutting down a tree, you should decide whether you will grind the stump or use it as a decorative feature in your yard. If you choose to grind the stump, ensure you find the best tree grinding professionals near you.
The national average cost for grinding a tree stump is $95 per stump, coming in between $60 to $900 depending on its size, hazard factors, location, and type of tree. The cost per diameter inch is about $3 with a range of $2 to $5, while professionals charge $150 per hour for the grinding services.
Average cost of stump grinding
If you are planning to grind your stump, it is critical to have an idea of the costs per tree size. The following table highlights the cost for stump grinding depending on the size of the tree.
| Service | Qty. | Low | High |
| --- | --- | --- | --- |
| Cost of stump grinding | 1 inch | $3 | $5 |
| Cost of grinding a Small stump | 6 inch | $45 | $75 |
| Cost of grinding a Small - Medium stump | 10 inch | $75 | $150 |
| Cost of grinding a Medium stump | 15 inch | $100 | $210 |
| Cost of grinding a Large stump | 25 inch | $180 | $330 |
| | | | |
| Cost of hiring a stump grinder | 4 hrs | $170 | $276 |
| Cost of stump grinding labor | 1 hrs | $150 | $150 |
It is easy to calculate the cost of grinding a stump. You only need to take the correct measurements and do some calculations. When measuring the tree's diameter, extend the diameter to include the hump around the stump, if any. Also, ensure you measure the widest point of the stump to get the correct measurements.
Then, multiply the diameter you get for the cost of grinding per inch. For instance, if your stump measures 10 inches, and the grinding cost per diameter is $5.50, multiply 10 by 5.50 to get the total price for grinding the stump.
In case of additional charges, the stump grinding service should tell you in advance. For instance, some professionals charge extra costs for large roots and for grinding below the ground.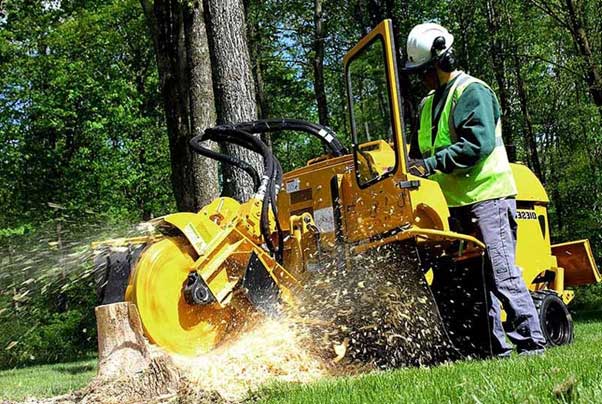 Charged per stump or inch?
The charges differ from one stump grinding service to another. Some will charge about $95 per stump, but this cost may fluctuate depending on the stump's size. Other professionals charge per inch.
For this reason, you should find out how the professionals charge the grinding job and select the most reasonable option for you. You can do your calculations to determine which option will be cheaper.
Hiring a stump grinding service
Since there are many stump grinding services, it is essential to determine the best one depending on availability and cost. The following tips will help you hire the best stump grinding services near you.
Use this FREE service
If you are struggling to find a reasonable price, the best way to find a reliable service is through GoTreeQuotes. This is a FREE service that helps you to find the 3 best stump grinding services near you. It matches you to three local contractors who will then price your job.
However, you will need to submit your details to make it easier for the FREE service to link you to the best-priced professionals.
Scroll up to the top of the page and enter your ZIP Code in the blue form at the top of the page.
Give us a few details about your stump removal job, plus some contact information.
Your tree details are forwarded on to the closest three tree services, all voted best-priced, who will also price your tree job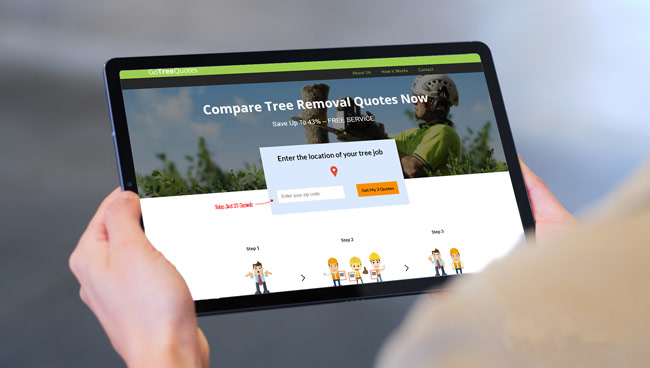 Search the internet
Another way to find reliable local contractors is by searching on the web. Many companies are now online-based, and you can easily find a local stump grinding expert if you employ the right search techniques. For instance, you should type "local stump grinding service company + your town." You will get several results, but you should go through one by one to check their ratings and reviews as well as their costs before selecting one.
Use referrals
Referrals tend to be very reliable because you will get references from people you know. If your neighbor, friend, family member, or even colleague hired a stump grinding service recently, request them to give you a recommendation. This is a faster way to find reliable services if you do not want to search them online.
Factors to consider
When hiring a stump grinding service, there are several factors you need to consider first. These include:
1. Location
Location is essential when hiring a company. Always consider a service near you because you will know its reputation better by asking around. More so, stump grinding costs will be more reasonable because the professionals will not travel miles to get to you.
2. Insurance
Stump grinding and generally everything involving trees is risky, which means damages and injuries may occur. For this reason, ensure you hire a company that has the right insurance cover. Any stump grinding company should have worker's compensation insurance in case the employees get injured in the line of duty. It should also have general liability insurance in case of damages on the job site.
3. Cost
Different companies charge differently. So, it is upon you to determine what company offers the most reasonable price. Get as many quotes as possible to determine the average cost so that you can plan your budget.
Cost to Hire a stump grinder & DIY
If you decide to DIY the stump grinding project, you will need to hire a stump grinder from Home Depot or Kennard's Hire. Small grinders go for $170 for 4 hours, while large ones go for $276 for four hours. You will also need a Ute to transport them at the cost of $68 to $120 for four hours.
Should I DIY stump removal?
If you prefer to DIY your stump grinding project, it is essential to weigh the pros and cons. For instance, determine how long you will take to complete the project and your safety. Grinders are heavy machines that need caution when using them. Even if your dealer shows you how to use it, you may find the process more complicated than you thought.
If you are grinding a single stump, it may not be cost-effective to hire a grinder. Stump grinders will only save you money if you are grinding more than three trees.
How long does stump grinding take?
Stump grinding takes about 15 minutes to two hours for one stump, depending on the stump's size and location. Grinding many stumps can take several hours or days if the stumps are large and thick.
Do I have to grind a stump?
This depends on what you want. If the stump is of no use to you, you can either grind it or remove it through chemicals, burning, or practically digging it out. Stumps can be used as garden features such as benches, tables, sculptures, children's playhouses, and birdbaths, among others. So, you should decide whether to grind or remove the stump or turn it into a decorative feature in your yard.
How to save money on stump grinding
There are so many ways you can save on stump grinding. These include:
Hire during winter
If you can wait until winter to remove a tree stump, you can save so much on the costs. This is because winter is usually a dormant season, and most people do not hire tree services. More so, most companies are usually closed. So the available companies lower their prices to attract the few available customers.
Remove debris yourself
After grinding the stump, you will need to remove the debris, use it as mulch, or shovel it back into the hole. The stump grinding service may remove the debris at a fee, but you can cut on the costs by doing the job yourself.
Do the prep work
Prep work involves removing stones, rocks, and equipment from the job site. Professionals can do the job for you, but you will pay extra costs. To save on the total costs, it is better to do the prep work yourself so that the experts remain with stump grinding alone.
Look for cheaper companies
When looking for companies on the internet, try to skip page one of google because these companies tend to charge high costs. Since they pay a large amount of money on marketing to appear on page one, they must get back the money they spend and a profit. Page two or three of google will have cheaper companies who may even offer you better services.
Cost to remove a stump without a grinder
There are other ways to remove a stump without a grinder. Below are some examples and their costs.
By hand
Removing a tree stump by hand costs approximately $200 because you will need a few materials. The materials you will need include a digging bar at $30 to $50, bow saws costing about $10 to $30, mattocks costing $15 to $50, and an ax costing between $30 to $40.
Chemical
If you decide to use chemicals, expect to use about $ 50 $200 for buying the chemical products, and a chainsaw. You can spend about $5 to $10 on the chemicals, and $50 to $300 for a chainsaw. Electric chainsaws and usually cheaper than gas-powered ones.
Burning
Burning is also a cost-effective method to remove a tree stump, but it is not efficient if you live in an urban setting. Some locations have banned kerosene use, so make sure you find out whether it is acceptable to burn and use kerosene in your locality first.
The cost of kerosene is about $3 per gallon. You will also need an ax and shovel to dig out the remains at the price of approximately $10 to $50. So you can spend about $30 to $100 if you remove a stump by the burning method.
Difference between stump grinding & removal
Stump grinding involves shaving the tree using a stump grinder until it is completely gone. A stump grinder is used to cut into the tree, and the small chips left can either be discarded, used as mulch, or shoved back into the hole left after grinding. Most homeowners prefer this process because it is more manageable, and it does not involve removing every tree root. It is also cheaper than stump removal.
On the other hand, stump removal involves excavating the stump completely, which means you will need a Bobcat and other heavy-duty equipment for the excavation. Stump removal entails removing the stump and all the roots connected to it. This means you will churn a large part of the soil in your yard. Homeowners who care about their yard's aesthetics will not pursue stump removal because it turns the yard upside down.
How does stump grinding work?
Stump grinding is not a complicated process if you know how to handle the machine correctly. Typically, the machines use powerful rotating blades that cut into the wood as it turns. It cuts the wood into small pieces and reduces the wood into tiny pieces that are easier to dispose of. The machine grinds the stump down to the ground and ensures it cuts the entire stump.
After grinding, you are left with lots of wood chips that you can decide to use as mulch for your garden or nursery. You can also choose to discard the chips if you are not using them. Since you will remain with a big hole, you can shovel the wood chips back into the hole to decompose, then add topsoil and plant another tree if you wish.
How do you prepare a stump for grinding?
You prepare your stump for grinding by removing all rocks, stones, and other debris around the worksite. Stones and rocks are dangerous as they may damage the grinder's blade.
Also, you should ensure that the debris will not damage any nearby structures. In case there are sewer lines or water lines nearby, you should make sure you do not damage them as you may incur high repair costs.
FAQ's
This depends on the initial agreement and what you need. Most stump grinding professionals will give you a price for the ground only. They can then include the debris removal cost upon your request.
The debris removal cost is usually not included in the overall price because most homeowners prefer removing the debris on their own. Other people decide to leave the debris in the hole and add topsoil or even plant another tree.
Stump grinding is a risky process that requires professionals or DIYers that know how to handle a stump grinder. The price for professional stump grinding is high because it includes transporting the machines and professionals to the job site. The cost also includes preparing the area before the grinding process. Prepping the area may be complicated, especially if there are sewer or water lines underground.
Typically, a stump grinder can go up to four to six inches below the ground. In case the tree is large, and deeper grinding equipment is needed, the homeowner will have to pay some extra costs because grinders are charged depending on their size.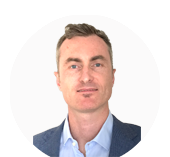 Author: Ben McInerney – Ben is a qualified arborist with 15 plus years of industry experience in Arboriculture. He ran a successful tree service before turning to writing and publishing. Ben is dedicated to providing users with the most accurate up-to-date information on everything trees.




Cost calculator for tree services