Getting grants for tree removal is not easy to come by. There are a handful of opportunities you can tap into to help with free tree removal.
There are no federal government grants that cater to tree removal. However, there are a number of available grants depending on your state or municipality.
Most of these grants are available for hazardous tree removal programs or low-income households. You can explore this guide to see if you're entitled to any of the several grants available across the country.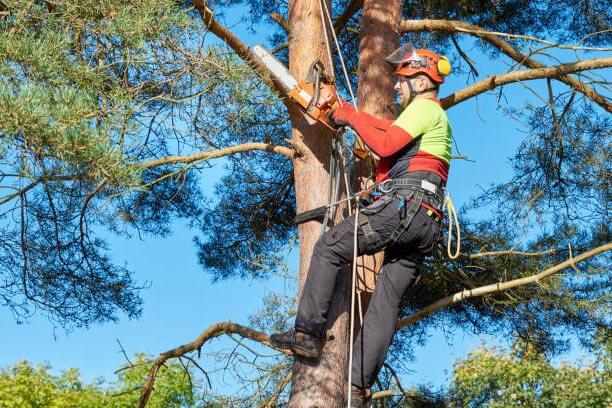 Nebraska Forest Service Financial Assistance Programs
Nebraska Forest Service has invested in a hazardous fuel reduction grant. The project is aimed at the reduction of hazardous trees that can serve as fuels for wildfire accidents. This includes life or dead vegetation that can contribute to fire outbreaks.
There are a number of grants and financial assistance for tree removal available under this program as shown in the table below:
| NFS Grant type | Eligible Location | Eligible Applicants | Reimbursement |
| --- | --- | --- | --- |
| Hazardous Fuels Reduction Grants | Adjacent to United States Forest Service (USFS) property | State and private landowners | 100% |
| Forest Fuels Reduction Grants | Pine Ridge, Niobrara Valley, and Wildcat Hills | State and private landowners | 75% |
| Red Cedar Forest Management | Statewide (outside of the Pine Ridge, Niobrara Valley, and Wildcat Hills) | State and private landowners | 75% |
| Burned Land Fuels Reduction Grants | Pine Ridge and Niobrara Valley | State and private landowners | 75% |
| Forest Restoration Grants | Statewide | State and private landowners | 75% |
| Firewise Defensible Space Grants | Statewide | Homeowners | 75% |
Village of Maywood Tree Removal Assistance Program
The Community Development Department of the Village of Maywood offers a 50% re-reimbursement as grants for hazardous tree removal. This grant is open to single-family homeowners in Maywood who need to remove dead, diseased, decaying, or nuisance trees from their private property. You can take advantage of this once you're able to get a written proposal from a licensed arborist.
Mayday Tree Removal Assistance Program in Alaska.
Mayday trees, also called European Bird Cherry trees, are native to the Anchorage city of Alaska. It has over time become a threat to the city and most homeowners seek to remove it and replace it with other trees.
This is why the USDA Forest Service and the Alaska Division of Forestry are offering grants to local governments and non-profit organizations to remove the trees. About $200,000 has been set aside for this and additional information about the grant can be found on this page.
In addition to this, the Anchorage Community Forestry Program is offering an incentive to homeowners to replace the Mayday trees with other trees. The grant is in the form of a $100 voucher that can be taken to a local nursery to replace your tree after removing the Mayday tree. Homeowners in Anchorage can apply for the voucher through this online application.
Philadelphia Parks and Recreation Hazardous Tree Removal
If you ever notice a street tree in your area that may be hazardous to the neighborhood, Parks & Rec will remove hazardous street trees for free. You can request the service online by filling out the form here or by calling (215) 685-4363 or (215) 685-4362.
Parks & Rec does not prune or remove trees on private property, in vacant lots, or on alleyways. They are also not interested in removing living and healthy trees.
Ohio Community Wildfire Risk Reduction (CWRR) Grant
CWRR grants are available in Ohio to remove hazardous trees that may be prone to wildfire. This grant is available in the form of 50% reimbursement and it is focused on improving community safety, education, and preparedness.
This grant is available to cooperating Fire Departments within the ODNR Forestry wildfire protection area. The maximum reimbursement per proposal is $3,000. You can learn more about the grant here.
Delaware's Urban and Community Forestry Program
The Urban and Community Forestry Program of Delaware is offering grants of up to $5,000 for tree planting or tree management projects on public land. The grant also covers hazardous tree removal and it is open to municipalities, homeowner associations, and certified non-profits in the State of Delaware.
The grants come in the form of a 50-50 match in either cash or in-kind services. The in-kind services can come in the form of volunteer or staff time, equipment rental, or supplies.
Requests can range from $500 to a maximum of $5,000. Hazardous trees eligible for the projects are those sited on public lands within the community. You can learn more about the grant on this page and make further inquiries by sending an email to their email contact.
Grant and Free Tree Removal by Utility Companies
Before you look out for grants, you may need to assess whether the tree you want to remove is not located on the community land or close to utility lines.
If this is the case, you may need to contact your local government or utility company to remove it for free. You may not need to look out for grants to remove such a tree. Several utility companies have line clearance experts to take care of trees that may be hazardous to utility lines.
Ameren Corporation Right Tree Grant, Illinois
In order to ensure the safety of utility power lines and residents in Illinois, Ameren Corporation has offered grants to remove hazardous trees.
This grant is meant for dead, dying, or otherwise unstable trees that are threatening the power lines. It includes trees that are well below the power lines and could cause future interference as they grow and need to be removed.
Trees that are eligible for this grant are those growing in public rights-of-way with the potential to interfere with overhead lines. Such trees must be identified before removal and approved as eligible by the local Ameren Illinois Forestry Supervisor.
Grants for each eligible tree removed can range from $125 up to $2,500. You can find more details on this grant here.
City Light's electrical safety tree trimming program
Seattle City Light employees and contractor crews work to maintain safe and reliable electric service. They are always ready to remove branches, limbs, and hazardous trees from power lines.
Seattle City Light customers are expected to keep the line drop from pole to home or other buildings clear of trees and obstructions. You can learn more about the tree trimming and removal program here.
If you are concerned that a tree in your area may be interfering or putting electrical lines at risk, you can contact City Light by calling (206) 386-1733 or by sending an email to sclvegetation@seattle.gov.
Tree Removal Assistance for the Elderly and Low-income Households
El Dorado County and CALFIRE Tree Removal Assistance Program
The County of El Dorado and the California Department of Forestry (CAL FIRE) have extended their Tree Mortality grant to aged low-income homeowners who are 60 years of age or older.
The funding for the program comes from CAL FIRE and Fire Protection State Responsibility Area Fire Prevention Fund (SRAFPF) and Tree Mortality (TM) Grant.
There is approximately $200,000 set aside to help senior citizens remove dead and dying trees that endanger their residences. Trees eligible for this program are dead and dying trees greater than 10 inches in diameter and 20 feet in height.
Also, such trees must be within 300 feet of and pose a structural threat to the residence and they must also be reasonably accessible by equipment or machinery. You can make more inquiries by contacting the Community Development Services, Housing Community, and Economic Development Program at (530) 621-5159.
Escambia County Residential Hazardous Tree Program
The Community Redevelopment Agency's Residential Hazardous Tree Program provides tree trimming and/or removal services to low-income homeowners located within Escambia County's designated districts.
In order to be eligible for free tree removal, the tree or its limb must present a danger to the homeowners' or neighbor's primary residence. It should also show obvious signs of rot or damage.
Funding is based on availability and will be provided on a first-come, first-served basis. The CRA will be providing a licensed and insured contractor to take care of the tree trimming or removal as the case may be.
To apply for this program, you can complete the Residential Hazardous Tree Application application. You can also submit your application and supporting documentation at 221 Palafox Place, Suite 305, Pensacola FL 32502, by faxing the application to 850-595-3218 or by sending an email to CRA@myescambia.com.
Amador County Hazardous Tree removal Program
Low-income seniors in Amador County can get help to remove hazardous trees that threaten their safety.
This grant was initially funded by Lynn Morgan, Amador County's District 3 Supervisor. Low-income homeowners who are 62 years old or above are eligible to apply.
It's important you get a cost estimate from a tree removal company in order to apply. Grant amounts range from $500 to $1,000.
For further details about the grant or application, you can call (209) 223-2148 or send an email to kharmon@acfgives.org.
Get Matched with a Tree Removal Expert in Your State
Free tree removal in exchange for wood or timber
Removing your tree free of charge in exchange for wood is possible but rare. If you're lucky to come across those companies or individuals that pick interest in your tree to be used as wood or timber, then you've hit the jackpot.
It is easier to get someone to be interested in removing your tree for free if it can be a source of quality timber.
Examples of trees that can be removed for free due to their valuable timber are:
Ashwood
Kingwood
Oak
Western Red Cedar
Black Cherry Wood
Swietenia Mahogany Wood
Rosewood of the Dalbergia species
If the tree you're looking to remove from your property is valuable for timber, you stand a chance for a free removal service.
In this case, you need to make it known to the tree removal companies, lumbering companies, or Landscapers close to you. Such a company will be selling the timber to a logging company to compensate for the service you should pay for.
Neighbors or homeowners who heat their homes with firewood may also be willing to pay for your tree removal in exchange for firewood.
If you're not able to secure a grant to remove your tree for free, you may need to part with a token to remove the tree at the lowest possible cost.
If you're looking to remove your tree at the lowest cost, the easiest way is to get 3 Estimates from the most affordable tree services near you by using this FREE service.
GoTreeQuotes quickly matches you with the 3 tree surgeons voted #1 by previous users in your area.
Scroll up to the top of the page and enter your ZIP Code in the blue form at the top of the page.
Give us a few details about your tree trimming or removal job plus some contact information.
Your tree details are forwarded on to the closest three tree services all voted best priced who will also price your tree job.