Removing trees can cost a lot of money. It's not always easy to get financial help for tree removal.
There are grants available to assist you financially with the removal, but this depends on the state or county you live in. Most financial assistance programs are for orchards or nurseries recovering after a natural disaster.
An example is the Farm Service Agency Tree Assistance Program. This type of grant is obtainable in California, Illinois, and New York.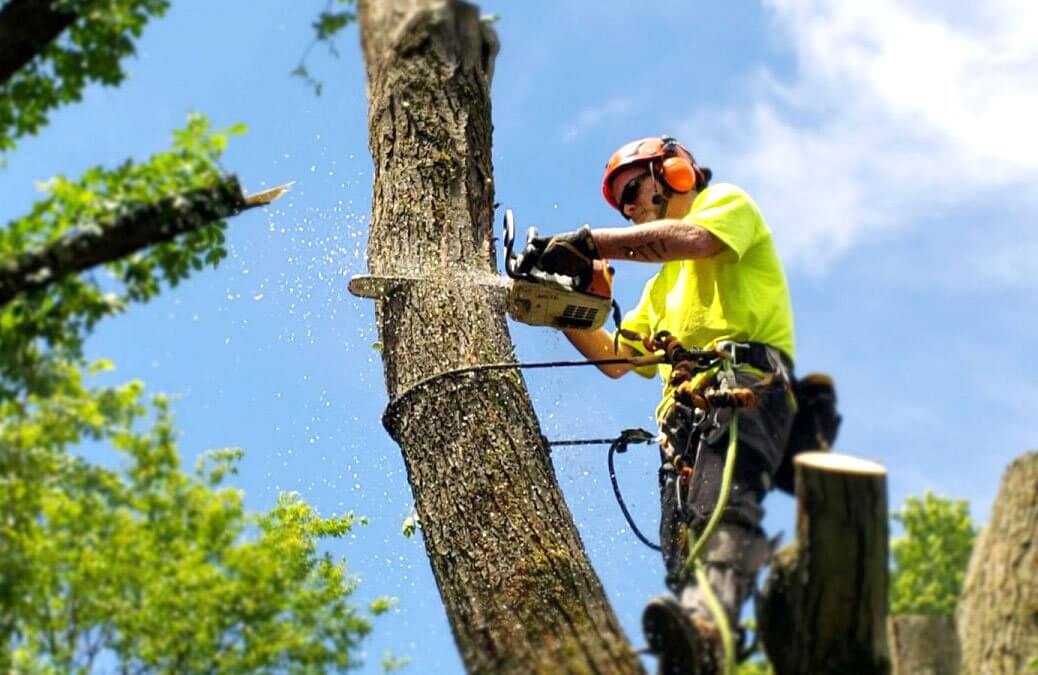 Even though this may be rare, there are quite a few city councils and organizations that have provisions for removing trees that are a problem to the locality.
Some fruit trees may harbor pests that can affect local fruit-growing operations within the region. In this kind of situation, the council can offer grants or subsidized tree removal to eliminate the threat of infestation posed by such a tree. This makes it easy to get hazardous trees removed from the environment.
You can reach out to your council authorities for inquiries in case you need to eliminate such hazardous trees.
Available Financial Help for Tree Removal
Harold K . L. Castle Foundation
Harold K. L. Castle Foundation offers a four-year grant that anyone can apply for. The specific grant pays about $101,710 to help remove trees for fences, windbreaks, fire breaks, and site preparation.
Village of Maywood Tree Removal Assistance Program
The Community Development Department of the Village of Maywood offers a 50% re-reimbursement for tree removal. This is obtainable if you want to remove dead, diseased, decaying, or nuisance trees from your private property as a single-family homeowner.
Once you're able to get a written proposal from a licensed arborist, you can reach out to the department to apply for the grant. Here are the guidelines on how to apply for and obtain this reimbursement.
The state of California has established a fire prevention grant program to remove dead trees. It is intended to fund tree removal to reduce the potential for large and damaging wildfires. This would also reduce the potential for hazardous greenhouse gasses released by wildfires. Contact the Fire prevention grants team at FPGrants@fire.ca.gov.
Link: https://www.fire.ca.gov/grants/wildfire-prevention-grants/
The U.S. Department of Agriculture (USDA) offers rural repair loans and grants to very low-income homeowners to repair, improve or modernize their homes.
They also give grants to elderly low-income homeowners to improve their homes and remove health and safety hazards. Removing trees that are posing hazards in your vicinity is a significant part of home improvement and this loan or grant can be used for this purpose. About $40,000 can be gotten as a loan and $10,000 as a grant.
Elderly homeowners starting from 62 years who are also low-income-earners are qualified to apply for this grant.
The National Resource Conservation Service (NRCS) has grants available for those who have private forest lands. They provide financial and technical assistance to forest managers to address natural resource concerns and deliver environmental benefits.
This contributes to improved water and air quality, conserved ground and surface water, increased soil health and reduced soil erosion and sedimentation. Tree removal is a significant part of forest management, so you can always take advantage of this grant to remove trees that are posing hazards to the environment.
Hazardous Tree Removal Program
Many states in the US have financial help available to remove hazardous trees. Such trees must be posing an obvious danger to the environment. If you need financial help to remove these hazardous trees, feel free to reach out to your council to know the available financial help you can get. Some of these hazardous tree removal programs can be found in Eldorado County in California and Escambia County in Florida.
What To Do When You Can't Afford Tree Removal?
Whenever you need to remove a tree and you can't afford the cost, there's always a way out. You cannot afford to leave the tree as is, especially if it poses an obvious danger.
If your government doesn't have provisions in place to get your tree removed for free, try to explore things like free tree removal in exchange for wood, or other types of negotiation for tree removal.
If you're not able to get any of those grants, the next thing is to seek out a logger for free tree removal. This is more applicable if the tree you want to remove has values to offer such as timber or palm. You can get your tree removed for free and even get paid depending on the value of the tree.
What Is the Cost of Tree Removal?
The average cost of removing a tree varies depending on several factors. Some of these factors are your location, the company you hire to do the removal, accessibility, and health of the tree, as well as the size and type of the tree.
For example, it costs an average of $775 and $1,150 to remove a matured Oak and Maple tree respectively.
On average, homeowners across the U.S. pay a range of $150 to $1,935 to remove a tree depending on the factors mentioned above.
If the tree you're looking to remove does not offer any of the values listed above, you can take advantage of discounted tree removal from different tree removal companies near you.
GoTreeQuotes quickly matches you with the 3 tree surgeons voted #1 by previous users in your area.
Scroll up to the top of the page and enter your ZIP Code in the blue form at the top of the page.
Give us a few details about your tree trimming or removal job plus some contact information.
Your tree details are forwarded to the closest three tree services all voted best priced who will also price your tree job.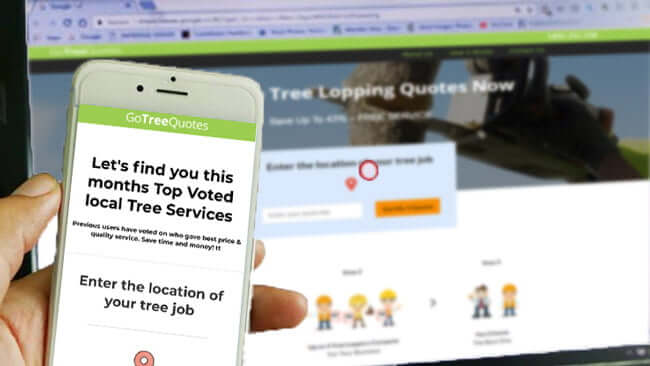 Free Tree Removal in Exchange for Wood
If financial help for tree removal is not available you can seek free tree removal in exchange for wood. While not always possible, if your tree has desirable timber, some companies are happy to remove it free of charge as their backend on timber sales is so large.
By contacting your logging company, trees such as Oakwood, Rosewood, Tulipwood, Kingwood, Black cherrywood, and Western red cedar can be removed for free in exchange for their timber.
Also, exotic palm trees that are valuable can be removed for free while you mostly get paid in addition to the financial help.
Tree Removal Assistance for Seniors
There are programs to help arrange free tree removal for seniors.  The grants and other opportunities are state and county-specific so you will need to see what is available locally.
Getting rid of trees is inevitable, especially the ones that pose hazards to the environment.
Explore this guide to know the several opportunities you can seize to get help with tree removal if you're on little or no budget.