Free tree removal for seniors is available in some cities to help prevent impending dangers due to dead, dying, or rotting trees.
There is no country-wide federal program to assist seniors with tree removal, but lots of cities and counties have their own programs. Most are geared towards dead, dying, or hazardous trees. Help is available for lower-income households.
If your city or county does not have a program, there are other ways to get cheap or free tree removal.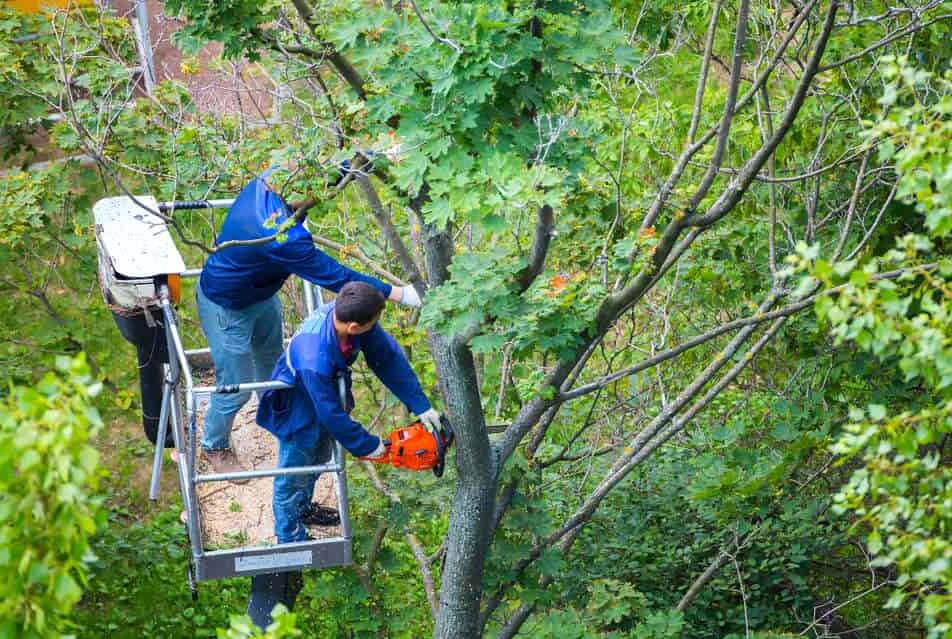 For trees that are posing a danger to your residence in Escambia County, you can take advantage of the Community Redevelopment Agency's Residential Hazardous Tree Program.
You will be eligible for free tree trimming or removal service as a senior whose household income does not exceed 80 percent of Escambia County Median Area Income. Also, the tree or its limb must have obvious signs of rot or damage. Your property must be free of outstanding judgment liens, code violations, and/or delinquent taxes.
You can reach out to the Escambia CRA for free tree removal for seniors at 221 Palafox Place, Suite 305, Pensacola FL 32502, or send an email to CRA@myescambia.com.
Home Maintenance Services for seniors
Several home maintenance services for seniors are obtainable in Alabama. Free tree removal is one of them. Depending on your location, you can request for free tree removal services by requesting assistance from the local providers in this database.
Get Matched with a Tree Removal Expert in Your State
California
Good news if you're a low-income senior in El Dorado County, California. The county's Department of Forestry has provided a hazardous tree removal program for senior homeowners who are above 60 years old.
To be eligible for this offer, the tree must be a dead or dying tree greater than 10 inches in diameter and 20 feet in height. It must be within 300 feet of and pose a structural threat to, the residence.
To apply for this free tree removal for seniors, you can contact the Community Development Services, Housing Community, and Economic Development Program at (530) 621-5159.
The Community Development Department of the Village of Maywood offers a 50% reimbursement for tree removal. This offer is applicable for removing dead, diseased, decaying, or nuisance trees from private properties of single-family homeowners. You can take advantage of this once you're able to get a written proposal from a licensed arborist. The guideline of how to apply for and obtain this reimbursement is stated in this guide.
Department of Natural Resources (ODNR) provides a grant to help remove trees in Ohio from residents' properties in about 27 eligible counties.
Harold K.L Castle Foundation
Harold K.L Castle Foundation in Hawaii offers a 4-year grant to help remove trees for fences, as well as windbreaks, fire breaks, and site preparation.
Get Matched with a Tree Removal Expert in Your State
Other ways to get free or cheap tree removal
If you're a senior looking for free tree removal services, you may need to assess the value of such trees. If they are trees like palm trees that are considered valuable, you may be optimistic about free tree removal. Non-valuable trees on the other hand will mostly require you to pay for the service, albeit at a discount.
Free tree removal for exotic trees
If you're planning to remove an exotic tree that serves the needs of landscapers, you may get the tree removed for free and as well get paid. Such trees are seen as collector's items but it's difficult to come across trees that fit into this category.
Some examples of exotic landscaping trees include Oriental beech, Silver lime, Pacific redcedar, Tsuga de Californie, and Sessile oak, and a whole host of palm trees.
Free tree removal for wood
Similar to the exotic trees, some other trees are also valuable due to the quality of timber they produce. Examples of trees that can be removed for free due to their valuable timber are Ashwood, Kingwood, Oak tree, Western Red Cedar, Black Cherry Wood, Swietenia Mahogany Wood, and Rosewood of the Dalbergia species.
If the tree you want to remove from your property is deemed valuable for timber, you could actually get free tree removal in exchange for the wood. In this case, you need to make it known to the tree removal companies close to you. Such a company will be selling the timber to a logging company to compensate for the service you should pay for.
You may be lucky that the tree you want to remove is an exotic palm tree. Good news to you because you'll be getting it removed for free. On top of this, you'll be getting paid to get such a palm tree removed.
Examples of such exotic palm trees are Senegal Date Palm, Mexican Blue Fan Palm, Jelly Palm, Mediterranean Fan Palm, Guadalupe Palm, and Ravenala palm trees.
Get help from an experienced neighbor
You may be lucky to get help from a neighbor who is experienced with tree removal if the neighbor is equipped with the right tools. Once you are able to communicate your need in your neighborhood, it is very likely to get help from experienced and equipped neighbors as a senior.
Tree removal assistance programs
These programs exist for the most part to help nurseries and fruit farmers recover after a natural disaster.
Some tree removal assistance programs also help people in need including seniors with financial help to remove trees.
Again this will depend on your local city or state. More details here.
Homeowners Insurance Coverage
If you're lucky to have your trees insured, having free tree removal becomes inevitable. All you need to do is communicate this to your insurance company and you'll be getting help with your tree removal.
Discount programs for seniors
If your city or county does not have a free tree removal program, there are other ways to get cheap tree removal. This is through subsidized or discounted programs offered by private tree removal companies.
Some tree removal companies are optimistic about carving a good name for themselves. Other ones are compelled to offer such free service to seniors as a government requirement. This is why they'll be ready to give discounts to seniors who are especially vulnerable to hazards.
Be ready to pay a token for your tree removal by exploring the discounts from tree companies.
Some of the companies offering such discounts for seniors are Ultimate Tree Service in Alabama which offers a 10% discount to seniors and Discount Professional Tree Service also offers a 10% discount to seniors.
Expenses incurred in the process of removing a tree include the cost of gas, labor, insurance, and equipment. This will explain why tree removal services are not offered for free. Most companies charge between $500 – $1000 to remove a tree.
When a free government removal service is not attainable in your area, you should explore this guide for great pointers on how to get free or cheap tree removal as a senior.