If your tree is near a power line, can you get a power company to trim or remove it for you? Will it cost you?
Power companies will trim or remove trees that pose a risk to power lines and utilities. In fact, they will do it free of charge. However, they won't clear the resulting debris. They also won't remove tree stumps.
Here is what you should know.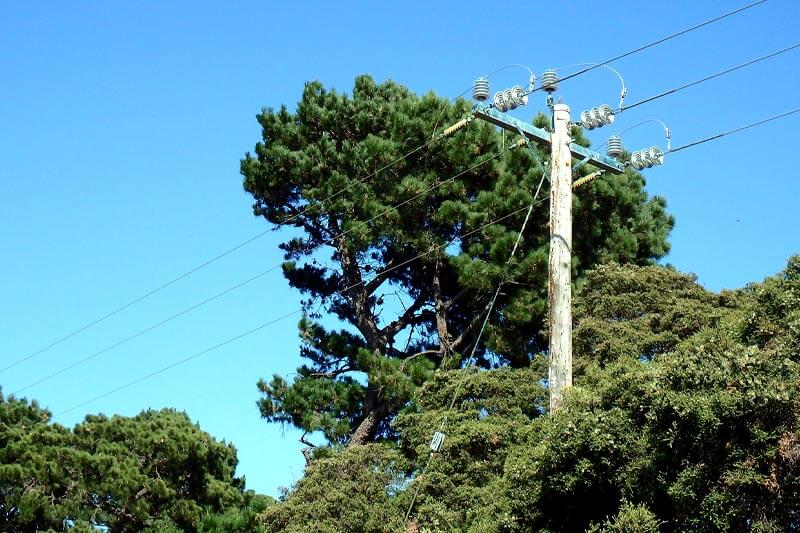 Power companies usually trim or remove trees that are near power lines. They routinely do this without charging the owner of the tree.
Why would a power company remove a tree for free?
A company can remove a tree from your property free of charge. They sometimes prefer to do this because they control their assets (the power lines).
If they don't do it, the tree can cause damage or damage to the power lines or poles. The resulting damage may be more costly. The resulting interruption can also lead to out-of-control losses. As a result, it may be cheaper and more convenient for the power company to simply trim or cut a tree at their own cost.
And what do you have to do in exchange? All you have to do is:
Give them a call
Provide your location
Send them photos or videos of the trees and the danger that trees pose to their power lines
However, there are limits to what a power company is willing to do. Typically, they won't do the following.
Remove trees that are far from utilities
However, they only remove trees that pose a danger to the power lines. If your trees are not near power lines, you will have no luck trying to get them to cut or remove trees for free.
While tree stumps are part of the tree, and while they are an eyesore, the power company won't remove them. They will only remove the tree or trim it to the extent to which it will help to keep their property — power lines — free from the risk of getting damaged.
Clear cut limbs and debris
A power company will trim your tree. They can even remove it. But they don't usually dispose of the resulting debris. This is your job.
Therefore, after a tree company trims or removes your tree, you need to organize to clear the area. You can do this yourself. Or you can hire a tree trimming service to dispose of the debris.
Trim with aesthetics in mind
Keep in mind that their priorities are different from yours. They won't trim or cut your trees in order to make your property look great. They also won't do anything beyond what will protect their interests.
Therefore, they may end up taking way more foliage than what a tree care company would have. They may also trim the tree unevenly. And if they deem it necessary, they may even top off the tree.
To them, your tree's health isn't the priority. General safety and preventing utility line damage are what they will prioritize.
Why should you let a power company trim or remove a tree on your property?
You should let a power company trim or remove a tree on your property because:
Tree removal or trimming can be expensive. This is especially so when you are dealing with trees that are next to power lines.
Since power companies can remove these trees for free, contacting them is always a cost-friendly option. This is so especially if you are on a tight budget.
Anyone who attempts to remove a tree that is near a power line is risking their life. And even if they survive, the injuries that can result from an accident involving power lines can cause crippling injuries.
As a result, it is often advisable that you don't attempt to remove or trim any trees next to any power line.
Instead, you should contact a power company and have them remove any of your trees that are near utility lines. This is because they have the experience, knowledge, expertise, and equipment needed to get the job done safely.
It minimizes utility damage risk
Removing a tree that is next to a power line always carries the risk of damaging the utilities and causing power interruptions.
An easy way of minimizing or avoiding these risks is to let the power company handle everything. They have the experience and expertise of dealing with such challenges and they are thus the best persons to deal with them.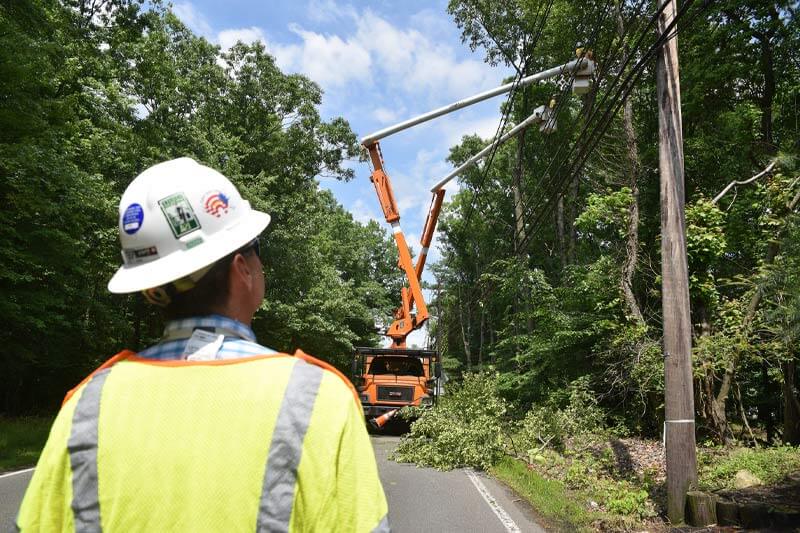 When shouldn't you let a power company trim or remove a tree?
While a power company can easily remove or trim a tree for free, they aren't always the best option.
Here are the reasons why.
When you really care about your tree's health. If you really care about your tree's health and its overall health, then you shouldn't rely on power companies to do any kind of tree work.
They rarely take into account the aesthetic value of a tree or its long-term health simply because it is not their priority. In some cases, they can even remove a tree even when slight trimming may have been more appropriate simply because their goal is to prevent power interference and to prevent catastrophic accidents.
Therefore, if you want things done right, you should hire a tree care company to do the trimming or removal.
When you want a number of trees removed. Power companies don't remove trees that aren't next to power lines. While contacting them and having them remove a tree from your property is an easy way of getting free or affordable tree services, it doesn't always work.
These companies only focus on removing or trimming trees that pose a threat to their utilities. This makes it a solution that isn't applicable in most circumstances. It can't be used with respect to trees that aren't located close to power lines. Therefore, it is a limited solution.
When you want a clean and tidy job. These companies don't remove tree stumps and don't clean up after. Power companies cut trees or trim them and then leave the resulting debris in place. They also don't touch tree stumps.
Therefore, if you want the work to be done thoroughly and completely, hiring a tree care service is your best bet. With such companies, you won't have to worry about scheduling various visits or dealing with multiple companies. They usually handle everything.
Whose responsibility is it to trim or remove trees near power lines?
Generally, it is a tree owner's responsibility to ensure that the tree doesn't interfere with power lines, especially when it comes to service drops. This includes trimming them to ensure that their limbs and branches are a safe distance away from the power lines.
However, this doesn't mean that power companies won't trim them.
If the trees are growing on the street, or if they are growing on public land, then it is the responsibility of the power company to trim or remove them.
A power company may also trim or remove a tree that is near a power line if it poses a direct or indirect danger to the power lines. In such cases, the power company can willingly remove the tree in question without billing the owner of the tree. This is so even though it isn't their duty to do so.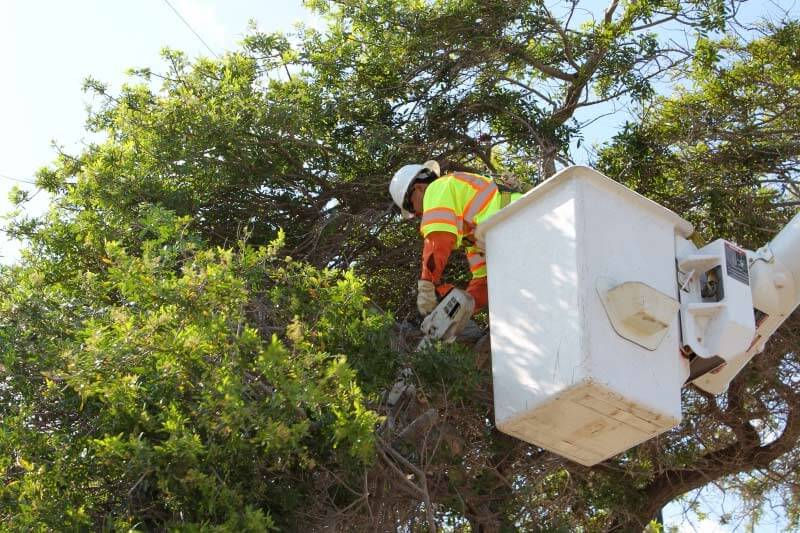 Use this free service to find a tree expert near you
If you need help trimming or removing trees, GoTreeQuotes.com offers a free service that quickly matches you with the top-voted local experts in your area.
You can get 3 estimates fast by real certified tree experts in your area in just 2 minutes. Here is how it works.
You scroll to the top of the page and enter your Zip code.
Answer questions about your tree care needs
Your details will be forwarded to three local experts.
You will then receive a price estimate for the job and some friendly advice.
IMPORTANT: There is no obligation to hire. This is a free tool and service to be used at your pleasure.