Disputes regarding who is allowed and responsible for cutting trees near power lines can be tricky.
Power companies are generally allowed to cut trees on your private property if the tree interferes with the street's power lines or the utility line running from the road to your home.
Although it depends on the state you live in, most power companies oversee the tree care on the right-of-way where the power lines are (a part of a private property that allows various entities to enter without conferring ownership).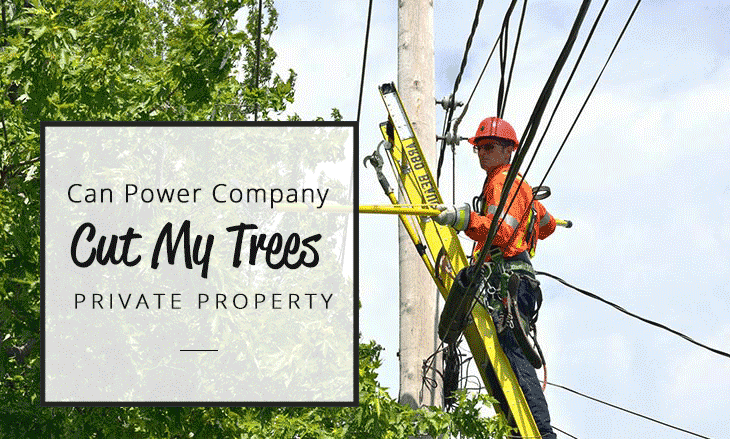 No. Even though power companies are allowed to trim trees within your property that disrupt their service, they are still very careful when it comes to permission or making contact with the land or homeowner.
A situation like this requires easement, and power companies have detailed easements that are a matter of public record. This allows them their right to enter private land and do their job with ease.
However, according to the Georgia Urban Forest Council, if they have to go on private property, they inform the landowners first. The home or landowners are informed 5 days prior to the trimming.
When are power companies allowed to trim your trees?
With a Vegetation Management Schedule that lists when and where they will be trimming for the year, power companies are able to inform homeowners in advance and avoid litigation.
You can check the easement boundaries for your property as a landowner by going to the local assessor's office to get a map of your plan. With it, the easements will be stated.
States like Michigan allow tree removal or trimming by power companies on private property by using government easement, should they get permission. Depending on the easement in your deed, some could go for 8 ft. from the edge of the road.
The government typically uses this part of one's land for sidewalks or for fire hydrants with running water lines.
Who is responsible for trimming trees near power lines?
Electric Utility or the Power Company's Responsibility
When vegetation like trees, shrubs, and bushes touches power lines, it becomes a hazardous situation. Power outages and safety hazards are possible outcomes of vegetation near power lines.
Trees in near proximity to power lines should be trimmed or pruned regularly to promote safety and prevent electricity interruption. Trees that are dead, dying, or diseased should also be removed.
Typically, electric utility companies have a regular management schedule for trimming trees annually or every 6 months.
Landowner or the Homeowner's Responsibility
The landowners or homeowners are generally responsible for the trees on their property when it comes to managing it and paying for the costs. This still means, however, that power companies are also allowed to trim these trees, too.
The advantage of being responsible for the maintenance and care of your own trees is that you get to trim them in the way you like which is also safe.
There are many homeowners who do not agree with how the power company trims their trees in terms of aesthetics, so if you want to take care of it, hire a professional who can trim your trees the way you like.
This does not mean that you can trim it yourself. Do not trim or remove branches from trees that are near power lines. Always hire a tree care service to do it for you.
Can I trim the trees on my property near a power line myself?
It is unsafe for you to trim a tree yourself that is near a power line. Even if the tree is on your property and is therefore your tree, you should always let a professional do it.
You have two options: let the electric utility company trim the tree or hire a tree care service.
Call your Electric Utility Company
If you choose to let the electric utility company trim or remove branches from the tree, it will be free. Tree removal or trimming can be expensive, so if you let them do it, you won't have to worry about paying for anything.
In dealing with a situation like this, an electric utility company is the best option. Especially when the tree has touched the power line, it is still the company that's responsible for restoring power.
To minimize the possibility of damaged utilities and power interruptions, calling the electric utility company will be your best option.
On the other hand, if you care for your tree's health and physical looks, you should hire a tree care service. One of the disadvantages of letting the electric utility company trim your tree is that they won't aim for it to look good in the end.
Sometimes, these companies don't clean up after their work, leaving debris everywhere, but hiring a tree care service can do the job for you completely and thoroughly.
You may have to pay for their services, but you won't be disappointed with the quality of their work. They will not only trim your tree but also ensure its health.
Ultimately, trimming or removing branches from a tree by yourself is dangerous work. Injuries suffered from trimming trees near power lines can be fatal.
This is why you shouldn't attempt to do the job by yourself. Call your electric utility company or a tree care service. You will need someone with the experience, knowledge, and right equipment.
What to do if a power line falls on your house?
It is completely perilous when a power line falls on your house. Whether it is caused by heavy snow or heavy rain, a power line falling on your house is a big possibility.
Contact your electric company
Should a power line fall on one of your bedrooms or living room, you must remain inside until you can contact your electric company. This is to ensure your safety in exiting your home.
Once you have contacted your electric company about the situation, wait for them to cut the power to your home or the entire street before leaving the house. Until then, stay inside.
Keep distance from the power line
Make sure that you are far away from the power line. Stay away from water and avoid touching anything metal at all costs. Stay in one area that's dry while waiting for the electric company's response.
Wait for the power company to shut off your power line
When the power company completely shuts off your power, safely exit the premises. Do not touch anything, and keep away from the downed power.
Stay away from the downed power line and exit the house through another door or window if available.
If you need to leave your house immediately due to damage or any other reason before the power company can respond, leave your house as carefully as you can. Do not bring anything unnecessary.
To prevent electrocution, an important pointer you should remember is to not lift your feet as you shuffle away from your phone. If available within your reach, wear rubber-soled shoes to limit the transfer of electricity.
What to do when a tree falls on a power line?
The first thing to do if a tree falls on power lines is don't panic, you need to think clearly and take decisive actions.
Next, you want to call emergency services. Phone 911, then phone your local power company. 
If it is safe, you need to go outside and want people away from the possibly live lines.
Regardless of what kind of emergency it is, 911 is always a good emergency protocol. When you see a power line is down or damaged due to a fallen tree, you can call 911 right away.
When a tree falls on a power line, it is just as urgent and serious as any other emergency because it could affect everything in its surroundings.
Once you have informed 911 about the situation, they can contact the electric utility company afterward for the shutdown of power in the entire area. This is to ensure safety for you and everyone in near proximity.
Call your electric utility company
If you have the electric utility company's contact number available, call them right away. Inform them that a tree has fallen on a power line and specify the location.
The power company that owns the downed power line is responsible for its repair and the restoration of power. They are also responsible for the management of the tree that fell on the power line.
Branch trimming near power lines cost
Many factors should be considered when estimating the overall cost of trimming a tree. Some situations can be very specific and therefore require special treatment.
These factors are mainly the size of the tree and the number of branches that need trimming or removing completely.
Trimming branches from a small-sized tree would cost between $250 to $525. For medium-sized trees, trimming the branches near the power line would cost from $290 to $720.
For large trees that could go from 30 to 50 feet tall, the cost of trimming their branches would range from $500 to $1200. The cost will increase up to $2000 for larger trees that measure up to 100 feet tall.
These estimates, however, could still increase or decrease depending on how much trimming should be done to the tree. The size is also a big factor in estimating the overall cost.