Trees falling is the leading cause of power outages. This is why extreme weather conditions are often the enemies of reliable power. You're sometimes lost on what to do if a tree falls on your powerlines.
Call 911 immediately. This will activate emergency services to secure the location.
Next, call your power utility company and let them know what happened so they can mobilize to repair the lines.
Go outside to warn pedestrians of the danger. Be sure to steer well clear of the tree and downed lines.
It's important to remember that power lines may still be active, and anything touching them. Trees are full of water and can conduct electricity, so be careful not to touch the tree.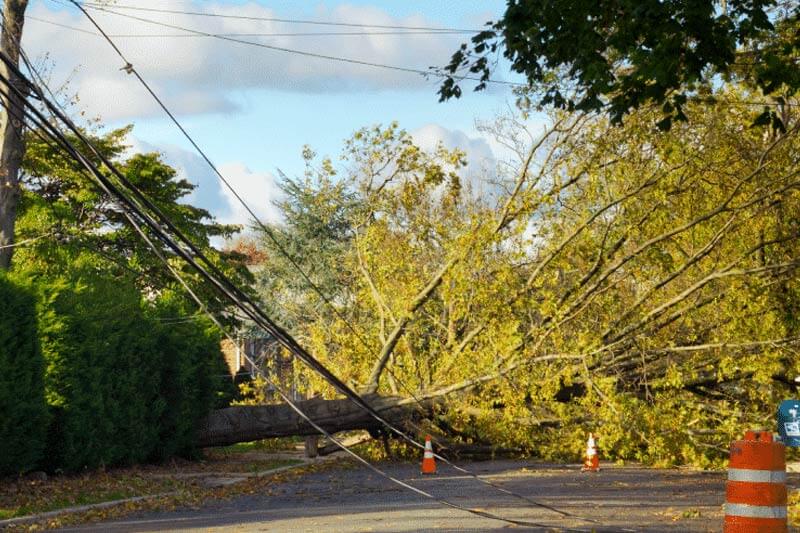 When such an accident happens, you need to prevent electrocution by staying at least 25 feet away from the spot so you're safe.
You should never touch downed power lines or the fallen tree with your hand or an object because they are dangerous.
You must avoid touching anything, such as a car, object, equipment, or anyone who is in contact with a fallen power line or tree.
Keep children and pets away from fallen electric lines.
Avoid driving or stepping over a fallen power line.
Call 9-1-1 immediately to report a fallen power line.
How to report a tree on power lines
Call your utility company immediately for tree trimming if you notice a tree or its limb threatening the powerlines in your vicinity. Tree branches and limbs on power lines can lead to emergency power outages.
Your utility company will always want to avoid any possible outage or electrocution accident that may happen as a result of such trees threatening the safety of your powerlines.
Who removes a tree that has fallen on power lines?
Removing a tree that has fallen on powerlines is the responsibility of your utility company. It's important to ensure that everyone in your neighborhood is aware and safe to avoid electrocution.
Call your utility company as soon as possible for emergency tree trimming or tree removal.
Some utility companies have tree removal crews that will respond swiftly to your call. Other utility companies partner with certified line clearance professionals. They will call on these professionals to take care of your tree removal request.
Both of these professionals follow OSHA standards strictly and are qualified to work around high voltage.
You are advised to never touch the tree or powerline or any other object within the vicinity to avoid electrocution.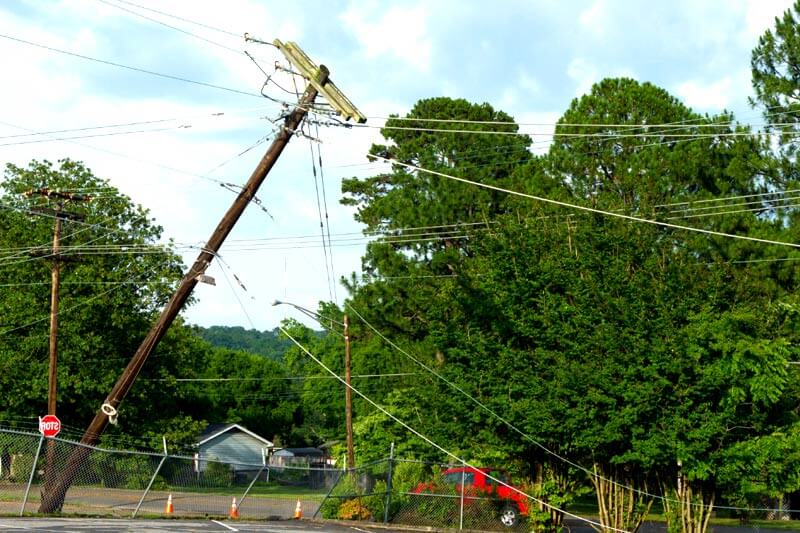 Will insurance cover this kind of tree removal?
Homeowners' insurance generally does not cover the removal of a tree that falls on your powerlines. It also does not cover the removal of the debris after it has been cut or trimmed by your utility company.
Tree removal can only be covered by insurance if it poses a hazard to or falls on a structure that is insured.
If a tree on your insured property has fallen on your power line, your homeowners' insurance should cover it. Reach out to your insurance company and let them know about this.
If the tree is located on the street and falls on your properties or the street power lines, it is up to the city or utility company to cover the damages. You should contact the right authorities and get them involved.
Who is responsible for trimming trees near power lines?
Utility companies' tree-trimming responsibility only extends to pole-to-pole utility power lines by default. Trimming trees and vegetation around the utility's powerline that connects your home to the utility pole is generally viewed as being your responsibility as the homeowner. This power line is referred to as "service drop".
As a property owner, you are responsible for regularly maintaining the trees on your property to prevent interference with the service drop. In some cases, your utility company will pay for the service, but most of the time the cost is covered by you.
Meanwhile, due to the danger involved, you're not expected to do the work yourself.
Any type of tree work within 10 or 15 feet of power lines can be dangerous.
It is entirely possible that the tree could fall into or brush against the line and conduct electricity. The tools used in tree removal, like chainsaws, can make contact and conduct electricity, too.
Removing or trimming trees within 10 feet of primary power lines is illegal unless you are a certified line clearance worker. Such activity is not only dangerous for the worker but it can also disrupt the power source for many other buildings and properties.
For street trees that are interfering with power lines, the utility companies take charge of this as part of routine maintenance.
The power lines that need extra care do not only include the electricity lines. Gas lines, ethernet and fiber optic cables, telephone or communication cables also need extra care even if they're buried in the ground.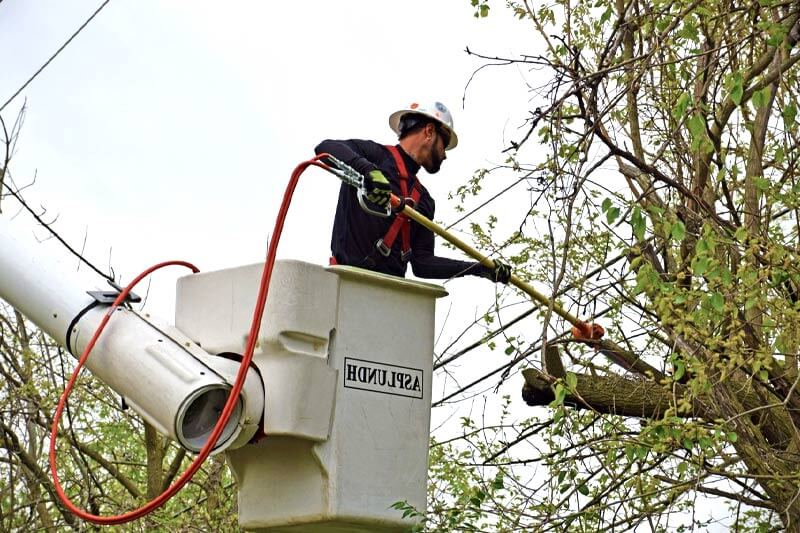 Can I remove a branch from a power line?
Tree branches near the power line can cause electricity to arc from the power line to the tree. This may not happen all the time but is possible if there's a voltage surge on the power line, such as from a nearby lightning strike.
As a result of wind or storm, it's also possible that a branch will unexpectedly touch the electrical lines. The trimming tools can equally pose danger. So, you're not expected to trim the branches close to the power line but call the certified tree trimming experts.
Call your utility company to confirm who is responsible for the trimming.
Once you're sure that you need to take charge of your tree trimming, call us or fill in the form above and let's match you with great companies who are certified to trim trees close to power lines.
GoTreeQuotes.com quickly matches you with the 3 tree surgeons voted #1 by previous users in your area.
Scroll up to the top of the page and enter your ZIP Code in the blue form at the top of the page.
Give us a few details about your tree trimming or removal job plus some contact information.
Your tree details are forwarded on to the closest three tree services all voted best priced who will also price your tree job.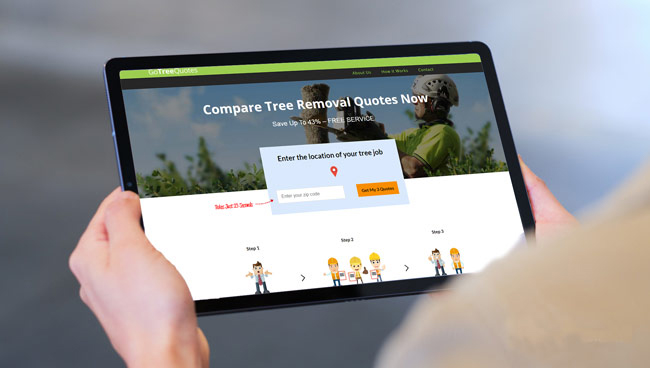 What will utilities do if a tree falls on your powerline?
The US National Electrical Safety Code requires that utility companies in different states maintain the trees and branches around power lines. This is meant to ensure your safety as a resident. They also must prevent damage to the lines since it could create a risk of electrocution or electric shock injury.
It's important to note that a utility's tree-trimming responsibility only extends to pole-to-pole utility power lines. Trimming trees and vegetation around the service drop powerline (power lines connecting a person's home to the utility pole) is viewed as the homeowner's responsibility. You may need to contact a tree removal service to do this.
Every utility company has the provision for emergency tree-cutting and removal services. They will equally work to restore your power in case of an outage. You will be responsible for clearing the logs and branches after the tree trimming or removal.
Explore this guide to easily reach your utility service provider whenever a tree falls on your powerlines.
Downed tree intervention by utility company
| Company | Intervention | Contact |
| --- | --- | --- |
| Consumers Energy | Hires line clearing professionals | 800-477-5050 |
| Duke Energy | Hires line clearing professionals | Customer serivce duke |
| PG&E | Involves their tree-trimming crew | 1-800-743-5000 |
| ConEdison | Involves their tree-trimming crew | 1-800-334-7661 |
| Idaho Power | Involves their tree-trimming crew | 208-388-2323/1-800-488-6151. |
| We Energies | Involves their tree-trimming crew | 800-242-9137 |
| NIPSCO | Involves their tree-trimming crew | 1-800-464-7726 |
| PECO | Involves their tree-trimming crew | 1-800-841-4141 |