Tree Ordinances codes in Ann Arbor are set to control tree removal for better tree canopy coverage in the city.
The city of Ann Arbor does require a permit for removing some trees. Dead and hazardous trees can be removed without a permit as well as invasive species outlined by the state. Those include the Common Reed or the Black locust trees.
Below you will find a summary of the tree removal code of ordinances to help you understand what trees need a permit and the penalties for breaching any of the outlined guidelines.
Download: Tree Preservation Codes Ann Arbor MI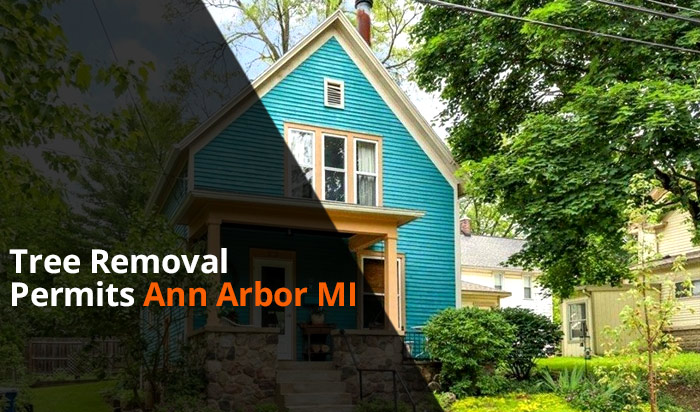 Yes. You will need to obtain a tree permit from the Ann Arbor tree city council before cutting most trees. The city is proud of the dense canopy, and therefore they take seriously tree preservation measures to mitigate any tree loss.
The rules help to protect large heritage and other significant trees that act as landmarks to the community.
Street tree removal permit request in Ann Arbor City
The city arborists hold the sole authority over maintenance, planting, or tree removal in the streets right-of-way and any other public property.
Not a single individual without a written city administrator permission shall injure, prune, or even remove a tree or shrub growing in the street right-of-way.
Here are the permit forms requirements needed when requesting public tree removal. For the request to be approved, one has to meet these requirements by the city council:
If the street trees are encroaching the private property.
In case the subject tree in the public property is infested by pests or diseased.
If the surrounding tree area must be cleared for a development plan.
In case the tree(s) in question pose a danger or is hazardous in any way to the public.
When the subject tree is dying or dead.
Handling of Street trees in the city of Ann Arbor
Ann Arbor city positively dedicates its resources to ensure the maximum number of trees on public and private land. The city also undertakes maintenance practices to ensure the trees are healthy and pose no danger to the public.
This means that it is the city council's responsibility to take care of all trees growing in public properties. As a result, the council prune or removes any tree that is a nuisance or hazard to the public.
They also identify and remove diseased, dead, or dying trees, creating enough public utility services. With that, the city council bears all the costs incurred to plant, replace, maintain, or remove any tree from the public land.
Is it unlawful to remove protected trees in Ann Arbor?
Yes. Mostly protected trees are landmark trees. You'll need to obtain a permit before working on protected trees. The regulations set aside are not to be broken at any cost. Anyone who goes against this or removes a protected tree without a permit is heavily fined.
Can I hire a tree service company to work on Ann Arbor city street trees?
Yes. Ann Arbor residents who desire to hire a tree service company at their expense to work on tree maintenance such as pruning, spraying, stump removal, or tree removal can comfortably do so through Resident Sponsored Tree Care and Tree Planting programs.
What is a "canopy loss fee" in Ann Arbor City?
In case you have any project which proposes any tree removal on any park or street tree, you will need to pay the canopy loss fee. This is generally a conservation estimate of the value the subject tree has to the community.