Palm tree stump removal is the final stage of palm tree removal, and it is not as complicated as other stump removals.
On average, palm tree stump removal costs around $75 – $425. The actual cost depends on the stump size, accessibility, and the tools used to remove it.
Palm tree stumps, just like palm trees, are different from other trees. They look, feel, and have a unique root system that makes palm tree stump removal difficult.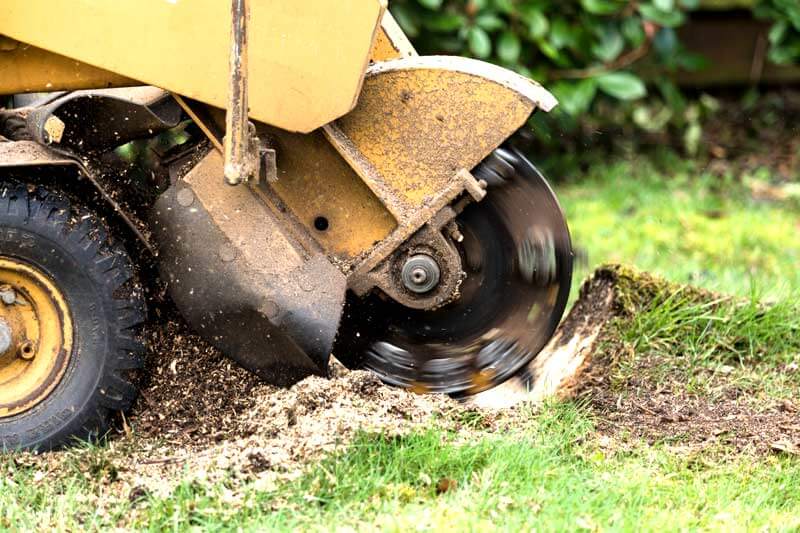 Factors That Affect Cost Of Palm Tree Stump Removal
Palm trees have fibrous roots, while other trees have tap root systems. The fibrous roots of palm trees ensure that it stands firmly in the ground. These roots ensure that palm trees can withstand storms and strong winds.
The deeper the roots, the harder it is to remove the stump. Trumps of trees with shallow roots are easy to remove. The deep roots of the palm tree make it difficult to remove and hence increase how much you will pay for removal.
Palm trees grow on different types of soils. Some are on sandy soils, while others will grow on loamy soils.
The roots of a palm tree go deeper depending on the type of soil it grows in.
A palm tree that grows on sandy soil has deeper roots than the one growing on loamy soils.
The deeper the roots go, the harder it is for the stump to remove. The best solution is to get a grinding machine to grind the stump.
You can also DIY stump removal. It is the cheapest way to remove a stump.
However, for DIY stump removal, you need time, skills, and tools to remove a stump. You may spend more money to hire removal tools than you would pay a professional to remove the stump for you.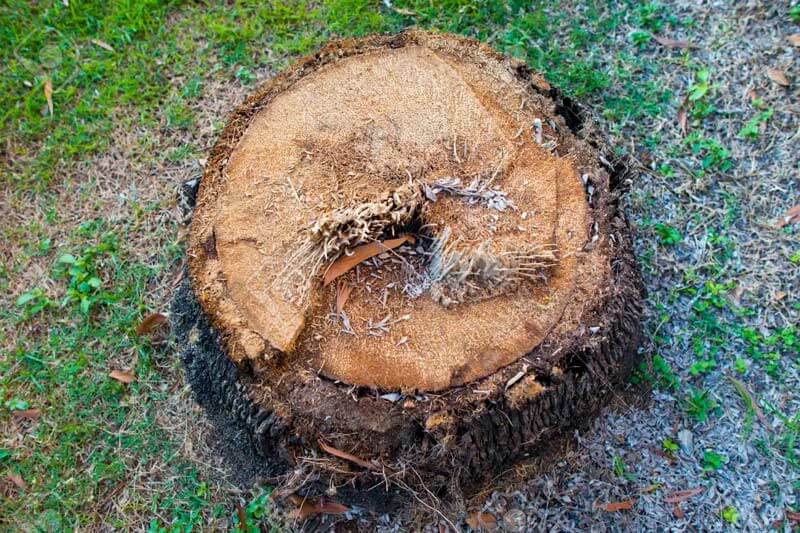 It is cheaper to remove a more accessible tree than one growing near homes or other facilities. Similarly, you will pay less to remove an easy-to-access tree stump.
Often, palm trees grow in the open. They have sufficient space around them to ease removal or fruit harvesting. Hence, making stump removal cheaper.
If you live in a remote area, the stump remover will surcharge you for their transport.
The best tool to use for stump removal is a grinder. It costs less and is speedier to grind a stump.
It costs 3$ per inch to grind a stump, while it costs $5 per inch when using other tools.
Benefits Of Hiring A Pro For Palm Tree Stump Removal
Getting a professional to remove the palm tree stump is the safest stump removal method. First, you don't have to put yourself at risk using tools you do not know how to use.
Secondly, the roots of the palm tree stump run deep. If the stump is close to your house, removal may cause damage to your property. Hiring a pro prevents damage to your property from happening.
Tree stumps left after tree removal are eyesores. Everyone wants to have beautiful outdoors. Removing tree stumps enhances the aesthetics of a compound.
Professional removal of tree stumps ensures that the grounds are clear and attractive. Clean and beautiful compounds have higher financial value. Thus, there is a need for proper stump removal.
A professional stump removal helps to improve how a ground feels and looks.
Professional tree removers have the right tools to carry out their job well. With a grinder, professional stump removal is safe and quick. It also saves time and money.
If you were to do it yourself, you would need lots of time and energy to finish it properly.
Hiring a professional stump removal service saves you both time and money. Professional palm tree stump removal is affordable.
With the right tools for the job, stump removal is quick. Therefore, even when you pay by the hour, you will pay less.
Get Matched with a Tree Removal Expert in Your State
How To Hire A Pro Palm Tree Stump Removal Service
Gotreequotes.com is a free tool for hiring professional palm tree removal services. It connects homeowners to professional tree removal services in the following easy steps.
Enter your zip code at the top of the tool.
Fill in the form to provide more details about the tree removal service you need.
You will receive three or four quotes and advice from professional tree removers.
Contact and hire the tree removal service that falls within your budget.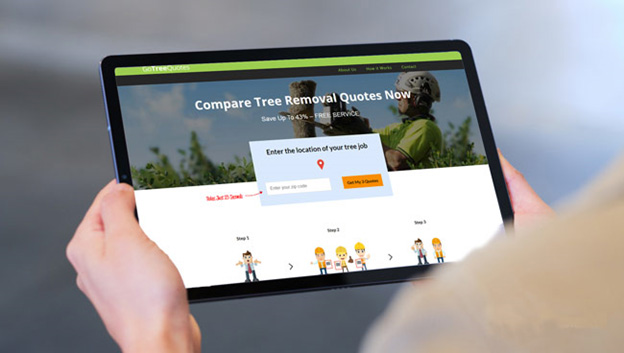 Do I Need A Permit To Remove A Palm Tree
Depending on where you live, you will need a permit to remove a palm tree.
Additionally, depending on the type of palm tree you want to remove, you may have to apply for a permit to remove the tree.
You will need a permit to remove a protected palm tree. Your local government can deny you permission to remove a palm tree if it is protected.
Hire a professional removal service to advise you on whether you will need a permit to remove a palm tree.
How Long Does A Palm Tree Stump Removal Take
Depending on the tools you use, it will take 30 minutes to 2 hours to remove a palm tree stump.
This time is based on using a large stump grinding machine. If you wanted to DIY and dig it out by hand, it could take days.