If you've been thinking of starting any development project on either residential or commercial properties, one of the requirements by most councils is a tree survey.
A tree survey refers to an overall assessment or survey of the trees on a site considered for development. It's usually conducted by a qualified arborist(s) with the goal of locating and determining which trees can be removed and which ones remain.
In most parts of the country, the local cities and counties demand homeowners to provide the results of the tree survey to be granted a go-ahead on their projects.
The tree survey reveals a lot of information about the condition of the trees on or close to your property. While it mainly wants to find out more about the trees' health, other key details you'll find from the survey include:
The tree's species based on its botanical name
It's physical measurement such as height, diameter
Total number of trees within the area under assessment, with each tree given a unique reference number
The structural and physiological health of each tree
The life expectancy of each tree
Age of individual trees i.e., young, mature, semi-mature, old, veteran
Preliminary recommendations for the management of the trees
Significance and priority for retention of the trees
Trunk's diameter at breast height (DBH) and crown radii for the North, East, West and South Crowns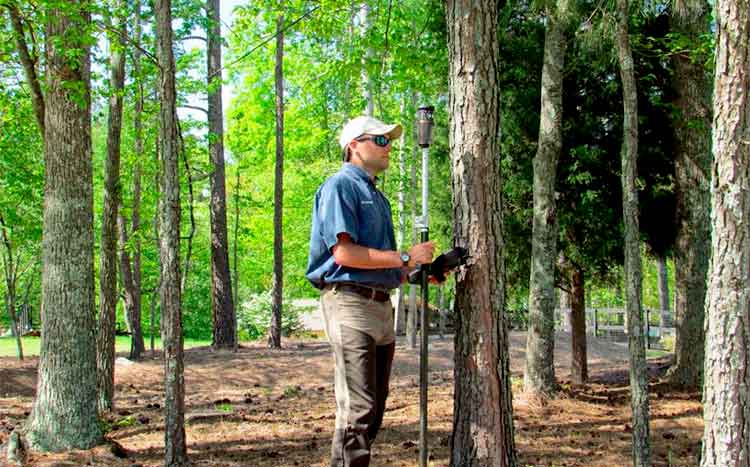 Some surveys may also provide a tree location plan created using CAD software. The information needs to be as detailed as possible to be useful to every party involved.
Based on these findings, the local council and other parties like the project manager and city arborist will determine which trees to keep and which ones to remove.
The survey data also ensures that protected trees, especially in urban areas, are retained and maintained despite the developments happening near them.
When is a tree survey necessary?
Generally, tree surveys are required whenever anyone wants to commence a land development project in an area with trees. The survey report is a requirement that should be submitted during your application for a development permit.
You will also need a tree survey if you're extending, changing access, or constructing ancillary buildings on your existing property.
Besides conducting the survey for development reasons, you can also do it if you're worried about the safety of the trees on your property.
If you have reasons to believe that the trees are dying, fragile, or structurally unstable, a tree survey report will provide the information you need.
Why do I need a tree survey?
Despite popular belief, tree surveys shouldn't be sought only as an official planning requirement. Every property owner needs a tree survey to understand the health and location of each tree on their property to make the right development decisions.
While this could be expensive through arborist services costs, you'll be thankful in the long run for investing in the survey.
Here are three key reasons why you need the information from these surveys:
1. To locate protected trees
In most states, there are certain trees protected by law that must not be cut down regardless of the project. Removing such trees could attract hefty financial penalties from the local council.
By conducting a tree survey before a project, you'll be able to locate all protected trees and ensure that they are preserved during the construction.
2. Landscape designs
Most landscapers and property managers understand that trees in the right location can significantly boost the value of a property.
With the information from the tree survey, they'll be able to determine which trees will be more beneficial when retained.
This allows the landscapers to incorporate the trees in their drafts and designs ensuring it blends seamlessly with other design features.
3. Safety
You also need a survey to identify any health and structural hazards existing on or close to your property. The information from a tree can reveal any diseased trees that might snap off or the weak trees that could come down during a storm.
The survey may also indicate any trees with rotting roots, and those whose roots are piercing into your home's foundation.
Based on these findings, the professional arborist may give you practical tree management tips to help you avert the dangers before they happen.
This could be anything from removing the dying trees to pruning and trimming the sick trees. Either way, you'll get to live in a safer property.
When is a tree survey not required?
If your property lacks trees or has a few scattered trees, there's a high chance that you won't need a tree survey. Nevertheless, this isn't to mean that properties with fewer trees are excused from conducting tree surveys.
If there's a protected tree on your property, you'll still need to do the survey and provide a detailed plan on how you'll proceed with your project without cutting down and completely removing the tree.
In most cases, you also won't require the survey if you're only making some alterations on existing your property.
So long as you're not proposing an extension of the building's footprint, adding a new service line or changing the access, there's no need for the survey.
Who can carry out a tree survey?
All tree surveys should be carried out by a professional arborist or tree expert, certified by the International Society of Arboriculture (ISA). This applies to both public, private and commercial projects.
Choosing the right tree surveyor or arborist
The problem with conducting a tree survey is finding a tree surveyor or arborist you can trust. This is because the tree services market is flooded with cons who want to take your money and deliver poor work.
So to find the right surveyor, you need to do your research. Here are some key things to look for before hiring;
Licensing, certifications, and insurance
As earlier mentioned, all qualified arborists must be ISA-certified and should be able to show copies of their license. They should also be insured with an active policy cover. Ask for a copy of their insurance and call their insurer to confirm that they're covered.
Experience is king when it comes to tree surveys. Be keen to look for tree surveyors who've been in the industry for at least 10 years. An experienced arborist should be able to provide you with a portfolio of their past works, and if possible, references to some of their happy clients.
One of the biggest mistakes you can make is falling for the door-to-door salesmen selling their arboriculture company. Instead, refine your search to reputable companies within your area. Prioritize word-of-mouth recommendations and ask around your circle of friends about their experience with a local tree surveyor.
How an arborist or tree surveyor responds to your questions says a lot about their experience and expertise. Ask them about their process, cost guide, and even experience with past clients. If you don't like how they respond, don't trust them with the project.
This is the first rule when looking to hire any contractor. You need to seek well-detailed quotes and estimates from at least 3 contractors before hiring. This way, you'll better understand the pricing for different tasks and also put some pressure on the contractor to give you their best price.
How much does a tree survey cost?
The total cost for a tree survey varies depending on the size of your property, the number of trees available and the number of details to be collected from each tree. Other factors such as the accessibility of the tree and its size may also influence the price.
Nonetheless, the average costs you can expect to spend per tree may range from $10 – $75 per tree with most surveys mapping around 120 trees per day.
The arborists may also charge a fixed flat fee or opt for an agreed hourly payment. Many tree experts charge between $30 – $80 per hour for the job.
You should also account for the costs of the survey reports and public presentations. These prices range anywhere from $450 to $1,500 depending on the number of trees.
After a tree inspection or survey, the arborists have to submit to you a 12 – 30 page arborist report detailing their observations, findings, and management recommendations after the survey.
This is the report that you should submit to your local planning department when thinking of starting a development project.
Any level 3 or level 5 arborist (depending on your city or county) can provide these reports after a survey or tree inspection.
Note: While an arborist's report is important, it's not a guarantee that your project plans will be approved. The planning department makes its decisions based on the findings and evidence gathered by the arborist.
Tired of looking for a tree surveyor?
Use of FREE service, GoTreeQuotes.com. It's the fastest and easiest way to get 3 Estimates from the most affordable tree services near you!
GoTreeQuotes quickly matches you with the 3 tree surveyors or arborists voted #1 by previous users in your area.
Scroll up to the top of the page and enter your ZIP Code in the blue form at the top of the page.
Give us a few details about your tree survey job plus some contact information.
Your tree details are forwarded on to the closest three tree services all voted best priced who will also price your tree job.
Best of all, there's no obligation to hire from these experts! This is a free tool and service to be used at your pleasure.