Compare Tree Removal Quotes Now
Save Up To 43% - FREE SERVICE
Step 1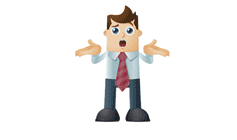 Answer a few questions
about your tree job.
Step 2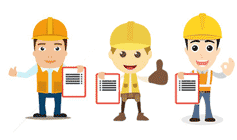 Within seconds, get matched
with top-rated local pros.
Step 3
Compare quotes and choose the
best pro for the job.




What is the time of year for tree removal?
Last updated: 29 January 2020
There is one time of year that is best for pruning and removing trees. Not only for the trees health, but for your back pocket.
If your tree is healthy and doesn't pose a risk, remove it is during winter. This is when there is very little action going on outdoors and you will snag a bargain on tree removal. Save 25% + off the price of tree removal when getting it done in winter.
If your tree is at risk of falling over between now and then, I suggest you bite the bullet and get it removed. The damage caused when it falls will cost you more than you stand to save.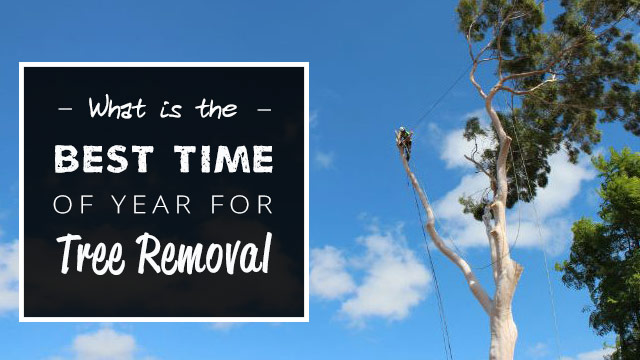 Is it cheaper to cut trees in the winter?
Supply and demand determine the price for tree removal just like any other commodity or service in the market. Tree removal companies may offer lower prices during the winter as not many people need tree services.
The dormant season (December to early March) seems to have the lowest tree removal rates in the whole year. Tree companies are ready to offer reduced prices so that they can get a steady flow of business.
It's also easier to remove the trees as all leaves have fallen off.
Companies can get super busy during the late spring and summer with huge demand for tree removals. As a result, you might need to pay higher prices.
It's just like booking a hotel- you get attractive discounts in the off-season, while booking during the high season is more expensive! During winter, you can expect to get 20% to 30% discount on your tree removal cost.
What is a good price for tree removal?
The price for removing a tree depends on several factors like time of the year, the health of the tree and ease of access.
You may need to pay $225 for removing small trees while the cost can go up to $4,500 for bigger ones. The average cost to remove a tree is around $871.
An arborist will come and survey the conditions including your tree, obstacles and other factors before quoting his price. There is no hard and fast formula to decide the price, as tree companies charge you by the job and not on hourly basis. Every tree company has its own business model and can have different charges.
The company will also consider its overheads, the equipment used and manpower to decide the final price. The price will also depend on the time needed to take down the tree and level of effort required.
Here's a closer look at the average prices you may be charged for different trees-
Small trees: You may need to pay $200 to $500 for removing a small tree. A small tree is usually 5 to 15 feet in height and has a trunk diameter of less than 6 inches.
Medium trees: A medium tree can be classified as having heights of 15 to 25 feet. The charges for cutting down medium trees can vary from $500 to $900. The price may vary due to certain factors, like the location of the tree in your yard.
Large trees: A large tree can grow up to 30 to 60 feet in height. You might end up paying $900 to $2,500 for removing a big tree. large tree removal cost is always calculated higher compared to other trees as you need to remove a considerable amount of timber and foliage.
Super-large trees: Though uncommon, you might have a super-large tree growing to heights of 100 to 120 feet. You can expect to shell out anything from $2,500 to $4,500 for removing such a big tree.
The above costs also include the price of stump removal and you don't need to pay anything extra.
How much do arborists charge?
Arborists charge different rates for the duties they handle. Some jobs might cost less, while others may cost more. You can expect the charges to range between $375 and $1,500 depending on what is being done.
For instance, if you want to trim a small trees like palm, then a single trimming can cost $75. But if you want to cut down very large tree like a Norfolk Island Pine, then you can be looking at around $5,000 all in.
Here's a breakdown of how much an arborist charges based on the service.
Tree trimming prices
An arborist can charge anything from $50 to $2,500 for trimming a tree. The cost of tree trimming depends on the quantity and the size of the branches you want to remove. So you can understand that trimming few branches off a palm tree would cost much lesser than trimming numerous branches of a radiate pine tree.
Time is money, so the more branches and the longer it takes to remove them, the more you will be charged.
Tree removal charges
Tree removal services can start around $200 and cost as much as $5,000 for large and challenging projects. How much you need to pay will be decided by the size, location and ease of access of a tree. The bigger and more difficult a tree is to remove, the more you will pay.
The average cost of tree removal comes in at $1,147 so far this year, but can vary depending on many factors like height, girth and property access.
Arborist report cost
Arborist reports are different from general tree inspections and serve as official documents. You might need to present an arborist report to your city or council when you want to remove a tree.
The reports are also required to file applications of development by construction companies.
Arborist reports are detailed documents running 6 to 12 pages and present details on health of the tree, safe and useful life expectancy and amenity value.
It can cost anything from $300 to $450 to get a report from a qualified consulting tree arborist.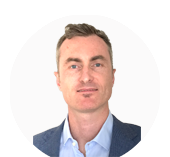 Author: Ben McInerney – Ben is a qualified arborist with 15 plus years of industry experience in Arboriculture. He ran a successful tree service before turning to writing and publishing. Ben is dedicating to providing users with the most accurate up to date information on everything trees.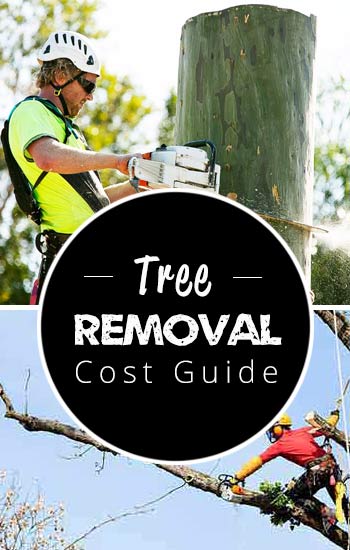 Cost calculator for tree services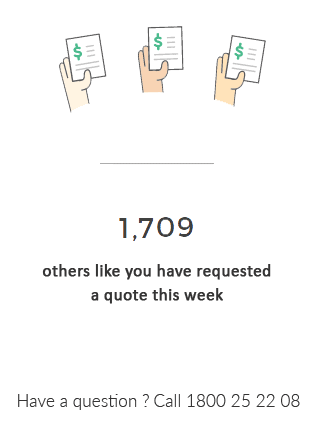 What other times of year are good to cut trees down?
Like we already discussed, the ideal time to cut down trees is during winter when they are dormant.
But you may need to remove trees during other times of the year based on several factors.
For instance, if a tree poses a risk, has damaged trunks, roots up-lifting or is leaning, it's best to remove it right away. You can also cut down trees that are infested or diseased to prevent the spread to nearby trees and plants.
You should consult a certified arborist who will come over to inspect your tree and determine if it needs to go.
Generally, you can remove a tree at any time of the year if it's necessary. The only issue is that you might need to pay more to cut down trees during high season when tree companies are very busy.
High season is any time from spring to the end of summer.
Is it legal to cut trees on my property?
You can go ahead and cut trees on your property that are not under the city's protection. Every county or city has its own regulations for tree removal and you need to follow them.
All trees are considered community trees as they provide a range of benefits to the community. You should consult the tree preservation ordinance of your city to find out the types of trees you can remove.
For example, some cities allow any trees under the height of 12 inches to be cut without a permit.
On the other hand, you may need a permit to cut down a larger tree or a heritage tree.
FAQ's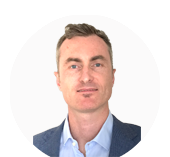 Author: Ben McInerney – Ben is a qualified arborist with 15 plus years of industry experience in Arboriculture. He ran a successful tree service before turning to writing and publishing. Ben is dedicating to providing users with the most accurate up to date information on everything trees.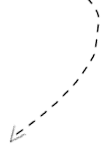 Enter the location of your tree job




LOWEST PRICE GUARANTEED
We're that confident you will get the best quality tree
service at the lowest prices, we 100% guarantee it!

SAVES YOU MONEY
3 local tree services all voted as having the "best price
quality of service by previous users", will quote your job.

SAVES YOU TIME
We have done all background checks so you don have to.