If you're like most homeowners, the topic around tree service licensing, insurance, and certifications is one you know little about. But if you're looking to hire a tree removal service, licensing is a vital factor to consider.
All tree removal services require a business license from their state or city. They also require a contractor's license, which is not necessarily specific to tree removal, but this depends on your state's laws.
Licenses are only issued to those with Certification in Arboriculture and those who are bonded. A tree care license is probably the most important one to ask for, and if they do not have one, their insurance is most likely void and will not cover you in case of an accident.
Note: Not all cities or states require tree services to be licensed, so be sure you check with your local city or state websites.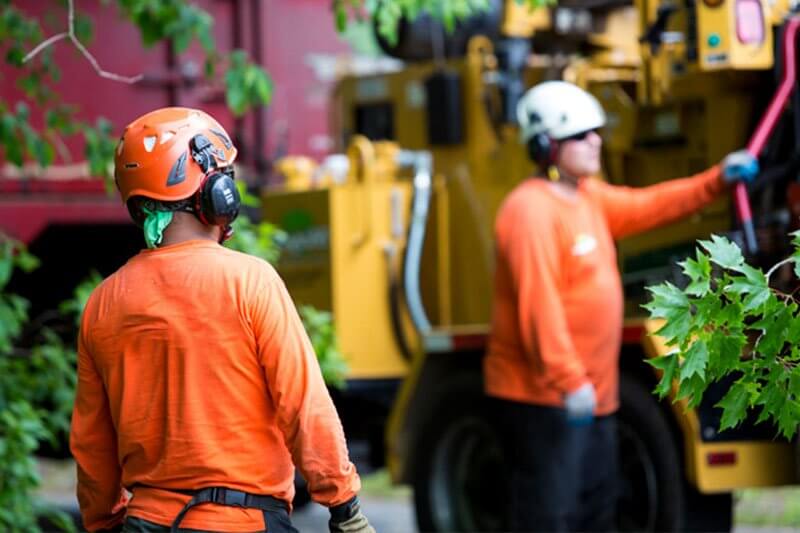 | State | License Needed? | Details |
| --- | --- | --- |
| Alabama | Yes | Tree Surgery License |
| Alaska | No | |
| Arizona | No | |
| Arkansas | No | |
| California | Yes | D-49 or C-27 License |
| Colorado | Yes | Certified Arborist License |
| Connecticut | Yes | Arborist License |
| Delaware | No | |
| District of Columbia | No | |
| Florida | Yes | Occupational License |
| Georgia | No | |
| Hawaii | Yes | C-27 and C-27b License |
| Idaho | No | |
| Illinois | No | |
| Indiana | No | |
| Iowa | Yes | Tree surgeon License |
| Kansas | Yes | Arborist License |
| Kentucky | No | |
| Louisiana | Yes | Arborist License |
| Maine | Yes | Arborist License |
| Maryland | Yes | Tree Expert License |
| Massachusetts | No | |
| Michigan | No | |
| Minnesota | Yes | Tree Care Registry |
| Mississippi | Yes | Tree Surgery License |
| Missouri | Yes | Occupational License |
| Montana | No | |
| Nebraska | No | |
| Nevada | Yes | C-10 License |
| New Hampshire | No | |
| New Jersey | Yes | Licensed Tree Care Operator (LTCO) or Licensed Tree Expert (LTE) license |
| New Mexico | No | |
| New York | No | |
| North Carolina | Yes | Contractor's License |
| North Dakota | Yes | Commercial Arborist License |
| Ohio | No | |
| Oklahoma | No | |
| Oregon | Yes | Landscape Contractors Board (LCB) License |
| Pennsylvania | No | |
| Rhode Island | No | |
| South Carolina | No | |
| South Dakota | Yes | Proof of certification from ISA or South Dakota Arborists' Association |
| Tennessee | No | |
| Texas | No | |
| Utah | Yes | Contractor's License |
| Vermont | No | |
| Virginia | No | |
| Washington | Yes | Contractor's License |
| West Virginia | Yes | Timber Operator License |
| Wisconsin | Yes | Tree and Brush Trimmer License |
| Wyoming | Yes | Commercial Arborist License |
Licensing Requirements for Tree Services
As mentioned, different states have different licensing requirements for tree removal service companies. The occupational license is the only requirement that's common for most states.
Other complimentary legal documents that might be required for a tree services company in operation include:
Service contract
Independent contractor agreement
Privacy policy
Invoice template
Equipment lease
However, when choosing between tree removal service companies, the most important aspects of the licensing to consider include:
State Occupational License and Registration
In almost every state, any tree care and removal service company has to be registered with the relevant department within the city or state you operate in.
To prove this, the companies are usually given license certificates.
Obtaining this license shows that a company has met the state's requirements to offer tree services. It's also an indication that the contractors understand the laws of the area regarding trees that can be removed and which can't.
Before choosing a tree removal service, you need to ask for a copy of this license to be sure that the company is allowed to operate in your area.
You can also confirm and verify the status of a contractor by contacting the contractor's state license board.
Pesticide Applicators License
If the company deals with more than just tree removal, the law, as recognized by the EPA, requires the company to have at least one certified pesticide applicator.
This certificate is issued by the Department of Agriculture and Consumer Services (FDACS).
Professional Certifications and Accreditations
Most of the certifications mentioned here are voluntary and not compulsory for tree removal companies to have. However, they are vital as they show that the members of the tree removal services can handle the removal safely.
The certifications are also an indication of the knowledge and skills possessed by the tree removal company.
The most common certificates you'll find among contractors include:
International Society of Arboriculture (ISA)
ISA, an industry leader in arboriculture offers a host of voluntary certifications like the ISA certified arborist to individuals who pass their exam.
This credential shows that the expert is trained in tree safety, aerial rescue, and electrical hazards, which is very important for tree removal.
Tree Care Industry Association (TCIA)
Another voluntary yet still very important certification a tree removal service should have its arborists go through is the Tree Care Industry Association (TCIA) training.
The modules covered in the training for this certification cover everything from the basics of the arboricultural profession to worker safety, injury prevention, and even the use of equipment.
Completion of this certificate is one of the best assurances you can have that the contractors involved in the tree removal service know what they're doing.
You can also verify the status of a company's TCIA accreditation through their website www.tcia.org.
Besides the licensing and certifications, insurance is another key aspect every tree removal company needs to have. There are two main types of insurance you should look for when hiring a tree removal service i.e.
Personal and Property General Liability Cover
A general liability insurance cover is a must-have for any company offering tree services in the country. This insurance ensures that the contractor can cover any property damage or injuries that may happen during the tree removal process.
For instance, if the contractor damages your window, fence, or gate when removing the tree, you can file a case against him/her in court and if you win, their insurance will cover it.
Important: You need to confirm that the contractor's insurance policy specifically covers tree work. Otherwise, any damages or injuries that arise from the removal of trees from your property won't be covered.
Workman's Compensation Insurance
Another equally important insurance cover a tree removal company must have is the workman's compensation cover.
This insurance policy is designed to protect you from shouldering responsibilities in case one of the contractors has an accident on your property.
Note that while the company is required to pay for the medical expenses of the injured crew members, without the right workman's compensation cover, the burden might also fall on the property owner who hired them.
Given how dangerous the tree work can be, you don't want to be on the paying end of this situation. Therefore, ensure that the tree removal service has this cover specifically for tree work.
Professional Liability Insurance (Error & Omissions)
Besides the general liability and workman's compensation covers, tree removal companies should also have error and omissions insurance.
While this cover isn't as popular as the former two, this policy covers you in case the contractors make a massive blunder during the removal process. This could be as a result of negligence, mistakes and errors, or omissions where the contractor failed to deliver as promised.
For instance, if the contractors cut down the wrong tree, they'll be able to compensate you for their error.
Can Tree Removal Companies Work Without a License?
Yes! Since there are very few regulations regarding tree removal services, it's common to find contractors who work without a license.
This, however, doesn't change the fact that these companies are working illegally and stand to face steep fines when caught up by the relevant authorities.
At GoTreeQuotes.com, we always recommend that you work with a trained, licensed, certified, and insured tree removal company. While they might be more expensive, they make up for the cost with quality work.
A licensed and certified contractor is more likely to understand the job and will do it safely without putting you or your property in harm's way.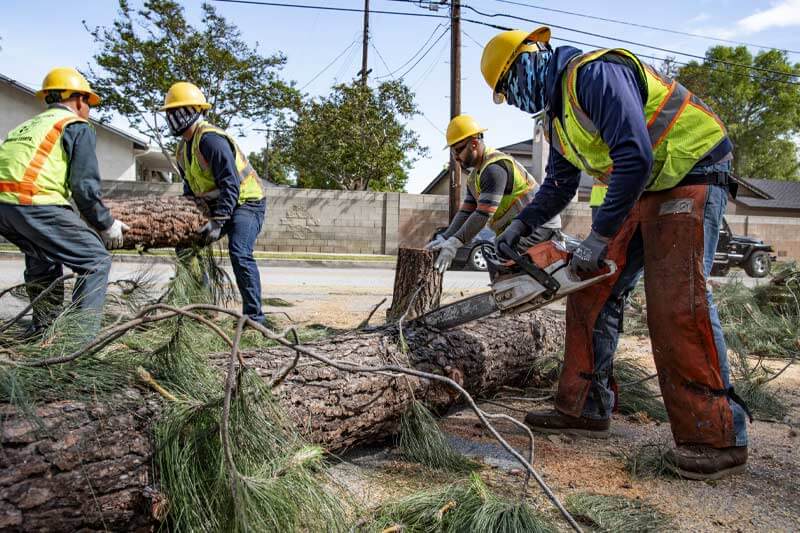 Why Is Licensing and Insurance Important?
Choosing to work with a licensed tree removal company is industry-recommended for various reasons. Among the most common ones include:
Tree Removal Is Dangerous
Globally, tree work and tree removal are regarded as one of the most dangerous jobs. Due to the heights, sharp equipment, electrical wires, and unsteady surfaces, Just one mistake when cutting the tree can cause a big catastrophe.
That's why you need to hire a trained, licensed, and insured tree removal company. Such contractors know the value of safety in the business and won't compromise it to make a quick buck.
Tree Removal Is Expensive
The average cost of tree removal in the country stands between $425 – $7,900. As you can see tree removal can be expensive.
As such, you don't want to lose money with an inexperienced tree removal service. You want to be sure that whoever does the job knows exactly what they're doing.
The good thing with insured and licensed contractors is that even if they don't deliver what they promised, you can always be reimbursed by their professional liability cover.
Licensed Workers Protect Other Trees
When working with unlicensed tree removal services, you're not just risking your property and safety, but also other trees as well.
Since most of the unlicensed workers don't have training in arboriculture, they may impose irreparable damage on the neighboring trees as they cut the intended tree.
Yes. Tree removal companies in Florida only need an occupational license to operate. Any other certifications are voluntary and optional for any tree service company.
In most cases, yes! A tree that's too close to your house can result in serious problems for your foundation. But to be sure, always contact a certified arborist to perform an inspection.