Tree removal can be very expensive, so knowing where to save money and how to negotiate even more off the price during the quitting process can save you up to 50% off the price.
First, we need to stack the odds in your favor before you even right your first tree service. We can do that by hiring when tree services are cheaper (best time of year) as well as how to find budget services.
Hint: you don't type "budget tree service" into Google), as well as the negotiation process when you finally get a tree service out to quote the job.
If you already have prices from tree service, this article is going to be super helpful in phoning them up and negotiating a better deal.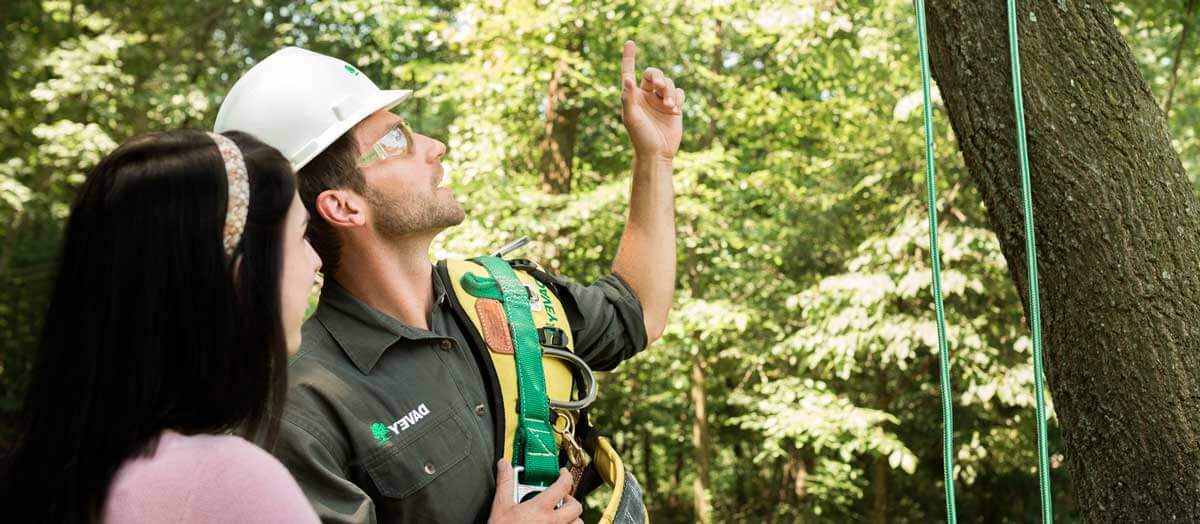 Tree removal costs will depend on the size of the tree, the ease of access, and the difficulty of the job. Below are some price ranges based on tree size and location on the property.
If a tree is in a front yard with no obstacles around it, the price will be much lower than a similar-sized tree behind a rear shed with power cables running through it.
Time is money, so the quicker and easier tree removal companies can remove a tree, the cheaper the price will be. Below is the average cost. Tree costs fluctuate depending on the city and tree service, so be sure to get multiple estimates for tree removal.
| | Size | Front yard | Backyard |
| --- | --- | --- | --- |
| Small tree | Up to 15 ft. | $355 | $580 |
| Medium tree | 15 - 25 ft. | $620 | $1,190 |
| Large tree | 25 - 60 ft. | $1,390 | $3,250 |
| Extra large trees | 60 - 120 ft. | $4,100 | $7,850 |
| Multiple trees (3) | 25 - 60 ft. | $2,700 | $12,500 |
Why tree removal is so expensive
Tree removal companies charge so much because of the massive overheads and running costs a tree service has. A ground crew of min. 3 workers, as well as a climber for any tree removal job.
Large proper equipment is needed to run the business and most companies spend $200,000 + in capital outlay just to purchase the equipment. This might include:
Truck
Chipper
Bobcat
Crane
Cherry picker
The climber and grounds crew are paid very well which also adds to running costs.
Insurance is a large expense for tree services such as public liability insurance, workers' compensation insurance as well as cover for all heavy advanced equipment.
As you can see, the company needs to make well over $1,500 per day just to break even. This is why large tree removal jobs cost so much money.
Cheapest time of year for tree removal
The first weapon you have in your arsenal when looking to save money on a good tree removal service is selecting the best time of year to remove a tree.
Winter is always going to be the cheapest time of year to remove a tree. The secret lies with the supply and demand paradigm.
During winter, there is a lot less demand for tree removal as most people aren't out in their gardens. Because demand is low, but the supply of tree services remains the same, you will generally get cheaper bids and fair prices as tree services lower prices to win work.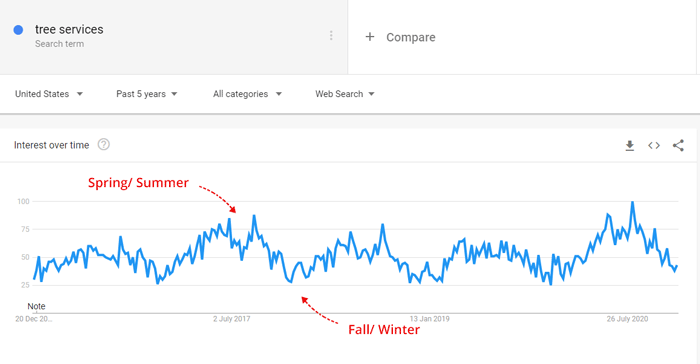 Get Matched with a Tree Removal Expert in Your State
Google search technique
When you type in "professional tree removal services near me" or something similar, you will get a list of tree services in your area. The thing to bear in mind is tree services that appear at the top have paid to be there. It's not by chance.
The same goes for Yellow Pages results or something similar. Because of their large marketing budgets, they will need to pass those costs onto customers. You are best skipping page one of Google and calling companies on pages 2 and 3 of the results to get smaller local companies more likely to charge less.
Be sure to engage several local companies and get multiple estimates.

How to negotiate tree removal cost
Now that we know the best time of year and the best way to search and select tree services, we need a few other tricks to drive the price even further down.
Below are some things you can do to negotiate tree removal by saving time for the tree removal company which will, in turn, save you a lot of money on tree removal costs.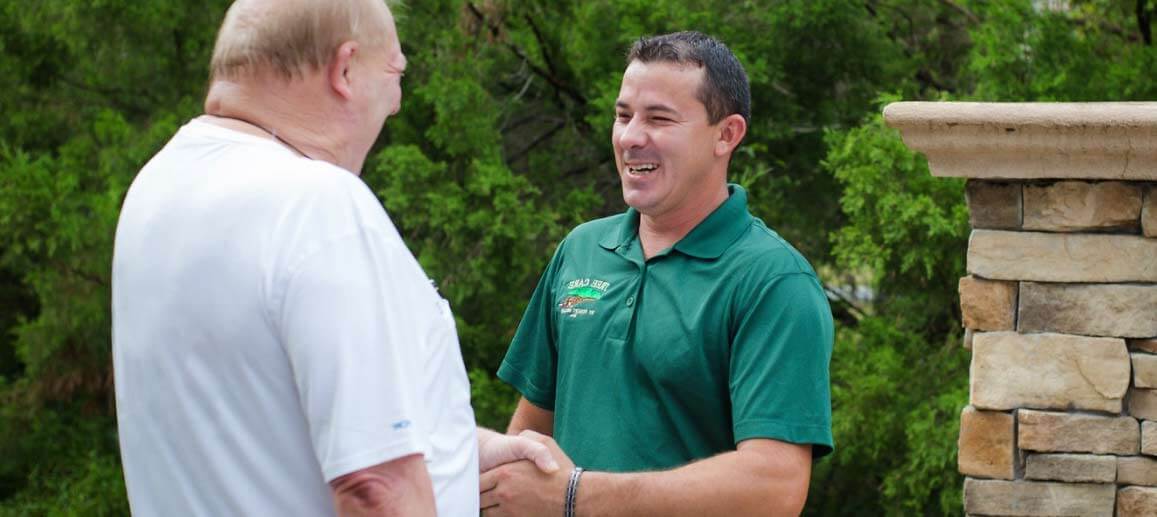 If you are removing a large tree from your property, there is a good chance there will be a lot of timber that could be used as firewood. If you don't have a log fire yourself at home, you can take a photo of the logs and place them on Gumtree.
You are sure to get a lot of people willing to come over and haul them away free of charge.
If you do have a log fire, get the trees cut into firewood-sized pieces and store logs for the following winter when you can split and burn them.
Pro tip: Get a quote for complete tree removal and another quote to cut the tree down, and remove all branches, but leave the logs. The tree removal company will be happy to give you a price to leave the timber which will save you hundreds.
2. Remove green waste yourself
Another tip is to dispose of the green waste yourself. This can be done by filling your green bin over time and putting it out for garbage collection or by hiring a trailer and hauling the branches to the local dump and disposing of them. This technique is not the biggest saver as you will most likely need to pay to dump the green waste yourself, but it will save some money.
Tree stump grinding is a time-consuming process and will add $250 – $600 to the cost of complete tree removal. By opting to leave the stump where it lays and not have it removed, you stand to save 10% or more off the cost of tree removal. Ask the tree company about this option before committing one way or another.
4. Use small local companies
Smaller companies offer services at as reduced rates as possible because they have fewer overheads and will normally charge less for tree removal. This is not a guarantee but is the case most of the time.
Medium-sized trees can be removed without heavy equipment, all the tree experts will need is a chainsaw, climbing equipment, and a supporting ground crew.
As mentioned above, avoid page 1 of search results and go directly to pages 2 and 3 of Google search to find the smaller local companies that will give you a great price.
Other factors to consider
Can you DIY tree removal?
For smaller trees less than 15 ft. high, you can safely remove a tree yourself. For anything that requires you to go up a ladder, I do not recommend a DIY approach.
Tree removal is very dangerous and should be undertaken by a trained arborist who has the tools and skills to remove trees of all sizes with relatively little risk to themselves or the surrounding property.
How to pay for tree removal options
The biggest issue for most is the large upfront cost involved in tree removal. While most companies will allow you to pay via credit card, there are also companies out there that will allow you to pay via monthly installment.
Finding a company with several payment options will help you pay for the job over time and forgo the large upfront payment burden.
If you are removing a palm tree or a tree with exotic sort after timber, there is a chance you can actually get your tree removed for free. Normally this will be a mature tree and not a small specimen.
Palm trees are sought after by landscapers and nurseries to sell to clients and customers who are landscaping their gardens. Fully grown palm trees go for big money. In most cases, they will not pay you for the tree, but they will come and dig it out and haul it away for free.
Some trees like redwood and Cypress are very common building materials and can be worth a tree company's time to remove your tree for free and make money on the timber at a later date.
In some cases, they might only give you a 50% discount as they will need to remove the tree, haul it away, dry the timber for 2 years, and mill it into the right sizes to be sold.
Again, this is only in cases where you have an exotic timber that the tree company thinks they can make money on.
Get Matched with a Tree Removal Expert in Your State
What else adds to the cost of tree removal
Tree trimming and removal all have factors that come into play a role in the cost of tree removal. Some of those include:
Emergency tree removal – Because you are asking a tree removal service to drop everything and do your tree. It will cost you more. Especially on weekends and public holidays.
Tree trunk size – The thicker the truck on the tree the more it is going to cost. That is of course unless you opt to keep the logs for firewood, then it's null and void.
Tree stump – Opting to keep the tree stump is cheaper than having it removed.
Dense logs or timber – Softwood trees are cheaper to remove than hardwood. The dense logs are harder to cut and move around. They will cost more.
Power lines – If a tree is growing through power lines it will cost you more to remove.
Hard-to-reach places – Any tree in a hard-to-reach spot or where branches need to be dragged by the ground crew a substantial distance will cost you more.