Before you hire a tree removal service, you will first have to go through a selection process to make sure you are choosing the best local service available.
In order to hire an excellent tree removal service, you need to gather as much information as possible.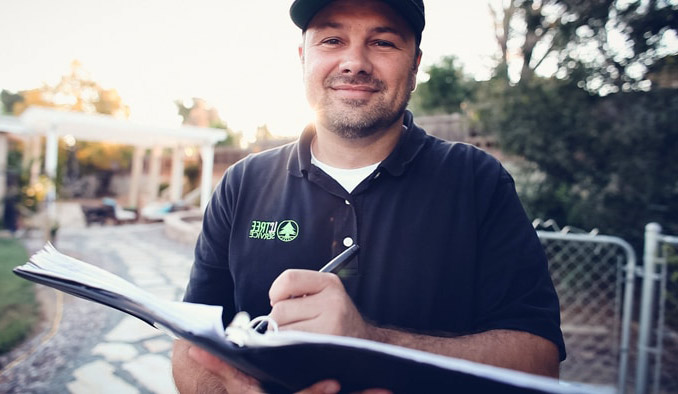 You can never be too careful. If a tree removal company does not know how to do its job, you might end up with serious property damage. Ask the company if they have a qualified arborist employed who will be on site. Do not shy away from asking them this as legitimate companies know the industry is full of non-skilled hacks.
They should be able to produce a Certificate of qualification to prove they are a certified arborist. They should have a minimum of Certificate III in Arboriculture.
You simply cannot afford to hire a tree removal company that does not have proper insurance. They need to have at the very least Public Liability insurance for up to 10 Million in cover (industry standard). Don't just cite the piece of paper. Ask for a copy and phone the insurer to make sure it all checks out before they start work.
If they injure themselves or do damage to your property, you are leaving yourself wide open to being liable.
3. You need to get a detailed quote
Obviously, you will need to get a quote from several companies. Three or four estimates should be enough to pick a winner. I mentioned detailed quotes for tree removal or pruning as you need to have it in black and white what you are being charged for.
If it just says "tree trimming", that can mean a lot of things. Are you removing a certain number of branches? Which tree? Is it a power line clearance of 3 trees and a canopy lift on another? The more specific you are during the quoting process more likely you are to get the job done to your liking.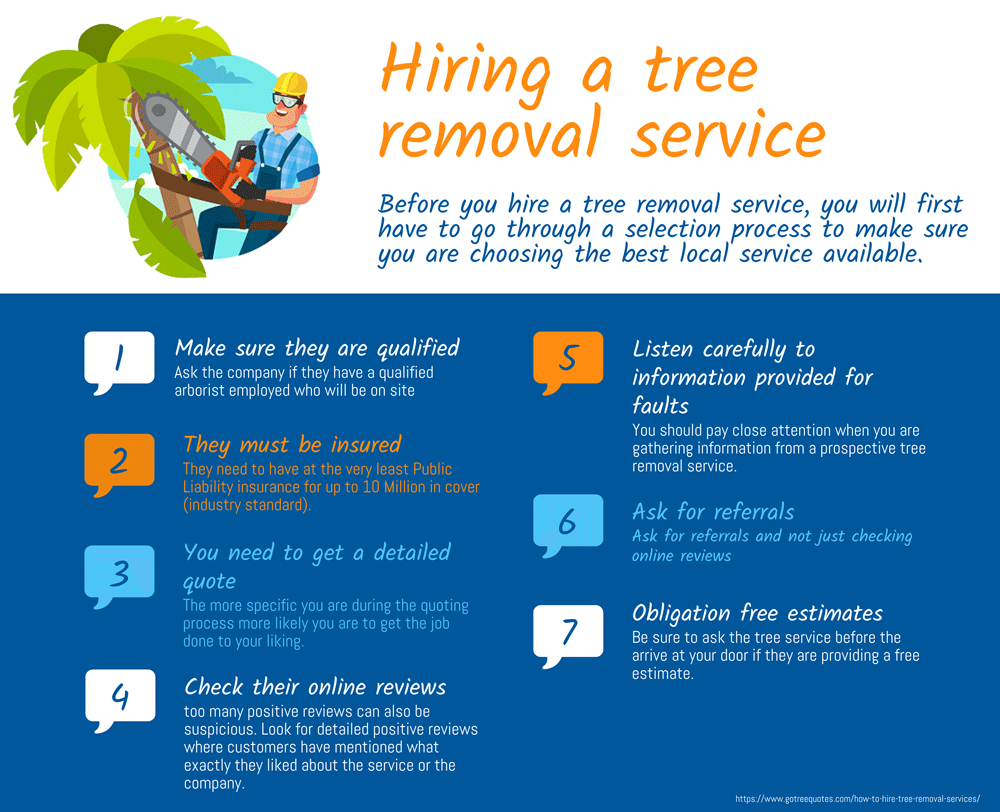 Get Matched with a Tree Removal Expert in Your State
4. Check their online reviews
We live in the age of the Internet, and it is very difficult for companies to hide their bad reputation nowadays. Online reviews will give you a clear idea about what to expect from a company. Check for reviews left by customers and if you spot a significant number of negative reviews, it is a sign that you cannot trust the company to give you a great service.
On the other hand, too many positive reviews can also be suspicious. Look for detailed positive reviews where customers have mentioned what exactly they liked about the service or the company.
It's worth noting that Amazon and Google have both publicly stated that about half of all reviews have been found to be false. The fake ones are normally all positive reviews, so be careful during this part of your research.
5. Listen carefully to information provided for faults
You should pay close attention when you are gathering information from a prospective tree removal service. Sometimes, companies have no idea what they are talking about.
Make sure you are not being taken for a ride by asking plenty of questions and make sure they have a solid answer for you. Should not take too long to catch out fraud when talking about trees.
Asking for referrals and not just checking online reviews is a great way to get to know a tree company a little better before hiring.
It's going to be easy to tell if the person on the other line is genuine and if they really do recommend the company in question.
7. Obligation free estimates
Most companies do give obligation-free estimates, but I have heard of cases where some businesses will try to charge a call-out feed for "tree inspection".
Be sure to ask the tree service before they arrive at your door if they are providing a free estimate.
It is also a great time to ask if they can provide you with other credentials like qualifications and insurance papers.
Get Matched with a Tree Removal Expert in Your State
What questions you should ask a tree service?
You really need to ask at least two or three questions to the tree service quoting your job. These are going to sort the men from the boys (or women from the girls) so to speak.
If you have an inexperienced arborist in front of you, the cracks will show during questioning. Here are some great questions I always get asked by customers.
What else you should know before hiring a tree service?
Tree removal needs experience and skill. Ensure that the company you hire sends professional licensed workers who can perform the assigned task efficiently. First I would ask the guy you are speaking to if he will be on site.
If the answer is yes, you will find they are a small business and probably a better choice for a range of reasons. If the answer is no, then you will need to make sure they send you an arboriculture certificate of whoever is going to be working on site. Technically only the climber will need to be certified, but if they all are, then even better.
Featured and Trusted by:




Cost calculator for tree services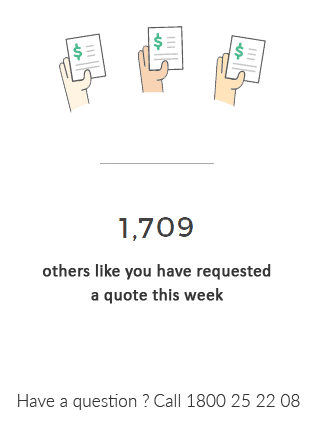 Do you tip tree removal service?
There is no reason why should not tip tree removal services, but it is not mandatory as they are not exactly on minimum wage. You can also help out the workers by providing them with food and water and maybe a cold beer once the job is done.
Although tree removal is costly it is also a very intensive task for the laborers. You can opt to tip the workers if you are feeling generous, but I would give it directly to them and not the boss.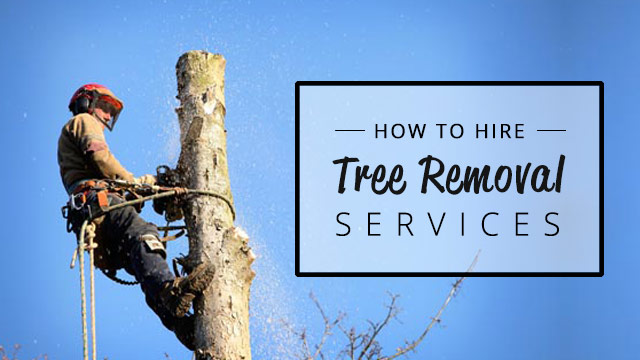 How to perform a tree service license check?
You should find out if the tree service company belongs to any professional organization like the International Society of Arboriculture, Tree Care Industry Association or others. You should check the business's registration number and ask them for a copy.
Just because they are not, does not mean they are not legitimate either.
Most cities or counties require arborists to purchase a license to practice tree services in that city, so they would be able to provide you with a license number that you can quickly check online or by calling your city office.