Shrub trimming is necessary for the aesthetic appeal of the home and your safety. If bushes and shrubs are not trimmed, they may attract pests such as rats and burrowing animals that may infest and damage your property. Shrubs may also attract snakes and dangerous insects, thus threatening your safety.
For this reason, it is essential to find a reliable shrub trimming service near you to trim and maintain your hedges and shrubs. With proper maintenance, shrubs will not only make your home appealing but also make it safe and accessible. Do your homework and compare several companies before selecting the best fit for the job.
The reason why you need to compare several companies is to check their rates and know the price range of the work. Also, it will be easier for you to select the most reasonable cost for the project.
The average cost to trim a shrub is about $60 to $75 per hour or $6 to $8 per shrub. Depending on your contractor, you can either pay hourly rates or per-shrub rates. This cost may vary depending on the difficulty of the job, location, and additional services. For example, a stable bush will cost less to trim than those in support or flower gardens.
To get a more reasonable price for the job, you can ask your contractor to give you a fixed rate based on how many hours the bush trimming job is likely to last. Fixed rates are much better because sometimes the project might take longer than expected due to hiccups.
Below is a list of shrub trimming costs depending on their sizes.
| Size in ft. | Size | Price |
| --- | --- | --- |
| Average cost | 6 ft. | $30 to $75 |
| Small shrub | 4 ft. | $15 to $40 |
| Medium Shrub | 6 ft. | $40 to $75 |
| Large shrub | 9 ft. | $75 to $150 |
| Cost per man hour | 1 hour | $60 to $75 |
It costs about $15 to $40 to trim a small shrub, while a medium shrub can cost about $40 to $75. A large shrub will cost between $75 and $150, and an extra-large shrub will $150 to $300. 
If you want haul-off and clean-up services, you can pay an additional cost of between $25 and $100, depending on the size of the bush. To save some dollars, you can decide to clean up and dispose of the waste yourself.
Your contractor will measure the size of your shrub and give you the price for the project. If you are DIYing the trimming work, you can estimate the shrub's size and acquire the necessary tools for the job.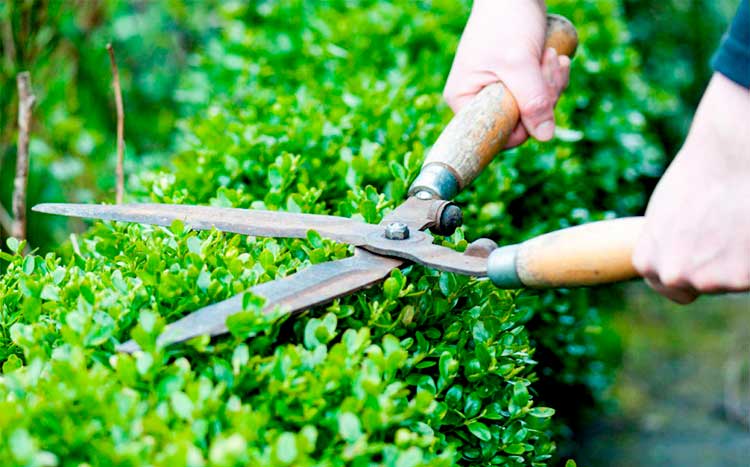 Difference between a shrub and a tree
Both shrubs and trees are woody perennial plants.  However, the main difference is that trees are usually over 12 feet in height, and have a diameter of more than three inches. In addition, trees have one central stem and a distinct head.
On the other hand, shrubs are smaller than trees and have several stems protruding from near the plant's soil line. You can train a shrub to become a small tree with one stem, but you must start when it is about one year old.
Choosing a good shrub trimming service near me
The tree trimming industry is full of con artists, just like all the other industries. However, this does not mean you cannot find a legitimate company to work with. You only have to be cautious and do your homework. The following tips will guide you to choose the best shrub trimming service near you.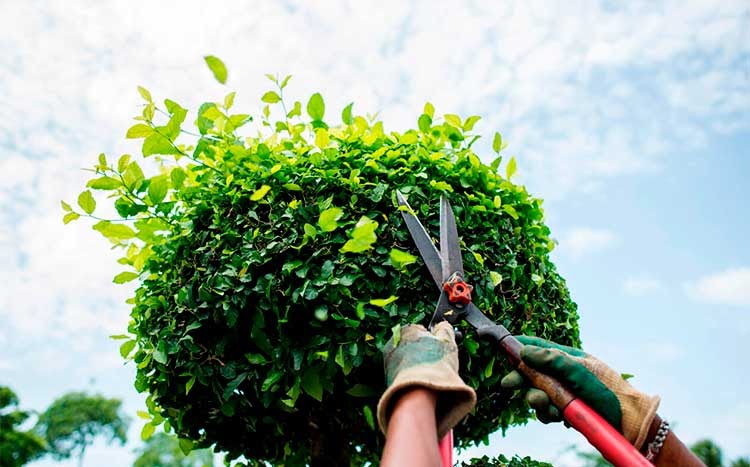 To find a good shrub trimming company, you must be willing to do detailed research. There are numerous companies on the web, and you cannot possibly know which one is the best for you. So, you should look up several companies and compare their reviews and testimonials before you choose a particular one. Compare at least three or five companies and look up their history to know their past and reputation.
Make sure all the potential shrub trimming services have appropriate insurance cover. Although shrub trimming is not as complicated as tree trimming, accidents can still occur, and you need to be sure your property will be covered in case of damage. Also, the coverage should protect the professional in case of injuries. Ensure the certificate is not fraudulent by contacting the insurance company and asking for a copy.
3. Better Business Bureau or local tree council
Determine whether the BBB accredits the company you want to work with or if they are members of local trade groups and local tree councils. Although the Better Business Bureau is not as strong as before, its accreditation is an indication that the shrub trimming company is reputable. If the company is a member of any local trade group or tree council, it shows that they value their work and offer professional services.
Most people believe that the more expensive a product or service is, the better it is. However, this is not always true because some companies offer high rates when they have workloads to discourage new clients. Also, some companies charge high costs to regain the money they use in advertising and get a good profit on top.
On the other hand, when the price is too low, you may get low-quality services. To get a good price for your job, compare several quotes and choose the most reasonable price. Make sure you get detailed estimates from different providers and make comparisons.
5. Do not hire door-to-door professionals
Most door-to-door professionals are con artists, and you may not get a record of them anywhere, even on the BBB website. Just because a contractor knocks on your door and offers cheap shrub trimming services does not mean you have to hire them. It is better to go a long way than to risk losing your hard-earned money to a scammer.
Featured and Trusted by:




Cost calculator for tree services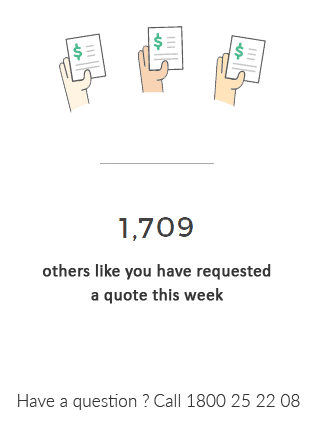 Get Matched with a Tree Removal Expert in Your State
Questions to ask when hiring a shrub trimming service
Shrub trimming may not be as complicated as tree trimming or removal, but this does not mean you should put your guard down. Take the time to ask potential contractors several critical questions to determine whether they are the perfect choice for your job. Ask your contractor these questions before you hire them.
1. What are your credentials?
The first thing you need to find out is whether the professional has the right education and is certified. All tree specialists must undergo rigorous training and have a certificate to show they have completed the training. Ask whether the professional is certified by the International Society of Arboriculture or whether they are members of renowned bodies such as the TCIA.
It is advisable to hire a certified professional because it shows they are dedicated to their work and have taken the extra mile to be certified.
Insurance is crucial, and you must find out whether the professional you wish to hire has appropriate coverage from a reputable company. Ask the professional to give you a copy of their insurance and determine whether it is legit and updated. To be completely sure, phone the insurance company and request them to send you a copy also. Hiring a contractor who is not covered may put you at risk of paying high medical and repair bills in case of damages and accidents.
3. Do you have references?
Any reputable company will be more than willing to give you references. A contractor with many satisfied customers should be your ideal pick because you will know what to expect. Ensure the references are genuine by contacting them because some contractors may give you a false list of past clients.
4. Do you offer free estimates?
This is another important question you should ask contractors before hiring any of them. A good contractor will offer you a detailed estimate even before you decide whether you will hire them or not. This shows they are ready to work with you and are available for the work. If a professional does not give you a breakdown of the overall cost, think twice before hiring them.
5. How long have you been operating?
Companies with many years of experience know the industry's ins and outs, and they are in a position to give you better services than newer companies. Not all newer companies are inexperienced, but you would not want to be a trial-and-error project for them. So, ask the company how long they have been operating before hiring them. A company with experience of 4 years and above is the best to work with.
Hiring shrub trimming services in my area
The hiring process may be quite daunting, especially if you are having trouble picking the right company. Below are tips that will make the process more bearable and easier for you.
Before you hire a company, you must find the perfect fit first. This may take a while because you must go through an extensive research process. If you are lucky to get referrals from your friends, family or colleagues, the search process may be easier for you. Take the time to compare notes and choose about three companies that will appeal to you the most.
Once you get three good companies, the next step is asking for estimates. The providers may visit the worksite to determine the scope of the work and give you a detailed estimate for the job. The prices may differ, but you should not hire the cheapest offer to save some money.
Instead, take the time to check the price breakdown and select the most reasonable price depending on the services you want. Keep your budget range in mind to avoid spending more than intended.
The last step is to choose the contractor you are most comfortable with. After comparing the estimates, you will know which contractor will be best for the work. However, there are so many other things you need to keep in mind before hiring a shrub-trimming expert. These include their personality and knowledge. Ensure you are compatible with the professional you pick because compatibility is also very important.
The fastest and easiest way to get 3 Estimates from the most affordable shrub trimming services near you would be by using this FREE service.
GoTreeQuotes quickly matches you with the 3 shrub trimming experts voted #1 by previous users in your area.
Scroll up to the top of the page and enter your ZIP Code in the blue form at the top of the page.
Give us a few details about your shrub trimming or removal job, plus some contact information.
Your job details are forwarded on to the closest three services, all voted best priced who will also price your tree job.