Eucalyptus are invasive plants that grow in thick groves. They are not common everywhere, but they are mostly large compared to others and this is why they are mostly expensive to remove compared to most trees.
The average cost to remove a Eucalyptus tree is $1,850. The range of costs is between $1,150 and $7,300, making it one of the more expensive trees to remove.
This guide will highlight the factors that contribute to the high cost as well as how you can save cost on your next eucalyptus tree removal.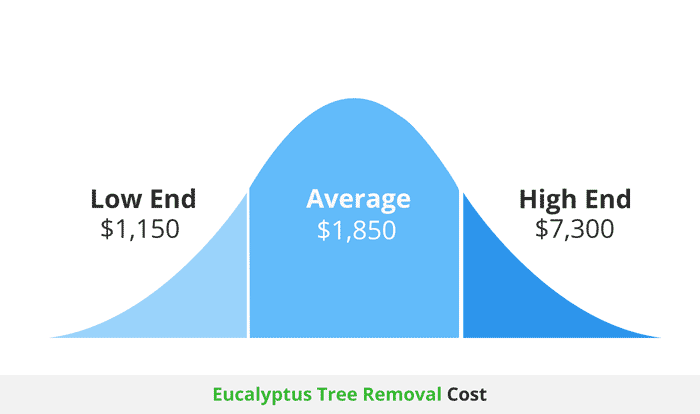 Eucalypts vary in size. Some can be small bushes (less than 10 feet in height) while others can be towering trees (up to 100 feet in height). The large species of eucalyptus tree can live up to 250 years.
| Eucalyptus tree size | Low Price | High Price |
| --- | --- | --- |
| Small (10-15 feet) | $350 | $950 |
| Medium (20 - 35 feet) | $1,150 | $2,900 |
| Large (45+ feet) | $2,500 | $7,300 |
Will I need a permit to remove a Eucalyptus tree?
Eucalyptus trees are considered to be invasive species in many cities of the USA as they are not native. Tree removal laws are very local so you will need to check your city or county tree audience here.
If the tree is listed as an invasive species locally, you will not need a permit to remove.
Some other circumstances you will not need a permit is when the Gum tree is:
Dead
Hazardous
In very close proximity to a building or dwelling
In a fire zone
Be sure to check your local tree ordinances before proceeding.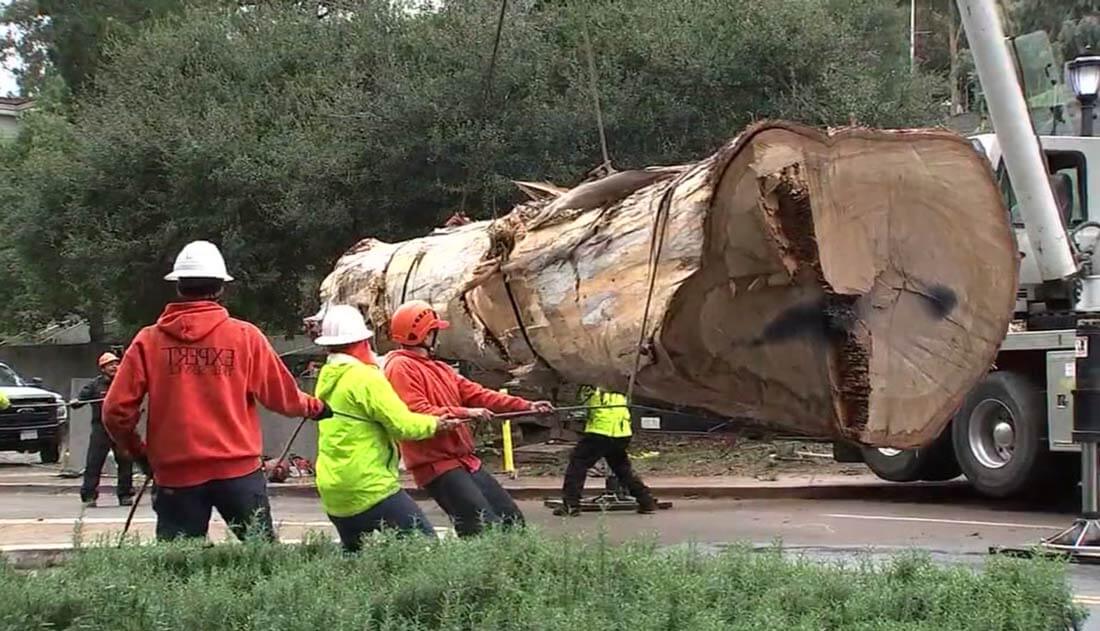 Factors that affect the cost of Eucalyptus tree removal
Accessibility of the tree
Having your tree easily accessible to tree removal machinery will save you from paying extra for your tree removal service. The closer the tree contractor can get his truck and equipment to the tree, the cheaper it will be. If they have to drag the tree piece by piece from the back to the front it will cost you more. If the tree is located in the backyard, you can consider giving rear access with a drive or if your neighbour does and you can remove a panel of fencing, then this will reduce the cost.
Usually, stump removal is not considered a part of a tree removal service. Property owners can choose to have the tree cut and leave the stump, or have the tree removed along with the entire stump.
Some homeowners opt to keep the stumps and use them as flower or plant stands or other decorative garden features.
Additionally, it's worth keeping in mind that a stump can be a hotspot for termites who like to nest in them, which could lead to them spreading to your home.
Some services charge per diameter inch, while others charge a flat rate to remove a stump. Prices to remove a tree stump range between $100 to $150 per hour for a tree removal service or a flat rate of $100 to $500 per stump.
Tree debris such as branches, leaves, moss, and other things that come with removing the tree may end up being a separate price. It is a good idea to discuss this cost before the work starts, so you know what is covered. Removing all of this after a tree removal may add about $150 to $300. Price also depends on the extent of the debris.
Removing trees on a hill, in a pit, or on a rocky ground will cost more than one on flat ground. This is because it will be a more complicated process that poses a higher risk to the workers removing the tree.
Tree species and weight of timber
Eucalyptus is one of the trees that are harder to work on than others. Trees with dense canopy, tall height and heavy timber will demand more labour input and subsequently increase the cost of removal.
The more the trunk diameter, the more you may have to pay for tree removal
The price of tree pruning by a qualified arborist and the local garden maintenance man is very different. You will require an arborist for anything over a one-story house in height, but if you have a smaller tree then I suggest the local lawn and garden care business to save you some money.
When it comes to emergency tree removal costs, it's generally much more than the normal cost of tree removal. To avoid paying an extravagant free (which could go up to 2X or 3X of the actual cost) for tree removal, you should ensure you get rid of any diseased or rotten tree before it becomes hazardous
How to save on Eucalyptus tree cutting costs
Considering the factors stated above, you can work around some of the ones within your capacity to save costs on your eucalyptus tree removal. Some of the ways to do these are discussed below:
Remove your tree in winter
The best time of year to remove a tree is during the winter months. The demand for tree services during winter is greatly reduced, and the tree companies will have very little work to do. Tree removal prices fall as a result of this and you can easily take advantage of it.
Make the tree accessible to machinery
If you need to remove some part of your fence or that of your neighbour to ensure that the tree contractors have access to the tree surroundings without stress, you should do it. This will prevent you from paying extra for tree removal.
Consider Eucalyptus pruning & trimming
Maintaining the tree from time to time may save you cost on tree removal. Pruning and trimming your rapidly spreading eucalyptus trees are essential in order to keep them in control. This is especially true in the early stage of the tree's life. You may consider shaping or pruning the tree to control the growth and spread of the eucalyptus tree on your property. Such activities are essential to protect the tree, ensure healthy growth, maintain balance in the ecosystem, and save you the cost of tree removal.
If you're considering pruning or trimming your eucalyptus tree, it is recommended you do this during the summer. These trees bleed when their barks and branches get damaged and the hot weather can help speed up the healing process.
The eucalyptus is a shallow-rooted tree. The shallow roots of the eucalyptus make digging up the stump possible. With a few necessary tools, you can get rid of the stump yourself so you don't have to pay extra for stump removal. Follow these steps to remove your Eucalyptus tree stumps:
Step 1: Measure about 15 inches out from the stump and dig at least a 1-foot deep trench around the entire diameter of the eucalyptus stump.
Step 2: Cut the exposed roots by stabbing the roots with the landscape bar until you have cut through them.
Step 3: Pry the root ball out of the ground by shovelling the end of the landscape bar under the root ball and pushing it down on its handle. Continue in this manner, working around the entire diameter of the stump, until it lifts out of the ground.
Step 4: Lift the stump out of the ground. Dig up any remaining roots and discard the debris.
Get a better price with GoTreeQuotes
GoTreeQuotes is a FREE service that matches customers with the best priced local tree services. Hundreds of previous users have voted on who gave them the best price.
Once you fill in the form with a few details about your tree job and contact details, those same top voted companies will contact you and provide you with an obligation free quote.
No hard sales, just good advice, and great prices.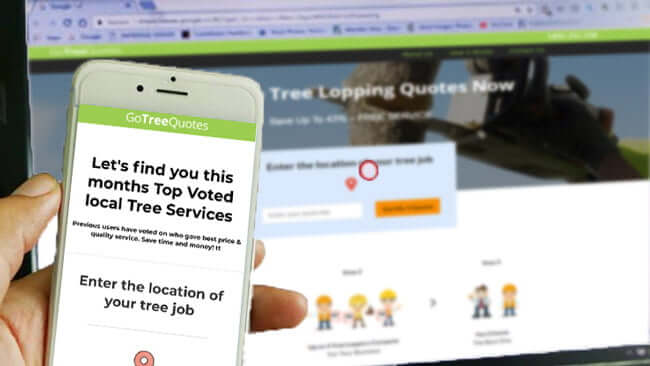 Can I get a lumber company to remove my eucalyptus tree for free?
Lumber companies involved in commercial tree cutting and timber processing could cut your tree for free in exchange for the timber. This is more realistic if you have a lot of them to cut down. However, it is rare to find commercial lumber companies in the suburbs willing to do this. Most of them operate from the rural areas or forests where there are large-scale tree plantations or native forests.
In most cases, you will have to contract a lumber business to come and cut the trees on your property, process the wood into timber, and sell it on your behalf if necessary. However, it's possible to work out a deal with a local lumber business to buy your tree and cut it at their cost.
The eucalyptus tree is one of the most desirable trees for timber, so you may find it easy to convince lumber companies to remove it for free.