It is not easy to find cheap tree cutting services, especially during the high season. That is why you should try to find ways to get cheaper quotes at all times. People cut trees due to different reasons, and whatever that reason is, it is essential to find a company and gardener that will be affordable to you.
This article will summarise for you the best ways to find cheap and affordable tree removal companies near you. It will also answer some common questions that will help you through the process of looking for a reliable company.
There are ways you can find cheap tree removal companies without a hassle. These include:
1. Doing an internet search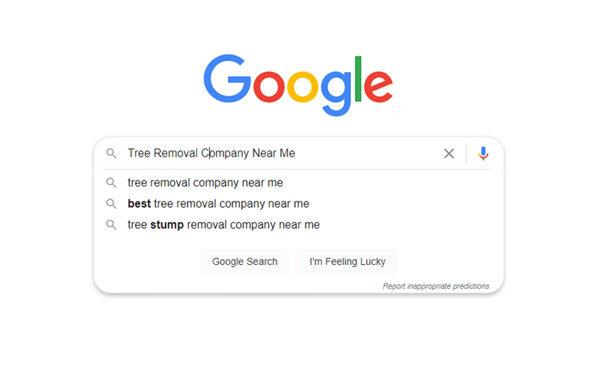 The internet has come to make so many things easy. You can now order items and services at the comfort of your home. For instance, if you are looking for a cheap tree removal service, you can type "cheap tree removal services near me" on the search engine and a list of local tree cutting companies will pop up.
You can then click one company after the other and compare their quotes. Always check the reviews and testimonials of the companies to know whether they are reputable. You can even contact some of the past clients of a particular company and ask them their experience. This will give you an idea of whether the company is reliable or not.
Also, ignore the yellow pages and yelp because they may not have cheap referrals.
2. Ignore page one of Google
When looking for a cheap tree company, you should skip the first page on Google. If you are wondering why this is the reason:
Technically, all page one companies have paid a substantial amount to appear on the first page of Google. That is why they are found first on search engines. Since these companies have paid to be found first, they must find a way to regain the money they use to market themselves.
That is why most of these companies charge high rates. You may think that they are ripping you off, but they are only trying to gain back their cash and get some profits on top.
So, it is better to move on to page two, three and even four as you can find cheaper companies here.

3. Hire companies with less workload
Always look for companies with fewer projects because they may offer you cheaper rates. Usually, most tree companies get loads of work during the peak season like summer. That is why you find such companies being so expensive.
The notion that a company with workload offers cheap rates is wrong. This is because a company with a lot of work tends to hike their prices to discourage customers and control the number of projects coming in. Also, since they are working under pressure, they may not be productive.
As a result, such companies may not deliver the job as expected. This may disappoint you as you will have paid a substantial amount of money for a job that does not make you happy.
On the other hand, companies with fewer projects going on may lower their rates to attract more customers. Also, since they have fewer projects, they will concentrate on the job and handle it to their best.
Also, select smaller companies because most of these companies do not have fixed prices. They tend to make up their prices when they see the task. So, you may be lucky to find cheap quotes from these companies.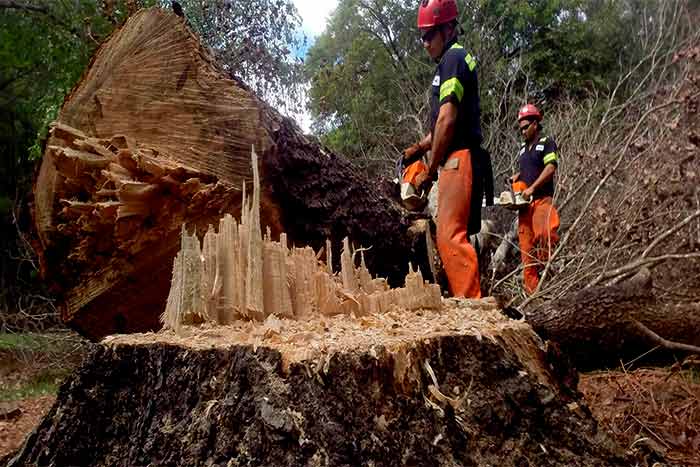 If you can wait until winter to hire a tree removal company, you will be lucky to find reliable services at cheap costs. This is because most people do not work during this season as the weather is not favorable.
Therefore, the few companies that may still be operating will offer low rates to attract some jobs. This means your tree can be removed at a substantially low cost compared to other seasons.
However, if the tree is posing a danger to your house and family, you may not wait until winter. In this case, you can contact a tree company and ask whether it can handle the job for you. Also, ask whether the company is busy and whether they can fix you in their calendar. Make sure you ask how much they will ask for the job.

5. Use tree removal free online services
There are many FREE online sites like this one GoTreeQuotes. We can help you find cheap tree-cutting companies near you.
Scroll to the top of the page and enter your Zip code.
Next, fill in the 2-minute form with a few details about your tree job.
Three top-voted local tree companies will then contact you with an estimate/ bid for your job.
You choose the best one, but there is no obligation to hire. It's risk-free and a win-win.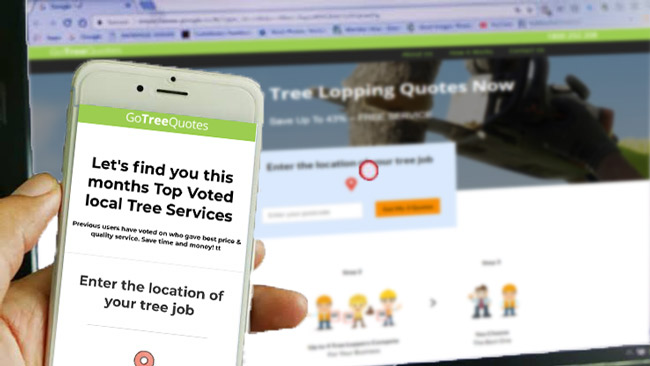 6. Request for recommendations
If you know someone who has had his/her tree cut or trimmed recently, ask them to give you referrals. It may be your colleague, family member or even your neighbour.
By getting recommendations from these people, you will be able to find a company first. You will also know whether the company is reliable and competent because you will have first-hand information from the people who give you referrals.
3 tricks to saving on tree removal
Hire in winter- typically, small businesses will offer cheaper quotes when they have fewer projects. During winter, the rates go even lower because there is usually less work going on. After all, who wants to work in freezing weather?
That is why you should hire a company during winter because you will get cheaper quotes. More so, you will get excellent services because the company will not be pressed with work.
Give better access- if you have a driveway, the tree removal process will be easy and fast. If there is anything along the driveway, ensure you remove before the company arrives. This will make them feel like the job is easy, and may ask for lower rates.
If the tree is in the backyard and there is no free access, you can remove a section of the fence to provide easy access. You can also ask your neighbour to help by removing a section of his/her fence too, if possible. With free access, be sure to get cheaper quotes from the tree cutting company.
Keep and sell firewood- if you have a big tree taking up too much space in your compound or it is damaging your roof, the best thing is to cut it down. However, this will cost you because you will pay for the tree to be ferried and loaded to the truck.
To avoid the extra costs, you can have the tree ferried and then keep it for firewood. The company can cut it down into firewood length logs, which will help dry completely. You may even get cash by selling the firewood in the future.
When to hire a tree removal company
The best time to hire a tree cutting company is during the dormant season when there is less work. This is usually during winter and very early spring. Also, dormant trees tend to be lighter during the cold season, making them easier to remove.
Featured and Trusted by:




Cost calculator for tree services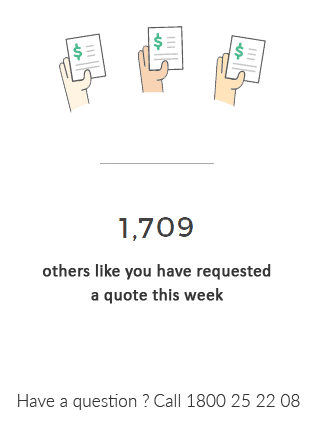 Are there free tree removal companies?
It is rare to find free tree removal companies, but it is possible. If you have sort-after trees, tree cutting companies will request to pay you to get the trees. Here are a few examples of when you can get free or cheap tree removal companies.
If you have rare trees to find, like palm and pine trees, tree companies will pay you to cut them down.
Regular companies will not remove trees free for firewood unless they feel they will gain from the firewood. If the tree is of good quality, you may be lucky to get free tree cutting services. However, some services will require a fee for removing the tree.
Lumber companies will ferry down a tree at a cost. They can then sell the timber and gain profits. If you find a local company that is interested enough in your tree, you may be lucky to have it cut down for free. However, you must have adequate access to make the process fast and hassle-free.
If you have a mature, great-looking tree that you do not want to cut down, landscapers can buy and use it for landscaping. The company will dig up the tree and haul it as long as it interests them.
If you happen to have highly sought after tree-like oak, ash, mahogany, blackberry and rosewood among others, timber companies may pay you to remove the tree as long as it is desirable to them.
If your tree is on public land, the city will remove it for free. However, if it is on your property, you will pay for it to be removed.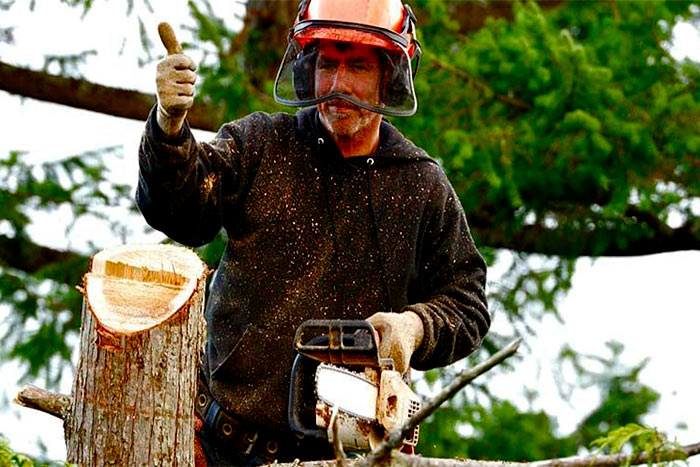 Can I claim tree removal on insurance?
Removing a tree is expensive, so most homeowners try to get their insurance companies to cover the costs. Usually, insurance companies will cover the tree removing costs if it falls due to accidents. For instance:
Accidents can occur and cause trees to fall. So, if a tree falls by accident, the insurance company will cover the costs of removing it. However, if they notice that the tree is old and was deemed to fall, it will not cover them.
This is because the company will reason that the situation was preventable. Therefore, you should have removed the tree early to prevent the accident from happening.
Storms and hurricanes can cause trees to fall, which may lead to damages to your house. In such cases, the insurance company will cover the costs. However, if the neighbors tree falls on free space, the insurance company will not cover the tree removal costs.
In case a storm hauls the tree to your property, which causes damages to your house, your insurance company may be willing to help. However, they must see the evidence of the damage first before they agree to cover the costs.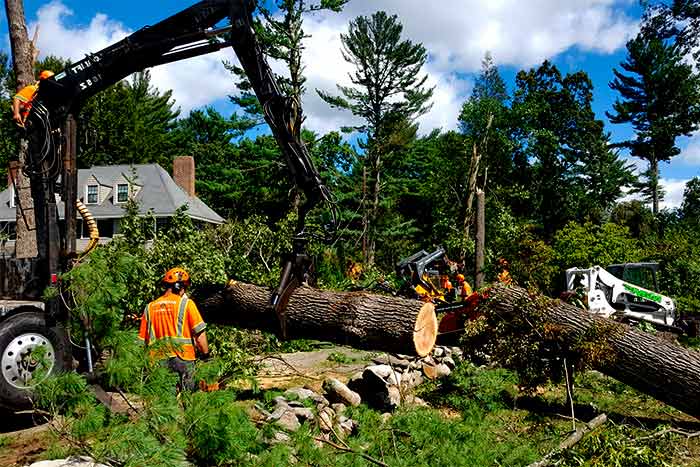 Finding affordable tree removal companies
The process of looking for affordable and reliable tree companies may be daunting, especially if you are a first-timer. The following guide will help you to find a company you can trust at an affordable price.
Getting several estimates
When looking for affordable companies, it is essential to get many quotes. This means you should contact several companies and ask them about their rates. This may feel like a lot of work, but it will help you find an affordable company near you.
Make sure you contact several companies and even visit their local stores if any. If you like a particular company, but it has a higher quote than the companies you have contacted, you can win it by telling them you found cheaper quotes and pretend to leave. If the company does not have an active project, it may be willing to lower its prices.
If you want an affordable tree-cutting company, you can do some of the work yourself. For instance, you can hire the service to ferry down the tree and then do the rest of the work on your own. This way, you will be able to find a budget-friendly company to cut down your tree.
Select companies that offer flat rates
The tree removing process can be complicated and unpredictable. Therefore, it is best to select a company that offers you a flat rate as it is a cheaper and more affordable option than a per-hour rate.
With such a company, the cost of removing the tree will remain the same no matter how long it takes. On the other hand, it can be costly if the contractors charge hourly rates, especially if they encounter technicalities or the weather becomes unfavorable.
This site will help you find affordable tree-cutting services near you. Here, you will find several contractors that offer cheaper quotes. However, you should be cautious not to fall into the hands of scammers.
Before you hire any contractor you find on craigslist, make sure you check the background check and work history to know whether he/she is reliable. Also, you will protect yourself from being scammed by con artists.
If you know a local company specializing in tree cutting, you can contact them to do the work for you. Most local companies offer affordable rates because they will not incur high transportation costs. The company may even give you a discount if someone refers you to them.
In case the company sells firewood, you may be lucky to get a cheaper quote or even get free tree services if the tree is mature and of good quality.