The cost to remove a tree in Orange County, FL varies depending on the tree's height, location, access, and the time of year.
It costs $600 to $1,200 on average to remove a tree in Orange County, Florida. Costs differ depending on the size of the tree, its location, and its health, among other factors. Tree removal is best handled by professionals at all times.
Tree removal costs may rise depending on whether you need a permit and if it requires additional work such as cleanup and stump removal.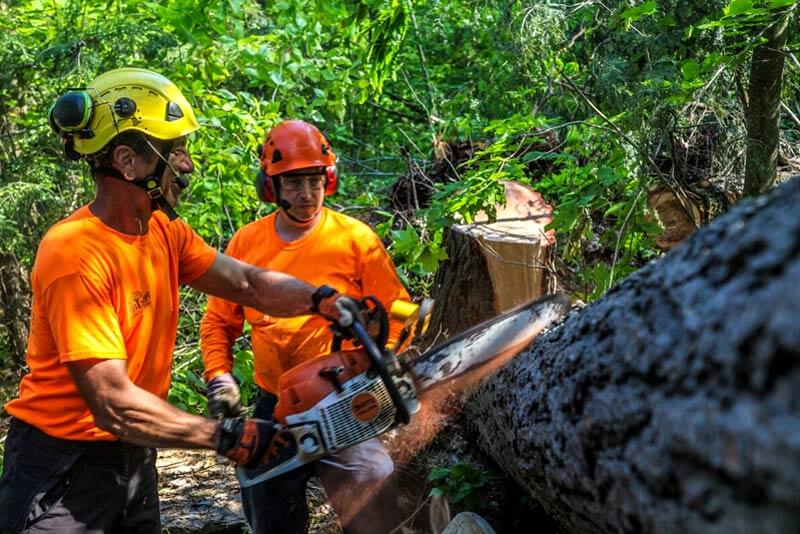 Trees are classified based on their height. Trees up to 30 feet in height are considered small trees. A tree at 60 feet tall is a medium tree, while trees taller than 60 feet are categorized as large trees. Tree removal cost varies for each tree category in Orange County.
| Height of tree | Removal cost |
| --- | --- |
| Up to 30 feet | $280 - $500 |
| Up to 60 feet | $560 - $1,500 |
| Up to 60 feet | $800 - $2,000 |
How to lower the cost of tree removal in Orange County, FL
Hire in the off-season – In winter, tree removal service providers have little work. It is a good time for tree removal as they are dormant. You are likely to pay less for the service as there are fewer customers to serve. It costs more to remove a tree in high-demand seasons.
DIY – This is only recommended if the tree is less than 15ft high and does not need a ladder to access. Larger trees pose a much greater risk, and you should use a local pro to do the job.
Free tree removal – This Sounds crazy, but there are some companies that remove trees in exchange for firewood. Landscaping companies and nurseries are always searching for specific palm tree species to remove and sell to larger clients, so depending on your tree, you might be able to have it removed for free.
Government grants and seniors programs – There are grants in certain states to remove trees that are in high-risk fire zones. It will depend on where you live and your state government, but there are also lots of programs for seniors and low-income earners. More info here.
Access to the tree – This is a big one. Trees on hard-to-access properties cost double to remove. Think about a tree in a front yard with clear access, then compare the same tree right down the back, behind the shed, growing through wires. Huge difference in the time taken to remove and the price. The more obstacles you can remove between the tree service and the tree, the less it will cost you to remove a tree.
Sell the firewood – You can negotiate with the tree removal service to leave all the logs and just take the branches. This will save you money. Then place an ad on Gumtree or Craigslist for firewood (pickup only). People will bid and pay you to haul away the waste. It's a win-win.
Factors to consider when removing a tree in Orange County, FL
If the tree to remove is in an urban area, it will need a lot of care and expertise to remove. There may be several buildings as tall as the tree near it. Therefore, the removers will need special tools to ensure that it does not damage the buildings as it falls. A crane or bucket truck will be needed for the job. These special-use tools and professional handling will determine the final cost of removal. If you are in a rural area, with lots of space around the tree, it will be easier and cheaper to remove.
Additionally, you will need to consider whether the tree is located on private property or public land.
Depending on the location and size of the tree, you may need a permit to remove the tree in Orange County, Florida. Check with your local authority office if you need a permit to remove a tree. Or, if you hire a professional to remove the tree for you they will advise on permit requirements. Permit costs increase removal charges.
Usually, you do not need a permit to remove a tree on private property. However, it will depend on its height.
Tree removal costs vary depending on who does the removal. If you DIY, all you need is time and the tools for tree removal. If you choose to DIY, ensure that the tree will not damage other property near it as it falls.
If you hire a pro, you will not have to worry about damaging property. Professional tree removal services in Orange County, FL have all the tools needed for proper removal. They will inspect the tree and the surroundings before they start the removal. They can remove any size of tree without causing damage to other trees or property near it.
Hiring a pro saves you time and money since they will also offer additional services such as debris removal.
There are several instances when you can hire a tree removal service for emergency removal. If your tree falls on a building or property, you will require emergency removal. You will pay more for an emergency removal as the pros have to leave everything else to respond. However, you can reduce or eliminate the cost by contacting local emergency services first.
You can expect to pay less if a tree falls on its own and does not damage any property. Professional tree removers will chop it up and remove it quickly.
You may also need emergency removal for trees that grow too close to power lines. Call your power company to check if your trees are a hazard. They could remove or trim the trees at no cost to you. Or, if the trees are on private property, they will ask you to remove the trees at your own cost.
How to hire a tree removal pro in Orange County, FL
If you are looking for a reliable tree removal service in Orange County, FL, use this FREE service.
Gotreequotes.com is a free tool for hiring professional tree removal service providers.
It connects homeowners to professionals in the following easy steps.
Enter your zip code at the top of the tool.
Fill in the form to provide more details about the tree removal service you need.
You will receive three or four quotes and advice from professional and licensed framing and drywall service providers.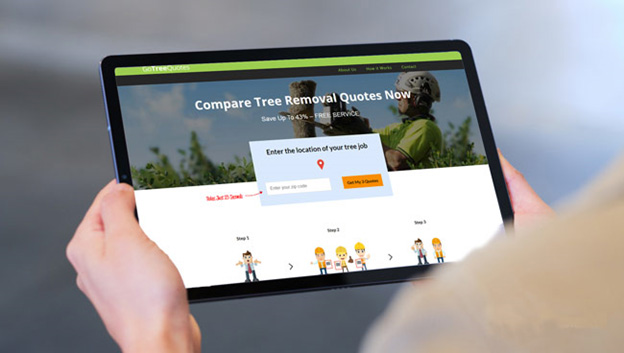 Why do you need at least three quotes from pros
Compare prices and services offered by different professional removers
To hire the best company for the work
To prepare a budget for the tree removal you require.
To invite them to inspect your trees before removal and offer an estimate.
To assess their capabilities