When looking to remove a tree in New Jersey, the local laws on tree removal and what it will cost you to remove a tree are two of the biggest questions. Both of which we cover in detail here.
The average cost of removing a tree in New Jersey is $1,320. The cost ranges from $300 for a small tree to $4,100 for a large tree.
The cost of removing a tree in New Jersey may vary depending on several factors, such as size, type/species, and accessibility of the tree.
| Tree Size | Low | High |
| --- | --- | --- |
| Small | $300 | $500 |
| Medium | $500 | $1,500 |
| Large | $1,200 | $4,100 |
The costs to remove a small tree in New Jersey range from $300 to $500. This depends on the location of the tree and its type. Most small trees can be removed within a couple of hours, reducing labor costs, and making them highly affordable. Some examples include the crepe myrtle, the Japanese maple, the holly, and the magnolia.
The average cost of removing a medium-sized in New Jersey ranges from $500 to $1,500. Medium trees are a bit more labor-intensive but can still be removed in a single day with 4-8 hours of work, depending on the number of hands on deck.
Some examples of medium trees include the red maple, the Florida elm sweetbay magnolia, silverbell, live oak, and bald cypress.
A large tree removal will cost about $1,200 to $4,100 in New Jersey.
Large trees are usually the size of 40 to 50 ft. Some trees may grow as tall as 100 ft., but they are rarely found in residential areas.
Examples of large trees found in New Jersey are trees like the tulip tree, sweet birch, red oak, black bruce, and hazel Adler.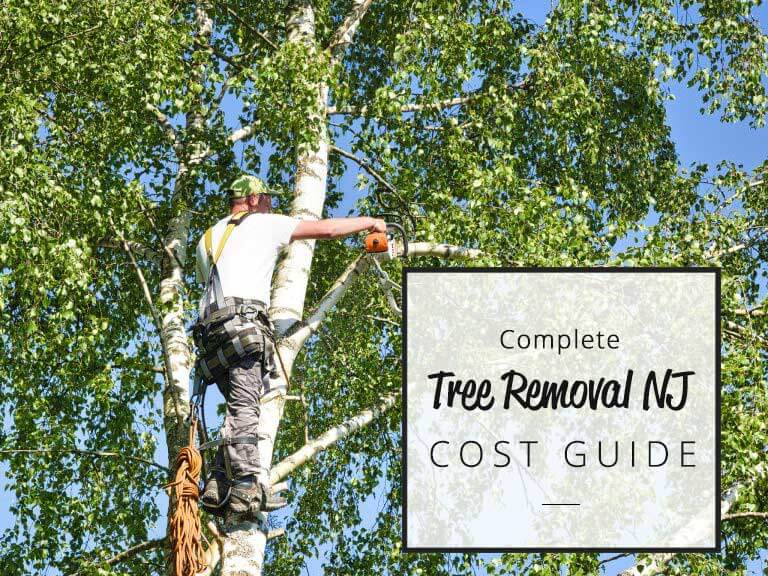 Tree removal cost per acre in New Jersey
| Area | Low | High |
| --- | --- | --- |
| 1/4 acre | $1,200 | $6,100 |
| 1/2 acre | $2,150 | $8,750 |
| 1 acre | $3,450 | $12,500 |
| 3 acre | $8,300 | $42,000 |
Tree removal or land clearing by the acre is usually done when a lot is being cleared for building, or farmland is being cleared for crops or other infrastructure.
The average cost to remove trees per acre ranges from $3,450 for land with small trees and shrubs right up to $12,500 for land with a mix of larger and smaller trees.
This estimate is usually given by a professional arborist or logging company when your property is situated in a lightly to medium wooded area. However, prices go right up to $24,000 on heavily wooded acres of property.
If the acre only has a few trees, it's more advisable to pay per tree as it will be less expensive. Also, removing trees that have fallen or been uprooted is a much easier job and lowers your costs.
Do you need a permit to remove a tree in New Jersey?
Each city in New Jersey also has its tree removal and maintenance jurisdiction. Thus, the laws may slightly differ from one another.
Most cities have protected trees based on their type, size, and location which will determine whether the tree will require getting a permit before removal.
You should check with your local council before removing a tree to be sure of doing the right thing.
Tree removal cost by type in New Jersey
The type and species of a tree can also influence the removal costs. Some trees grow enough to be divided into different size classifications for price estimation.
The table below outlines the average price for removal based on the type of tree in New Jersey.
| Type of Tree | Low | High |
| --- | --- | --- |
| Red Oak | $900 | $12,000 |
| Cedar | $500 | $2,000 |
| Sycamore | $700 | $4,500 |
| Ash | $500 | $2,100 |
| Pine | $200 | $1,500 |
| Magnolia | $350 | $1,200 |
| Palm | $250 | $2,200 |
| Sweet Gum | $750 | $1,100 |
| Conifer | $200 | $1,800 |
| Eucalyptus | $700 | $4,200 |
| Crepe Myrtle | $300 | $800 |
| Poplar | $1,100 | $1,800 |
| Cypress | $800 | $1,200 |
The fastest and easiest way to get 3 Estimates from the most affordable tree services near you would be by using this FREE service.
GoTreeQuotes quickly matches you with the 3 tree surgeons voted #1 by previous users in your area.
Scroll up to the top of the page and enter your Zip code in the blue form at the top of the page.
Give us a few details about your tree trimming or removal job, plus some contact information.
Your tree details are forwarded to the closest three tree services, all voted best priced who will also price your tree job.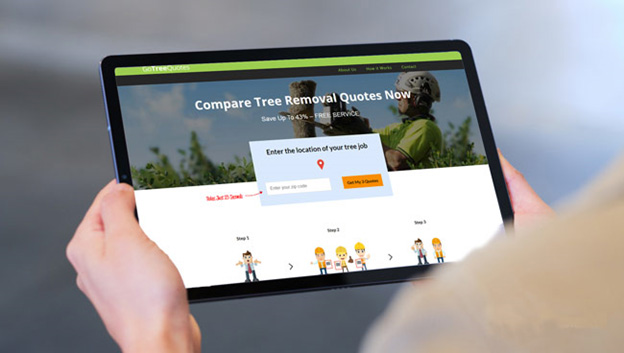 Stump removal cost in New Jersey
Usually, removing the stump is not considered a part of tree removal, so it is not always included in the quote. Homeowners can decide to have the tree cut to its stump, have it reduced to a lower soil level, or have the entire stump removed along with its tree.
The average cost of stump removal ranges between $100 to $150 per diameter with labor costs included, or the tree company may issue you an estimate of $100 to $400 per stump.
You may keep the stump as it saves extra costs and can be reused for decorative purposes such as a flower or plant stand and a wooden stool. It may also be used camping. Therefore most people will prefer to have them stay.
However, when your tree is larger, removing the tree and its stump may be better to clean up the property and give it a better look. If left, it can easily be infested with insects and diseases, harmful to your home and the whole landscape.
You need to let your tree service company know whether you'll be removing your stump or not. Some companies estimate the cost of a stump removal by its diameter inch, while others may issue a flat estimate per stump based on the size.
Factors that affect the cost of tree removal in New Jersey
Some factors that affect the actual cost of removing a tree include the size of the tree, accessibility, diameter of the trunk, clean-up, and lots more.
The height of a tree is an important factor in estimating the cost of your tree removal. A small tree is easy to remove, as there are fewer branches to cut off and a smaller stump to uproot, while a large tree will be more difficult, and this will affect their cost.
Trees that are not in proximity to buildings and structures give less access to tools for removal. A tree that is farther from your building gives more access to equipment for removal, which lessens the cost of labor.
Some trees belong to the category of hardwoods, while others belong to the category of softwoods. The amount of work required in removing hard and soft woods will be different even if they are of the same size, and this will affect the removal cost.
Also, since some trees are more highly sought after than others, you might pay little or nothing to the tree service companies to remove trees like palm trees or others that can be used as timber.
The diameter of the trunk is also a function of its size. You can expect to pay more for trees with a large trunk.
You need to determine whether you will do the cleanup yourself or have the tree company do it. If the tree company takes care of hauling your tree branches, this will also add to your cost.
The cheapest time of year to remove a tree in New Jersey
The best time of year for tree removal by far is in winter. Tree removal is a seasonal trade, so most of the work happens in the warmer months. In Autumn and winter, there is very little work on tree services, so they are forced to bid lower prices just to win the job.
Crane assisted tree removal NJ cost
When a tree service requires a crane to remove a tree, you are likely going to spend 20 – 50% more. This is because of the extra expense of using a crane and other heavy equipment to assist.
Cranes are generally only used on larger or hard-to-get trees. If you can find a company that can get the work done without a crane, then you should be able to save yourself some money.