Most trees reach high up into the air and have shared space with power lines. This way, tree branches can very easily disrupt the electrical network's safe and uninterrupted operation, thereby compromising your safety.
Never try to trim your tree that is near power lines. Call the professionals! These trees that grow around power lines can cause shock hazards and injuries that could prove fatal. The amount of trimming depends on how fast the tree grows, the location of the tree, and how the tree is watered.
The following article will be your ultimate guide for tree trimming around power lines.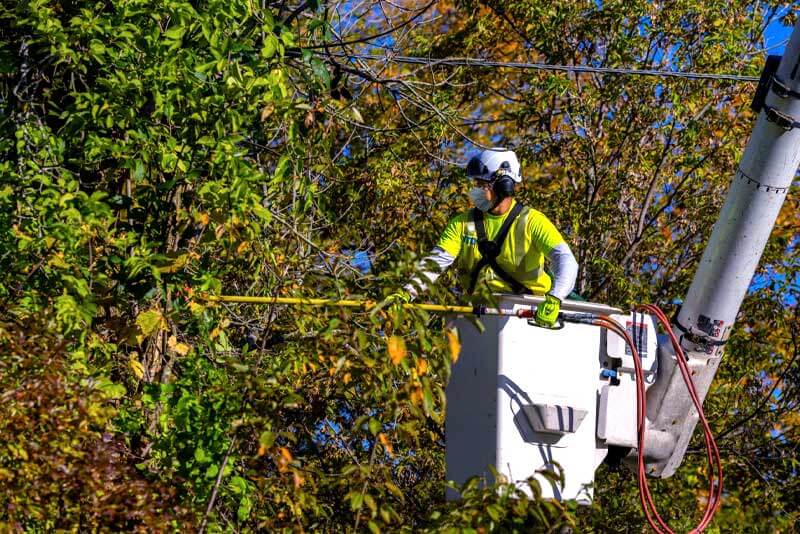 Safety must be a golden rule when trimming trees around power lines, and we all know why. Any tree-trimming company has to meet and follow the United States Department of Labor (OSHA) requirements before they can trim trees near power lines.
According to OSHA regulations, there are three different levels of workers qualified and permitted to work around power lines. Workers that are known as line-clearance professionals are only permitted and qualified to work within 10 feet of electrically powered overhead lines.
So when choosing a professional company for this kind of job ask if they have one of these trained workers.
Tree service workers must treat power lines with respect because their life depends on them. The interaction between the tree and the power line can cause a serious threat to anyone touching those trees.
A few electrical safety measures should be kept in mind:
Always be careful when dealing with storm work because broken trees and branches could easily pull power lines down to the ground. This can easily energize objects such as metal fences, surrounding trees, vehicles, and even the ground;
Inspect all the lines on the particular property to ensure everything is still intact, and there are no possible hazards;
Treat any downed power lines as though it is energized, and call the power company immediately;
Stay at least 10 feet away from power lines and if the line is visibly active, remain extra cautions and stay even further away;
Alert anyone who goes near it to prevent public from having a fatal encounter.
Always be aware that electricity can travel through trees' branches, trunks, and leaves, and in return, that can cause fatal electrical shock.
How to prune trees around power lines?
Trained professional tree workers are qualified to work safely near power lines and they know when a tree needs to be trimmed and how to cut the branches to ensure safety and at the same time to be healthy for the tree.
The International Society of Arboriculture recommends a technique called "directional pruning". Directional pruning means that the workers only remove the branches that are growing toward the line instead of cutting off the whole top of the tree.
There are three directional pruning styles:
"L" pruning
Side pruning, and
"V" pruning.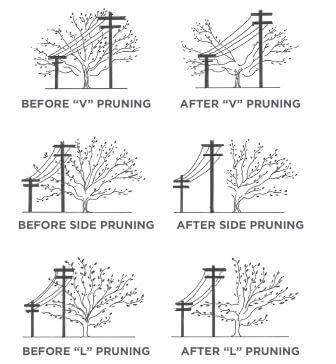 The fastest and easiest way to get 3 estimates from the most affordable tree services near you is to use our FREE service.
GoTreeQuotes helps to match you with the three local timing services that are qualified to work around power lines.
Scroll up to the top of the page and enter your Zip Code;
Fill out the 23-second form with details about your tree job;
Your details are forwarded to the closest three tree services who will bid on your job at a great price.
Vegetation management programs
To provide reliable power, the relevant institutions in this matter identify trees that might pose a risk. There are so-called power-line-friendly trees.
Power-line-friendly trees
You must be sure that the newly planted tree will not pose a safety risk in the next 10 years and more. Power-line-friendly trees are all trees that will not reach the height of the power line. For example, if you are planting within 25 feet of a power line, plant a tree that will grow max 20 feet.
The following trees are recommended as power line-friendly trees:
| Tree type | Maximum height |
| --- | --- |
| Xylosma (Xylosma congestum) | 8 - 10 ft. |
| Yellow Oleander (Thevetia peruviana) | 8 - 10 ft. |
| Texas Mountain Laurel (Sophora secundiflora) | 10 - 15 ft. |
| Pygmy Date Palm (Phoenix roebelenii) | About 12 ft. |
| Purple Leaf Plum (Prunus cerasifera) | About 25 ft. |
| Mulga (Acacia aneura) | 14 - 18 ft. |
| Monk's Pepper (Vitex agnus-castus) | 5 - 16 ft. |
| Mexican Bird of Paradise (Caesalpinia mexicana) | 10 - 15 ft. |
| Mastic (Pistacia lentiscus) | 15 - 25 ft. |
| Leather Leaf Acacia (Acacia craspedocarpa) | 10 - 15 ft. |
| Cascalote (Caesalpinia cacalaco) | 15 - 30 ft. |
Important note: Trees that will grow more than 20 feet, must be planted at least 40 feet away from power lines.
How does the wires company manage trees near power lines?
The wires company routinely requires access to inspect trees near its lines and schedules periodic maintenance. The wires company prunes trees that interfere with power lines and may even need to remove a tree because of its condition.
When pruning trees, the wires company determines the required distance based on the voltage of the power line and the type of tree.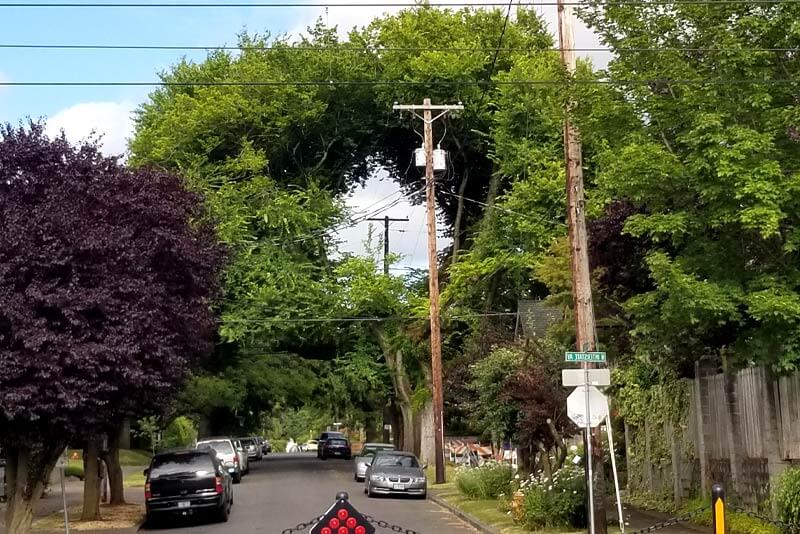 If any of your trees are in contact with power lines, do not go near them, and do not try to trim the branches yourself. Trees touching power lines are extremely dangerous, causing anything from power outages to electric shocks and fires.
Trees conduct electricity and can create a safety hazard if limbs grow too close to electric lines. Be sure that no one climbs a tree near power lines. If branches are touching the wires, the tree could be energized, and that way even branches which not touching could become energized very easily.
To lower the risk in the first place choose a tree species that won't grow more than 25 feet at maturity. If the tree of your choice will grow more than 25 ft. plant the tree at least 50 feet away from nearby power lines.