Professional tree maintenance services can help you trim the trees in your yard so you don't have to risk damage or injury by doing it yourself. How do you find a reliable tree trimming service near you and what should know before you approach one? Read on to find out.
Tree trimming is an important maintenance exercise so you need to find the right experts that are experienced, certified, and can guarantee the best results. For this, you need to look in the right places and also ask the right questions. How long has the company been in operation? What are their previous clients saying about them? Which species have they trimmed before?
Most tree trimming or tree maintenance services will quote their services based on job-specific factors that may include things like the size of the tree, its location, species, etc. You can have a fairly accurate quote from a tree trimming service near you by sharing the following details:
Type of service/ job- Are you looking for a tree trimming or pruning service. Average rates for both services are quite different. Be sure about the specific tree maintenance service you are after before you contact a tree service. In this case, you should only be looking for tree maintenance services.
Your location- Rates may vary depending on your location. For instance, those in urban areas may generally spend a bit more to get their trees maintained than those in the countryside.
Size of the tree- This is the most important factor to be considered when sourcing for any type of tree maintenance service. Generally, tree services will quote based on the size and age of the tree as the amount of work increases as the tree gets bigger in height and crown density.
The table below shows estimates of the amounts you would be expected to pay for tree trimming services based on the size of the tree and other factors.
| Service | Size | Low | High |
| --- | --- | --- | --- |
| Small tree trimming | 15 - 20 ft | $250 | $525 |
| Medium tree trimming | 20 - 30 ft | $390 | $270 |
| Large tree trimming | 30 - 50 ft | $500 | $1200 |
| Extra Large tree trimming | 50 - 100 ft | $740 | $2000 |
| | | | |
| National Average | | $120 | $1,190 |
Choosing a good tree trimming company
Most trees require proper and well-timed trimming to develop a desirable crown both in terms of density and beauty. At the same time, trees growing in your yard next to a building or other structure need proper trimming for safety purposes.
For the above reasons, you need to know how to go about selecting a professional tree trimming company. Here are some tips to help you along in your search:
Use Trusted Business Listings
If you are searching online or in print listings, then you need to look in the right places. There are probably thousands of tree companies advertising their services in various mediums where you live. Be careful about where you source the business you hire.
Places and listings, you should try and avoid include, unverified social media listings, businesses that drive around your neighborhood offering "free" inspection services, web adverts e.tc.
You can trust verified business listings on your local directory, the BBB directory, industry association listings, those recommended at the local forestry office, listings by professional groups, etc.
Of course, you should also do a bit more digging even when you source businesses from trusted sources to verify that they have experience in tree trimming. Some tree services are good but may be too far away or have little experience trimming the kind of trees you have in your yard. Make sure that you know exactly what they can offer through your research and a discovery call.
The longer the company has been in the industry, the higher the chances that you will have no trouble working with them. Ask how long the company has been providing tree trimming services and if their staff members have some years under their belt dealing with clients like you. Of course, it not a sin to hire a relatively new company but make sure they have what it takes.
Go for A Registered Company
The company you choose should have the required paperwork. This must include registration, insurance, and all the permits they need to work on trees in your area. Some local authorities have strict laws regarding such companies while others may be a bit relaxed and allow the use of casual labor.
Choosing a registered company will save you a lot of trouble if something goes wrong. For instance, you would be able to sue them and have a better chance of being paid if they cause damage to your house while trimming.
Hunt for their mentions on social media and business profiles on websites like Yelp, the BBB database, and Google My Business. On these platforms, you will find unfiltered reviews and ratings from their previous clients. This should help you decide if you should engage the company or avoid them based on what the previous clients are saying about them.
As a general rule, you should avoid tree trimming services will less than three stars in ratings and a lot of negative reviews. You cannot risk working with a company that has done a series of bad jobs in the past especially if you are looking for tree trimming services.
Find A Company That Offers Multiple Services
Chances are that you may be needing some additional services such as pruning, tree cutting services, stump removal, or root collar excavation. Don't just look for a company that only lists one or two services on their website. Instead, look for one that can provide all these other services to save your time and money.
Questions to Ask Tree Trimming Services
So, you have identified a few tree trimming services and would want to place a discovery call or know a bit more about them. Asking the right questions can help you know if a company has what you are looking for and help shorten your list. Here are some of the questions you can ask:
What services do they offer?
While it's obvious that you are looking for tree trimming services, it's important to ask them what they offer to clients as a company. Ask them to describe their services and where they offer them. Which areas do they specialize in?
This is important because some companies may advertise multiple services but specialize in one area. For instance, it's not uncommon to find companies that specialize in tree cutting but identify as tree maintenance companies. Such companies are more in the lumber business and are not the best fit for yardwork like trimming.
Ask how long they have been in business
From your research and by asking directly, you should be able to find out if the company has some experience in the industry. As discussed earlier in this guide, the experience is always better especially for work such as tree trimming or tree cutting.
You will be safer if you can find a local tree service with at least three years in the industry offering services like trimming, tree cutting, and arborist services. This information can also be obtained from their website.
Ask if they can provide testimonials
While you can find client testimonials from external sources, the company you want to hire should also provide some verifiable testimonials if asked. Most companies keep a record of testimonials and client feedback and can even link you with their best customers so you can verify them. This can help you know if the company is trustworthy and has a good track record.
The tree trimming company you choose should have proper insurance. Insurance should be third-party and staff insurance. Third-party insurance is more important because it takes care of any damage that occurs while they are on your property like if a branch fell on a vehicle parked next door.
Can they provide a written estimate?
It's important to get an accurate written estimate from a company before you sign any contracts with them. Unscrupulous individuals will try to provide a verbal estimate over the telephone just so they can get you to hire them. Later on, they will add other items such as travel time and equipment charges thus driving your costs higher.
How long will it take to complete the job?
Give the tree service enough information about the job to be done to help them come up with a timeline. They should be able to give you an estimate of the amount of time it will take to finish trimming the tree(s) and what is required. This way you can plan and also manage your costs in case they are charging by the hour.
Enquire about their capacity
It's important to know if the tree service can get the job done. Find out if they have enough trained staff, an arborist, and the necessary equipment for the job.
Can they help with Permits?
You may require permits to cut or trim some trees because of conservation laws in your area. Ask if the company can help make the application and obtain the permits before they start working on your trees.
Hiring tree trimmers in my area
Here is what you need to do to find an affordable top-rated family tree service in your location today:
Scroll to the top of the page and enter your Zip code.
Answer questions about what you want to be done
The information you enter will be forwarded to three local experts. They will send you a price estimate for the job and some friendly advice.
IMPORTANT: There is no obligation to hire. This is a free tool and service to be used at your pleasure.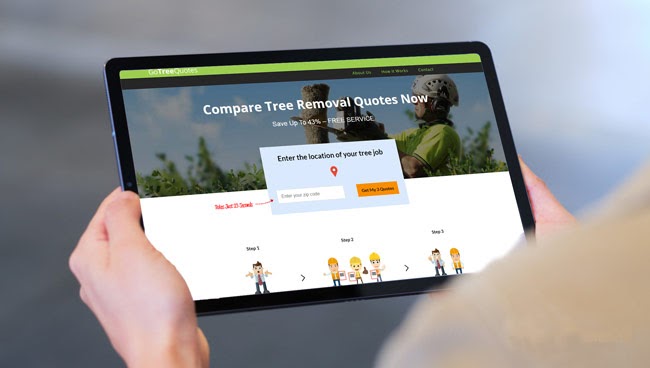 What Trimming Services to Avoid
Some tree trimming services will promise a lot or trick you into hiring them. Here is what you should avoid when looking for a tree trimming service according to the Better Business Bureau:
Tree services who go door to door to see if you need trimming done should be avoided. They will always insist that your trees need to be trimmed even when they are not.
Tree companies that only accept cash payment for their services.
Tree services without a company website or listing on reputable directories.
Tree companies with negative reviews
Companies that are not in or near your location.
Unregistered tree services
Those without insurance.
Single-staff companies
Companies without proper corporate branding or a physical location.
Most Popular Pruning Styles
Canopy lift
This type of trimming involves cutting the branches of a tree. This results in the canopy/crown moving higher. It is done for various purposes such as improving aesthetics and clearing low-hanging branches from structures such as garages and houses.
Canopy Thinning
Canopy thinning involves reducing the number of branches in the crown. It is a trimming exercise aimed at improving the tree's appearance and health. Sometimes it's also done for safety purposes especially in areas with rough weather.
Pollarding
Pollarding is a trimming style that is the opposite of the canopy lift style of trimming. It involves removing the upper branches of a tree to promote the growth of dense canopy and stronger wider branches below.
Topping a tree is risky because it involves removing a big chunk of the crown. If incorrectly done, topping can kill a tree or hinder its growth. The topping should be done by a professional who knows which branches to cut and how to cut them.
Most tree trimmers charge between $100 to $125 per hour depending on the size of the tree and other factors. It's, however, better to get a flat rate for the entire job as opposed to paying by the hour.
Damage caused by a falling branch or tree is usually covered by home insurance. However, you should go through your terms and see that tree trimming is mentioned as one of the items covered. Also, enquire if the tree trimming service has third-party insurance.