Bed bugs usually hide in hard-to-reach spaces and can adapt to extreme environments. These pests are also very resilient, so common pesticides cannot kill them easily.
Professional bed bug treatment is expensive as it needs specialised industrial equipment which tend to be very costly. More so, the treatment requires several visits to totally erraticate the infestation.
Only a professional bed bug exterminator knows the difficulty of removing an infestation. So, if a particular service offers rates that are way below the market average, the deal may be too good to be true.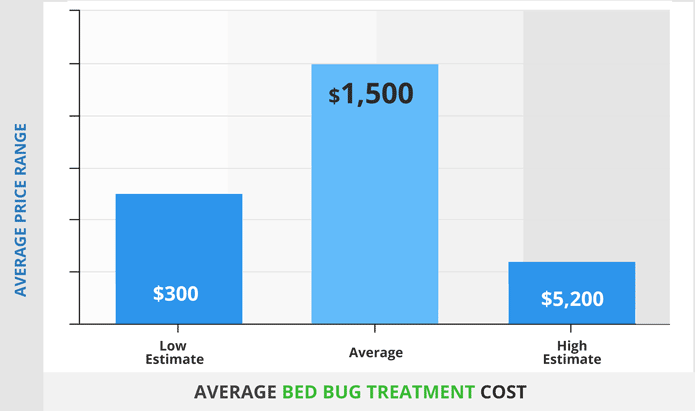 On average, bed bug extermination costs between $300 to $500 for a single room and between $1,500 to $2,500 for multiple rooms or apartments. The price can go up to $5,200 for large houses.
| Description | Average Cost |
| --- | --- |
| Single room | $300 to $500 |
| Multiple rooms/apartment | $1,500 to $2,500 |
| Large houses | $3,000 to $5,200 |
Before hiring an exterminator, get several quotes from different services and compare the prices. This will help you choose an expert that meets your needs and budget.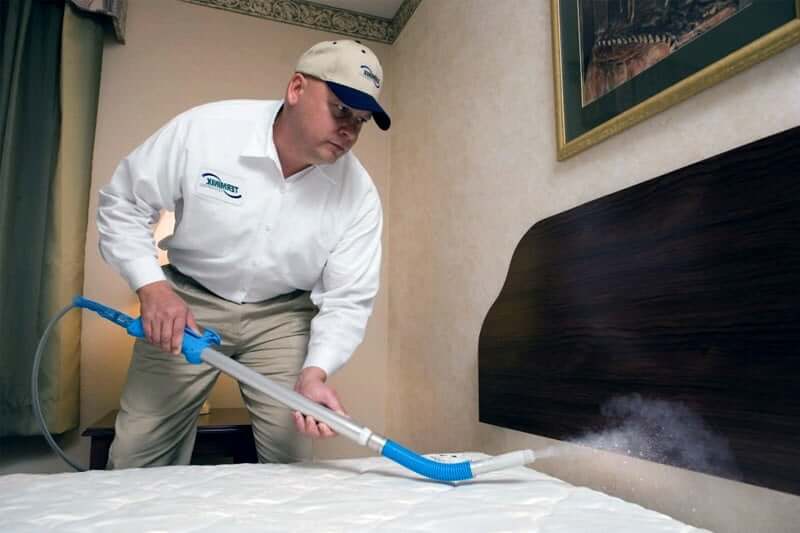 Reasons Why Bed Bug Treatment Is So Expensive
Bed bug extermination cost varies depending on the size of the job, location, and the time it will take to get rid of the pests. Below are four reasons why you can spend a fortune on bed bug extermination.
Bed bugs can fit very small spaces. This makes them very hard to spot, even by trained professionals. Without proper inspection, you may miss important hiding places of the bed bugs and their larvae which develop extremely fast. If the treatment does not kill all the bed bugs, you will suffer a reinfestation.
There are several types of inspection, including visual and canine.
This is the most common type of inspection, and it involves looking for physical signs of bed bugs. The professional looks for signs of bed bugs such as:
Live pests
Red stains on beddings
Bed bug bites
Eggs and egg casings
Exoskeletons of the pest, etc.
This inspection method is used if the infestation is massive. It involves using a well-trained pest-sniffing dog to locate all the hiding places of the bed bugs. Because of the complexity of this kind of inspection, the treatment cost tends to be so high.
The equipment used for bed bug control and treatment is specialised. The type of equipment used depends on the size of the infestation and treatment method. The equipment is usually very costly and must be operated by a trained professional.
A good example is heat treatment. Specialised heaters are used during this kind of treatment. The heaters are required to raise the room's temperature to more than 130 degrees which is enough to kill bed bugs without causing any fire hazard.
Bed bugs are difficult to kill, and without the right pest product, you will not be able to eliminate them.
General or generic pest control products do not kill bedbugs effectively. The products used to kill bed bugs are carefully formulated to ensure they are safe to use on your mattresses and other affected areas like the living room.
Such products require expertise and precision to manufacture, making them so costly.
Bed bug treatment takes longer than other general pest control services. The preparation process takes time because the professionals must ensure the homeowner understands the details of the extermination. The whole treatment can take up to 6 to 12 hours! Also, you will need several professionals on the site.
To think that a standard roach or ant treatment takes about 30 to 30 minutes, you can understand why bed bug treatment is much more expensive.
Other Cost factors Affecting Bed Bug Treatment
Besides time, equipment, products and inspection cost, below is a host of other cost factors that may affect bed bug pest control/treatment.
Professional bed bug exterminators charge according to the amount of space they will cover. If the area is large, the cost will be higher, while smaller areas will cost less.
However, if the infestation is huge and the area is small, the cost will be higher. This Is because more specialised equipment will be required, and the treatment may take more time. On the other hand, if the area to be covered is large but the infestation is low, the extermination cost will be lower.
The type of your house also matters a lot when exterminating bed bugs. Some homes offer more hiding places for bed bugs due to their designs.
For instance, if your home is constructed to the pier-and-beam style, the extermination cost will be higher than that of a slab house.
If the house is large and the infestation is massive, the cost will be even higher!
Bed bug infestation can go out of control very fast because of how quickly the larvae hatch. Eradicating a huge infestation is time-consuming, exhausting, and requires specialised equipment. Therefore, the extermination cost for a large infestation will be higher than a smaller one.
To be on the safer side, you should be vigilant as soon as you spot the very first bed bug. This way, you will be able to control the infestation before it spreads, and the treatment cost will not be as high.
Your location also determines the cost of extermination. Generally, if you live in an area where pest control is on demand, the treatment cost will be higher.Densely populated areas such as urban settings are more prone to infestations.
DIY or Hire a Professional Exterminator?
Almost every home suffers from a pest infestation at least once a year. While simple DIY steps can easily control most pest infestations, bed bug infestation requires more attention and time.
A small bed bug infestation can be easily controlled using DIY methods, but are you willing to take that risk? Bed bugs multiply fast, and if you do not act fast, the infestation may go out of control.
There are many bed bug DIY treatments on the market, but before you buy any product, you must make sure it is labelled correctly and safe. However, if you are not sure whether what you see is a bed bug or flea, it is best to call a professional.
Why You Should Hire a Professional Pest Control Service
A professional will immediately identify the pest and take the necessary steps to control and eradicate the infestation. Besides, you will not have to buy any product or equipment because the exterminators come with their own.
How Do I Select the Right Bed Bug Control Service?
Although there are many bed bug treatment companies on the market, finding the right one can be pretty challenging. Selecting a bed bug treatment service on a budget requires time and patience.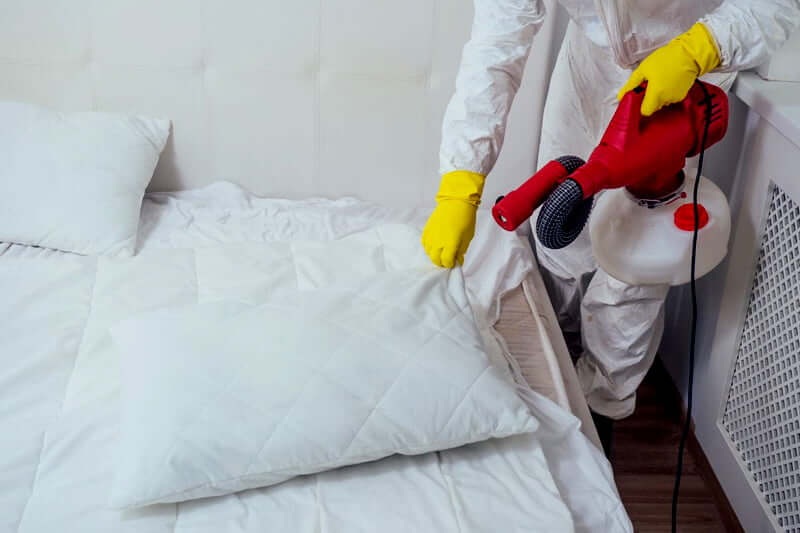 The fastest and easiest way to get 3 Estimates from the most bed bug control services near you would be by using this FREE service.
GoTreeQuotes quickly matches you with 3 Pest Control Services voted #1 by previous users in your area.
Scroll up to the top of the page and enter your ZIP Code in the blue form at the top of the page.
Give us a few details about your pest control job, plus some contact information.
Your details are forwarded to the closest three Pest Control Services, all voted best priced, who will also price your pest job.
Before you hire any professional, go through your checklist to make sure you get the right fit for your needs.
Yes. An exterminator is trained to eliminate any kind of bed bug infestation. Also, you will have peace of mind knowing experienced professionals are handling your problem.
Bed bugs are difficult to eradicate, and it may take between 2 to 4 treatments lasting for about 3 to 6 weeks to eliminate these bugs. This, however, depends on the level of infestation, size and style of your house.
No. The Homeowners insurance policy does not cover bed bugs or other pests because they are seen as an avoidable or preventable hazard that requires proper home upkeep.