In your fight against pests, your best line of defense is always hiring the right pest control company. To do this, you need to know what to look for in a pest control company and how to choose between multiple competing companies.
Among the most essential things to look at is the licensing, certifications and accreditations, insurance and bonding, and cost of their services.
That said, conducting your own research and asking questions is the only way to truly know if a pest control company is right for the job. With the right professionals, you can be confident that they'll be able to get rid of all pests on your property.
Here are a few tips on some of the factors you should consider:
With general pest control, how long a company has been in operation says everything about its expertise and efficiency. A company that's been in operation for several years is likely to offer you better services than a startup.
More years means they've handled multiple similar pest problems before and so, they know which pest control products work best for each pest.
They also tend to have the best equipment, and more knowledge to handle any challenges that may come up on the job.
Licensing is another key factor you have to consider in a pest control company. Look for a company that can show you a copy of their license certificate that proves they are allowed to operate in your area.
The license proves that the company has a certified controller who is well-trained and accredited in pest control.
Besides licensing, a good pest control company should also be covered with both professional liability and worker's compensation insurance policies.
This way, both you, your family, and your property will be protected in case any accidents happen on the job e.g., certified operators falling and getting injured on your property.
Previous customer reviews and testimonials
What previous customers say about their experience with the exterminators is also critical. Therefore, ask around your neighborhood or among friends to find out what the people have to say about the contractor you want to hire.
If you don't know anyone who's recently conducted extermination, you can ask the pest control professional for references to some of their past customers, or check online reviews.
However, don't be too trusting with these references since some of them could just be the pest control technicians' friends or relatives.
Before settling on one pest control professional, you also need to get a free estimate from at least three contractors in your locality. Contact a few of the contractors near you and request for a well-detailed written quote.
Most times, this may also mean conducting a free inspection to first identify the extent of the damage.
Note: Some pest control professionals may quote a low fee initially only to increase it once the job has begun. As such, always ask them for an average final quote.
Doing this will give you a feel of how each service or treatment is priced, and so, you'll be able to hire a quality contractor whose quote is within your budget.
Since pest management is usually an ongoing service, you also need to hire a pest control company that can guarantee high-quality results.
Having a guarantee shows that the company has faith in its experts to kill pests. But in the off-chance that the pests come back, the company will be willing to revisit your home and implement preventive measures that will kill them for good.
The best pest control service entails a lot of repetitive treatments – that's why most companies offer varying treatment packages to different customers depending on their pest problem.
When hiring a pest control company, you need to request for a well-detailed contract, highlighting your agreed package.
The document should also contain everything you've discussed with the exterminator, from the costs, to the treatments, application methods, frequency, payment plan, pest management, and even how long the treatment lasts.
Finally, you need to look at the overall presentation of the pest control company. While this isn't the most important factor, it can be a good telltale sign of how professional and efficient a company is.
A company that's keen to protect its brand image gives you peace of mind that they're likely to do a job that satisfies your expectations.
Questions to ask a pest control service
As earlier mentioned, asking questions is one of the best ways to find out how good a pest control company really is.
By listening to how an exterminator responds to your questions, you can easily determine if they're a reliable company or not.
Here are a few questions you can ask:
How long have you been active in the pest control industry?
How do you identify which pest control treatments are needed?
Have you handled a similar pest problem before?
How much training do your exterminators receive?
Is your company licensed, insured, and bonded?
Are all your services safe and friendly to people, animals, and the environment in general?
What if I'm not satisfied or happy with your work?
Mistakes to avoid when hiring a pest control company
While knowing what to look for and the questions to ask when hiring a pest control company is essential, you also need to know the common mistakes you should avoid.
Some of these mistakes may seem obvious, but you'll be surprised just how many people make them each time they're looking for a pest control service.
These mistakes include:
Hiring a pest control company based on your budget alone
Even though it's important to work with a budget, hiring a pest control company based on the budget alone is one of the biggest mistakes you can make.
You'll quickly find out that there are tons of cheap exterminators in the market, but most of them can't do the job right. That's why you shouldn't remain fixated on one price point.
Most experienced pest control companies will usually charge slightly higher, but their services will be worth it. They can also guarantee you satisfaction with every pest problem they tackle.
Not choosing an experienced local company
When it comes to pest management, choosing local pest control companies is very important. An established company within your local area knows exactly which pests are common in the area and the best treatments for them.
They also tend to be much cheaper and more effective when handling seasonal pests.
Opting for a company that isn't established locally can be dangerous since they can just up and leave if the business doesn't work out, leaving you exposed once the pest problems resurface.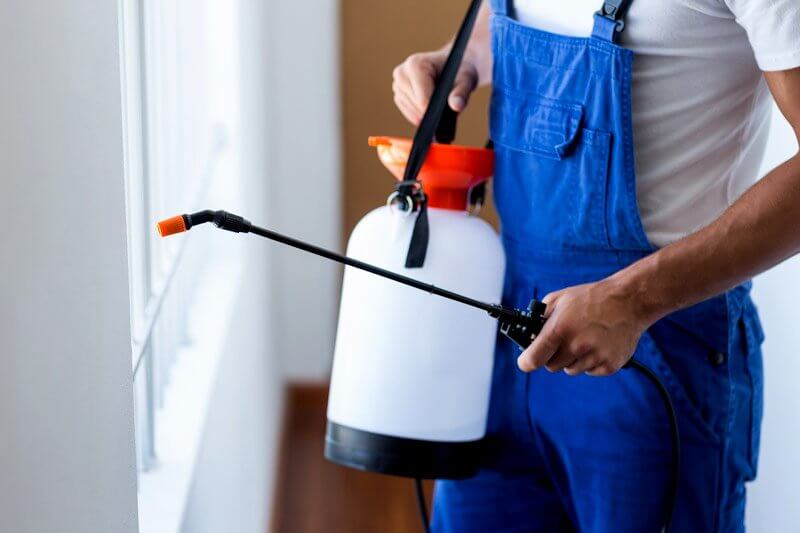 Most people spend anywhere from $150 – $600 on extermination depending on the pest and infestation. However, the prices could go as high as $3000 – $8000 for the treatment of pests like bed bugs and termites.
It depends on the intensity of the pest infestation. For small-scale pest infestations, DIY treatment is the best and cheapest solution. But once the infestation is spread across different rooms of the house, contacting a pest control professional is always the best option.
Chemical treatments or the use of pesticides. Although it's not the safest method, this treatment is very effective in pest management. It inhibits the movement of pests and, in most cases, kills the pests instantly.