It's no secret that bedbugs are among the most stubborn little bugs to get rid of. But after several rounds of cleaning your sheets, vacuuming your home, and spraying insecticides in every corner of your house, you were sure they were gone for good. Or so you thought.
So, how do you keep them from coming back again? The most effective way is by hiring a professional exterminator. Their experience and expertise in dealing with bedbugs mean they can come up with permanent solutions quickly.
Let's dive into why these bugs come back in the first place and how to stop them.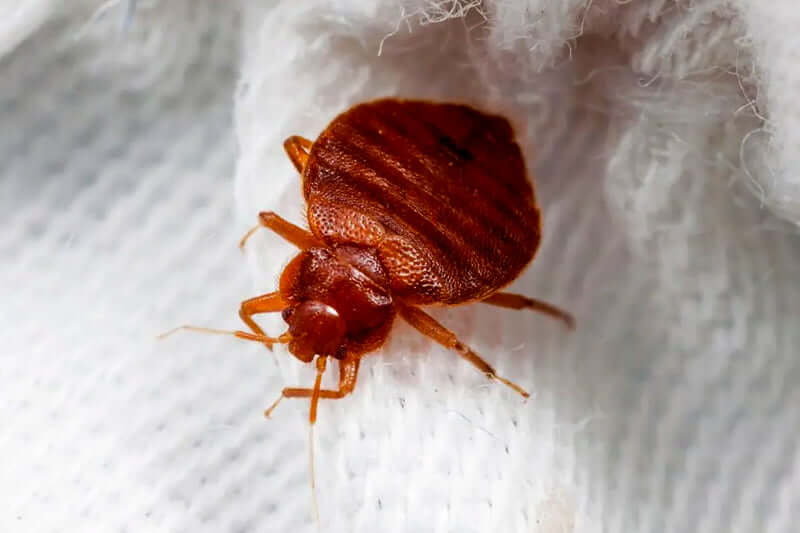 You didn't do a good job the first time (DIY)
More often than not, your bedbugs could be back because you tried to handle the infestation yourself. While DIY remedies usually work on small-scale infestations, they become less effective if the bedbugs are in different parts of the house.
If only one female bedbug survives after your treatment, it'll only be a matter of time before it lays eggs and a new army of bugs reappear.
Moreover, most DIY remedies kill the bedbugs but not their eggs. Therefore, they're more likely to resurface once the eggs reproduce.
You keep visiting the same place
Another possible explanation for your bedbugs coming back is the fact that you might be visiting an infected place regularly. For instance, assuming your office was the source of the infestation but it's yet to be fumigated, every time you go to work, you're likely to carry a bug home.
Alternatively, it could be brought by another person e.g., your kids when they visit a friend's house that's infested.
If this is your case, make a point of tracking the source of your bedbugs, and alert the relevant authorities of the infestation.
You didn't hire the right professional
While we always advise you to seek the help of a professional pest control company for the extermination, not every pro is right for the job. You need a company that's experienced and has a proven track record with bed bug remediation.
Hiring an amateur for the job may be cheaper upfront, but the long-term effects will be quite costly. If the exterminator doesn't know how bedbugs behave and where they hide (some are in deep cracks and crevices), you're likely to have them resurfacing after the job.
Adjacent apartment wasn't treated
Another key reason for your bedbugs coming back would be that an adjacent apartment wasn't fumigated. Assuming the initial infestation affected several apartments in your building, fumigating your apartment alone won't work.
Since bedbugs move from place to place, some are likely to have escaped to your neighbor's apartment during the fumigation, then come back after a while.
Ineffective chemicals - bedbugs have become resistant
Over the years, bedbugs have developed resistance to several chemicals used in insecticides today. As a matter of fact, studies have shown that these little bugs are now resistant to the chemicals pyrethroids and neonicotinoids which can be found in almost every bedbug treatment.
This means that if you used the wrong chemicals for the fumigation, some bedbugs are likely to have survived and will soon be back.
Therefore, before using any chemical, talk to a local pest controller to confirm whether bedbugs have become resistant to it.
How to prevent bed bugs from coming back
Even after doing your best work in getting rid of the bedbugs in your home, you can never be sure that they won't come back. The best way to prevent bed bugs from coming back is usually hiring a professional exterminator.
While they might be expensive, their extensive knowledge and experience in handling bedbugs mean that you can be certain they'll get rid of the bugs completely.
Moreover, some pest controller companies even guarantee you these results and will offer you free extermination if the bugs resurface.
Another tip you can try to prevent the bedbugs from coming back is to ensure you conduct thorough inspections on all the secondhand furniture you buy.
Additionally, always check your clothes and luggage every time you travel on public transport means or sleep in hotels.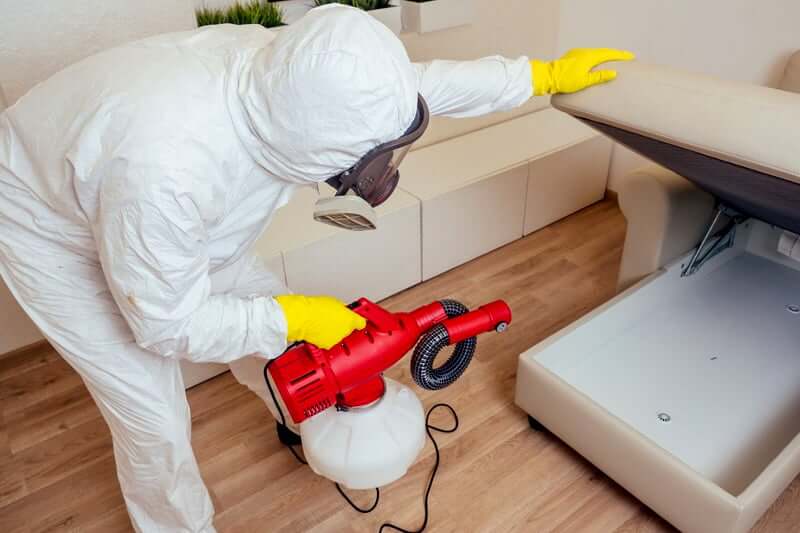 Benefits of hiring a professional exterminator
Hiring a professional exterminator is always our top recommended way to get rid of bedbugs permanently. Since they have been in the industry for a long time, pros can easily tell the extent of the infestation and detect affected zones that you might not have identified.
Most experts also have knowledge in bedbug biology and stages of development meaning they can determine the best way to completely eliminate them.
Other benefits of hiring professional bed bug exterminators include:
Pros use fewer pesticides, if any, during fumigation to ensure your home remains safe for sleeping.
Pros can guarantee permanent results and safety.
Pros can do the fumigation faster and save you more time compared to doing it as a DIY.
Experts have the right equipment to get rid of the bedbugs, regardless of how far they've hidden in your house.
Most experts will kill the bedbugs and clean up after the job relieving you of that workload.
Professional exterminators will also give you advice, based on their experience, on how to avoid future infestation.
Get Matched with a Tree Removal Expert in Your State
How to choose an exterminator
Now that you know why you probably should hire an exterminator of a professional pest controller company, you need to be keen on hiring the right man for the job. After all, you don't want to waste a ton of your money on an inexperienced exterminator.
Here are some things you must consider to choose the best exterminator:
Look at their years of experience
The longer a company has been in the fumigation business, the more likely they are to have built good experience. So, check the number of years they've been in operation.
You should also find out how long their hired exterminators have been in the industry and whether the newer applicators work with their more experienced counterparts.
Additionally, confirm how long the company has been specifically involved in bedbug remediation. This is very important especially if the pest controllers handle several pests.
Look at their qualifications
Any good extermination company or personnel should have the right papers and certificates to prove their skill and knowledge. As such, always ask for their license of operation and check to ensure that they have a certified entomologist on their team.
To confirm their licensing, you can contact your state's pesticide regulatory office.
They should also offer an insurance cover for all their employees and your property. This way, if an accident or damage occurs on your property, you won't be held liable.
Ask for word-of-mouth references
Regardless of what the pest control company tells you, nothing beats the word-of-mouth reference. Ask around among your friends, neighbors, and family for their experience with an exterminator they used before.
If you can't find any reliable reference, ask the company for a previous client who can vouch for them. Make sure you contact the client to get their review.
Additionally, you can also contact your state's pesticide regulatory office or the Better Business Bureau to get any information on violations or unresolved issues that the company may have had.
Safety in their processes
You also want an exterminator who values your safety during their fumigation. Therefore, confirm that the chemicals they use contain low amounts of toxic chemicals to protect you and the environment.
They should also have the right protective equipment to protect their workers in the event of an accident.
How do I know if a bed bug treatment has been successful?
The results of extermination are never evident until a few weeks after the treatment. If you hired a professional pest controller company, you can tell that the treatment was successful if you don't spot the signs of bedbugs 3 – 4 weeks after the fumigation.
However, since bedbug eggs can take up to two weeks before hatching, you still have to be on the lookout. You might have to spray a chemical after another two weeks to be sure that all the bedbugs are dead.
True success will, therefore, come after six to eight weeks of unnoticed bedbug signs i.e., red, itchy bite spots, dark spot fecal matter, shed bedbug exoskeleton, or live bedbugs.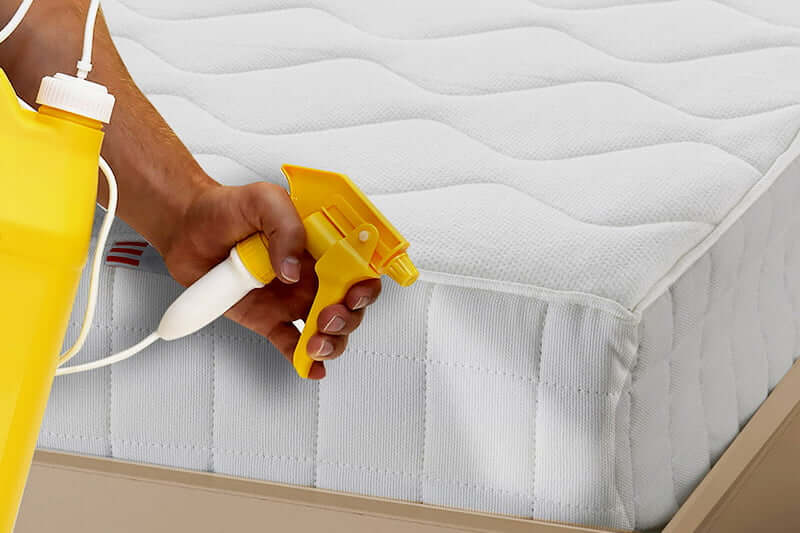 Just because you've completed your bedbug treatment doesn't mean that these bugs are completely gone. So, to prevent them from coming back you need the help of a professional exterminator.
Even though they will cost you more money, you can be sure that these little bloodsuckers won't find their way back to your home again!