Compare Tree Removal Quotes Now
Save Up To 43% - FREE SERVICE
Step 1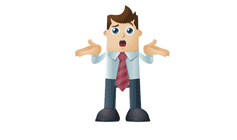 Answer a few questions
about your tree job.
Step 2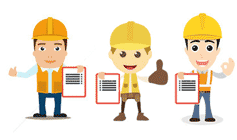 Within seconds, get matched
with top-rated local pros.
Step 3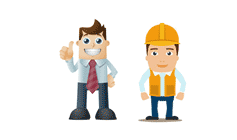 Compare quotes and choose the
best pro for the job.




How Much Does it Cost to Take Down a Tree?
16 January 2020
There are a variety of factors that play a role in how much you can expect to pay for tree removal services. The size, diameter of the trunk, condition, location on property, access and even the type of tree are all factored that contribute to the price.
If you search for tree removal costs, you'll probably find a significant range of prices. The average cost for tree removal will range from $250 to $1,800 although the average homeowner reports spending around $870.
If you have a small tree that is less than 15 feet tall, you can expect to spend a little less at around $250. For trees that are anywhere from 15 – 30 feet tall, you'll probably pay anywhere from $250-900. Any tree that is larger at 40 ft. + will obviously cost you more. You can expect to pay anywhere from $900-3,800.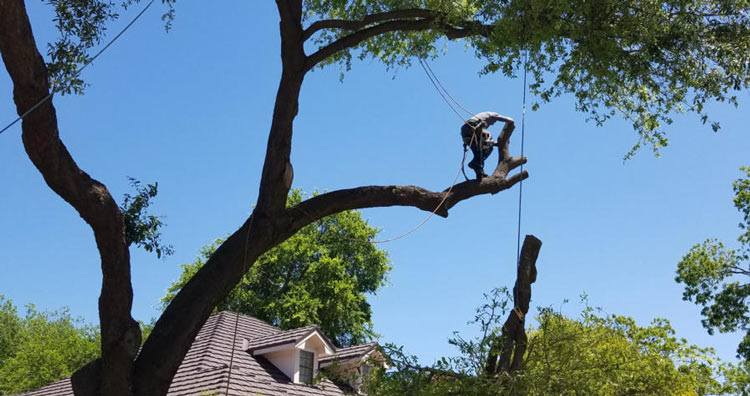 Tree removal companies will never give you a cost per hour to remove a tree, which is actually good news for you. If they charged by the hour, the customer takes on the risk. They can just work slow and rack up a nice juicy bill that you will have to pay.
How tree services actually work is they will come out and inspect the tree and give you a quote for the job. Then if the job takes longer than expected, they have to honor the price they gave you.
It is a much fairer way to run things and means you always get a better job done.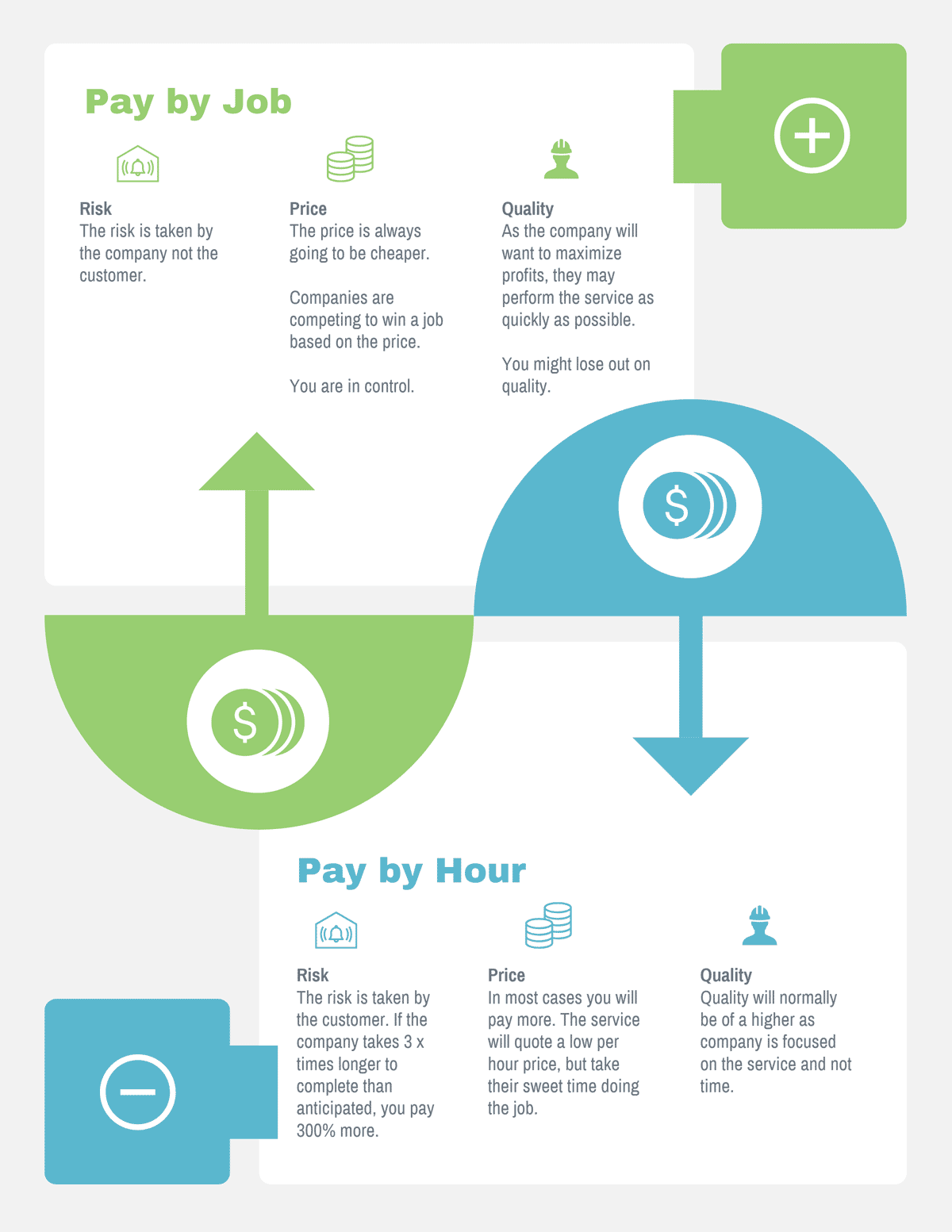 Cost to Remove a Pine Tree
Pine trees are generally pretty straight forward to remove. They have a single trunk and lots of like branches coming off that trunk. Because of their predictable nature, and ease to work with, they are one of the cheaper type trees to have removed.
I know I mentioned above that tree services don't charge an hourly rate, but they do work out how long a tree will take to remove and quote you a price on what it will cost them, plus some profit margin. Because it normally takes far less time to remove a pine tree, you will pay less in general.
The average cost of pine removal last year was $723. But in reality you can pay anywhere from $200 – $1500 for pine tree removal.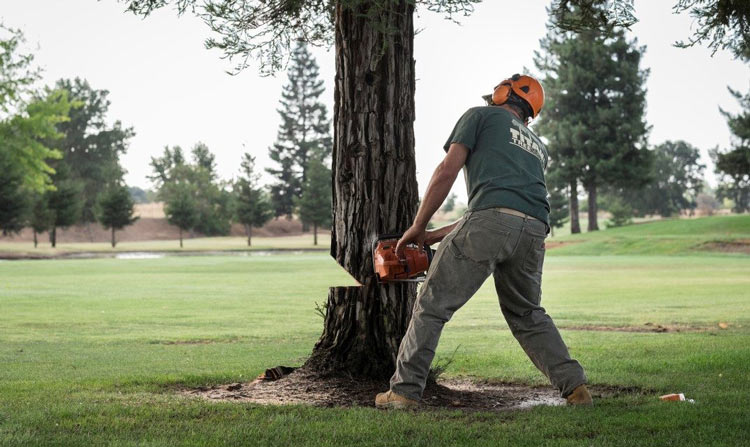 Cost to Remove an Oak Tree
Unlike pine trees, oak is a hard wood which means that it's a more challenging type of tree to remove. They are harder on chainsaws and other equipment, plus they are normally pretty awkward to work on. Because they have long reaching branches, a lot of the time these branches can extend out over fences, sheds and homes making it a tedious process to remove each branch one by one avoiding obstacles along the way.
In fact, companies have to use high powered machinery for its removal, making it a more expensive process.
The average oak tree removal cost ranges from 40-60 feet in height will cost approximately $1,200 – $4,100 for its removal.
Cost to Remove a Palm Tree
The cost of palm tree removal will depend on the species. Date palms have huge trunks that are 3 ft. plus in diameter. They cost more than a regular palm to remove. Son in this case it's not just about the height, but the type of palm tree.
Another thing to consider is palm trees cannot be mulched. They have very acidic trunks and leaves which means they need to be disposed on as general waste. Waste disposal is expensive and does add up when it comes to the cost of palm tree removal.
For a single regular palm tree removal between 15 and 25 foot, you can expect to pay $150 – $350. For a Date palm of the same height will cost closer to $1000.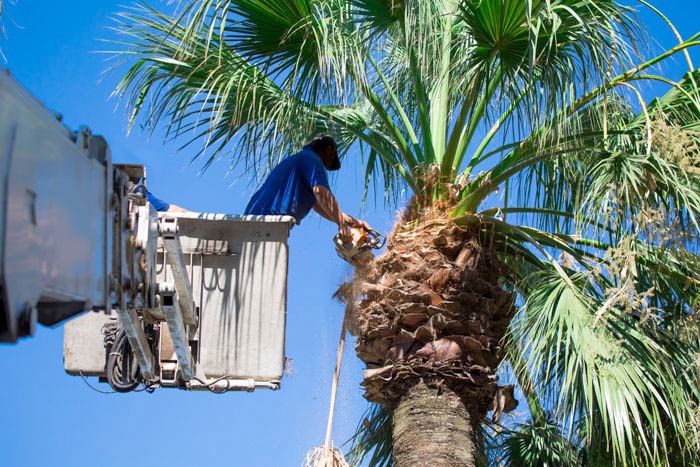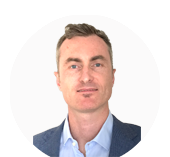 Author: Ben McInerney – Ben is a qualified arborist with 15 plus years of industry experience in Arboriculture. He ran a successful tree service before turning to writing and publishing. Ben is dedicating to providing users with the most accurate up to date information on everything trees.




Cost calculator for tree services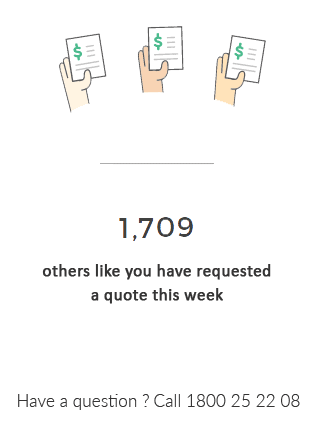 Tree removal is one of the more standardized services when it comes to pricing. This actually makes it easier to predict how much you can expect to pay which a set of variables that will govern the primary pricing factors. The average cost of a tree removal will vary depending on these factors:
Tree Size
The thicker the trunk of the tree, the more sections that it will be needed to cut into once it's been felled. In some cases, a short tree that is thicker may take more time and money than a taller thinner tree. The tree trunk diameter will be measured at chest height which is about 4.5 feet from the ground. It will be rounded up to the nearest half inch and this measurement will factor into the cost.
Location on the property
The tree's location on your land has an impact for several reasons. There is always the risk of damage to nearby properties when it's cut down if the tree is located close to buildings or other structures. When this is the case, extra equipment such as cranes may need to be used. Also, the price will be impacted if the tree is located near power-lines or any type of utility line.
Access to the tree
If the tree is located in an area that may be difficult to access or challenging to reach for other reasons, you can expect to see those challenges affected in the price. For example, trees that may be located near other trees are often more challenging to cut down. Also, trees that may be located on ground that is rocky or sandy can make accessing it challenging.
Time of year
Tree service companies tend to have the majority of their business during seasons of cold weather and windy or rainy weather. These factors in the weather make it more challenging for them to cut down trees which may than be factored into the price. Tree removal that is elective and takes place during a slower season may be less expensive. However, this factor tends to have a lesser impact on the overall price, unless it's an emergency removal.
When it comes to the cost to remove a tree, there is not one set cost. However, by getting an idea of what factors influence the charges you'll have a better idea of what you can expect to pay. You'll also have a better way to compare prices and services.
FAQ's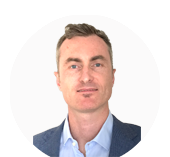 Author: Ben McInerney – Ben is a qualified arborist with 15 plus years of industry experience in Arboriculture. He ran a successful tree service before turning to writing and publishing.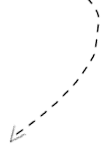 Enter the location of your tree job




LOWEST PRICE GUARANTEED
We're that confident you will get the best quality tree
service at the lowest prices, we 100% guarantee it!

SAVES YOU MONEY
3 local tree services all voted as having the "best price
quality of service by previous users", will quote your job.

SAVES YOU TIME
We have done all background checks so you don have to.
Enter the location of
your tree job