It is often rare to get your pine tree removed for free. This doesn't mean it is not possible.
You may be lucky to get free pine tree removal by negotiating with tree companies that will use it for timber. Also, if the tree is rotting or dying, you can seek out hazardous tree removal programs. If a tree is threatening the safety of the utility lines, trimming or removal may be necessary by utility companies.
The high demand for pinewood is a result of its use for furniture, flooring, and other uses. Pine trees are often worth money. If you have pine trees to remove, you should contact the right companies and negotiate a free removal.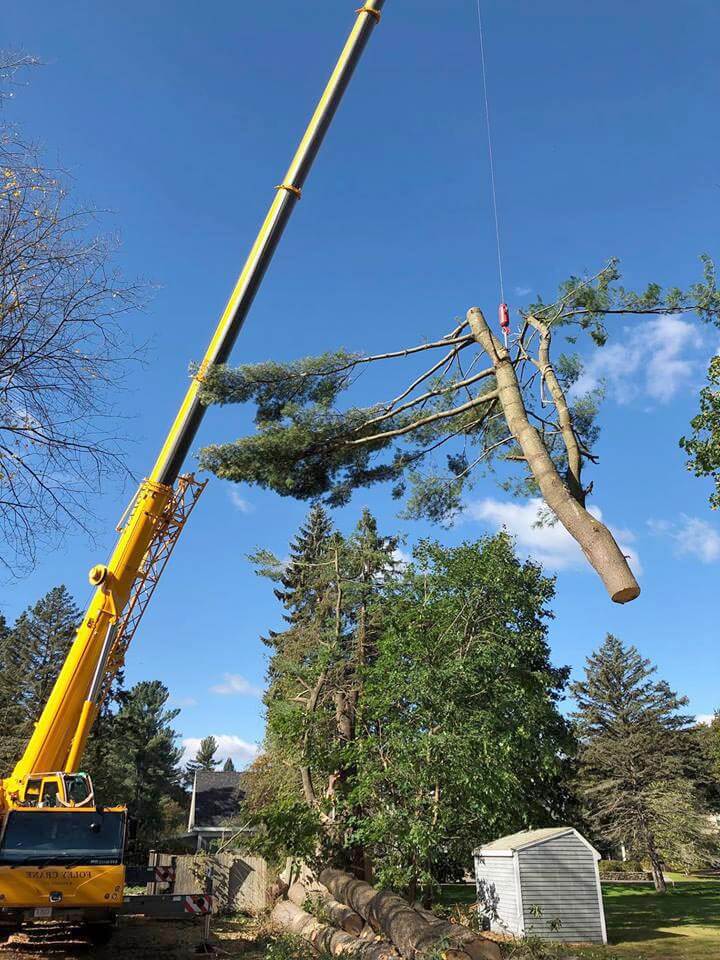 If you have a large number of pine trees on your property, you should reach out to lumber companies around you to see if they'll be willing to remove them for free in exchange for timber. This is especially possible if the pine trees are easily accessible to be felled without hindrance.
However, it's not common to have them over in order to remove a single pine tree from your residential property. A single pine tree is definitely not worth the cost of labor.
Homeowners and neighbors in need of firewood
If you're lucky to live in a neighborhood that cares for firewood, it will be an opportunity to get your pine tree removed for free. This is why it's always a good idea to announce your intention to get rid of such a tree.
The person in need of firewood will definitely do the job. He can also pay for the cost if he's hiring a tree company. This is mostly possible in rural communities where people heat their homes with firewood and where you can easily communicate your needs.
Will utilities remove my pine tree for free?
If your pine tree is located close to powerlines, you can be optimistic about getting free tree removal.
Trees that grow too close to electric lines are a potential hazard. They can cause power interruptions when branches touch overhead lines. Most importantly, electrical arcing and sparking from a wire to a nearby tree branch can cause fires. This is why you shouldn't call your utility company if your pine tree is located close to power lines.
You should not – in any case – try to prune or remove a tree that's touching an electrical wire, whether it's a major utility line or the service line to your house.
Utility companies have line clearance experts who will work on removing such a tree to prevent hazards.
Will Homeowners' Insurance cover my pine tree removal?
There is no straight answer to this. It depends on your insurance coverage and the status of the tree. If your pine tree is healthy without posing any obvious danger, homeowners insurance will likely not cover the removal.
Your insurance policy traditionally covers damages from named perils such as windstorms, fire, lightning, falling objects, snow, or sleet. In most cases, if a tree falls on your home under any instance as mentioned above, insurance will cover the cost of removal.
If your tree is healthy without any sign of hazard, then you should seek help from means other than your homeowners' insurance.
Get Matched with a Tree Removal Expert in Your State
How much are pine trees worth?
It's difficult to say the exact value of a pine tree, especially the lone ones standing in your yard. In any case, you should consult lumber companies close to you to assess the value of your pine tree. You may likely get a subsidized removal by having them remove the cost of the pine tree from the actual cost of tree removal.
It is common to value pine trees per acre of the plantation. If you have a lot of those trees on your plantation, then you'll easily see a number of lumber companies that will pick interest in your free pine tree removal.
On average, Pine timber generally sells for less than ten cents per board foot. So, a big pine tree might be worth $30. However, on a big well-managed plantation, that could add up to significant value.
Will the city cut a pine tree for free?
If the pine tree is on the city's land, they will likely remove the tree at no cost to you if it is hazardous to your home. The cost of removing pine trees that are on your property will need to be covered by you.
If there's a tree on the city's property hanging over your property or home, you can report this to your local government and they will pay for the experts to come and remove the offending branches or the whole tree.
The cost to remove a pine tree varies greatly depending on the type of pine tree, its height, size, and the location on your property.
The average cost of pine tree removal is $1,377. On the low end, you might pay as little as $150 to remove a small pine tree. If you have a very large pine tree, it could cost closer to $3,000.
Other factors that determine the cost of removing your pine tree include accessibility of the tree, number of branches, and stump removal.
Do I need a permit to remove my pine tree?
You don't need a permit to remove your pine tree from your residential property in most states. However, states like Georgia require that you get a permit before uprooting pine trees that have a diameter of 12 inches or more.
In Maryland, you're required to replace trees that are removed with new pine seedlings.
Get Matched with a Tree Removal Expert in Your State
How to cut down a pine tree
It's likely you resolve to a DIY option if you're not lucky enough to get a free pine tree removal. Follow these steps for successful pine tree removal.
Estimate the tree height and survey the area to be sure that it's not going to pose a danger to any nearby structure while landing.
Wear safety equipment such as a hard hat, gloves, goggles, and ear protection.
Dampen your chainsaw blade with water to lessen the amount of pine sap that will stick to the blade
Make a straight cut into the tree at waist height with your chainsaw. The cut should go approximately halfway into the tree.
Make a downward cut at a 45-degree angle that goes to the center of the tree and hits your first cut to make a notch.
Make a single straight cut just above the notch on the opposite side. The tree should begin to fall in the direction of the notch.
Pine Tree Removal companies near me
If you're not able to remove your pine tree for free, cheap removal options would be your next thought.
The fastest and easiest way to get an affordable pine tree removal is by getting 3 Estimates from the most affordable tree services near you using this FREE service.
GoTreeQuotes quickly matches you with the 3 tree surgeons voted #1 by previous users in your area.
Scroll up to the top of the page and enter your ZIP Code in the blue form at the top of the page.
Give us a few details about your tree trimming or removal job plus some contact information.
Your tree details are forwarded to the closest three tree services all voted best priced who will also price your tree job.