Finding and hiring the right family tree service for any kind of job, be it as simple as cutting a tree or complex like root collar excavation is something you need to approach carefully.
To find a family tree service near you, start by asking the right questions. Are they certified for the job, do they have arborists in their team, are their staff experienced? It is recommended to find a family tree service that is not only near you but one that is top-rated and recommended by professionals.
Many factors determine how much you end up paying for a tree service. For instance, costs to trim a tree that is at the center of a yard are significantly lower than those for the same tree but very close to a house or next to a busy road.
| Service | Low | High |
| --- | --- | --- |
| Tree trimming | $120 | $1,190 |
| Tree removal | $225 | $3900 |
| Fallen tree removal | $150 | $1900 |
| Tree Limb Removal | $35 | $250 |
| Stump Grinding | $187 | $400 |
| Arborist Report | $300 | $450 |
| Tree Inspections | Free | $100 |
Other factors to consider when you are approaching a tree service include:
Tree height- the taller the tree, the higher the costs for any kind of service needed.
Age of the tree
Tree species- Some trees (such as oak trees) require more work.
Condition of the tree- For example, is the tree healthy or leaning?
Number of trees to be worked on
Season – You may save money by having your trees worked on in the off-season if possible. For instance, it's cheaper to cut trees in the winter when there is not much demand for tree-cutting services.
The table below shows some cost estimates for common family tree services based on average national rates. You may pay slightly more or less based on the variables described earlier.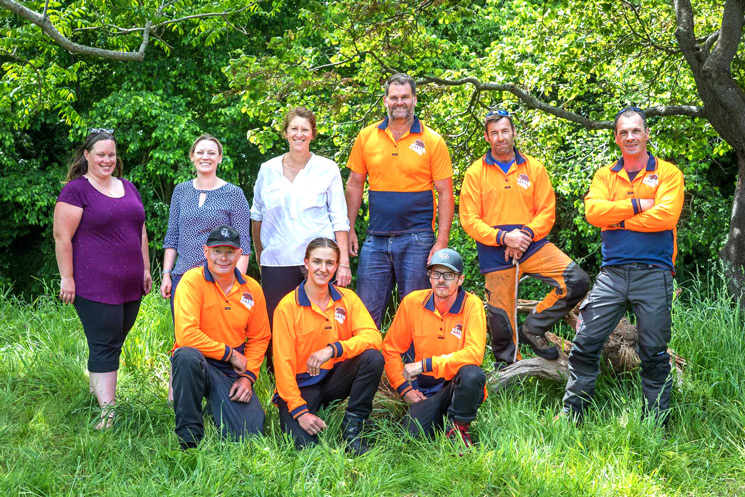 Choosing A Good Family Tree Service Near Me
There are possibly hundreds of family tree services in your area to choose from but finding them or selecting the best one is important. In most places, tree companies rarely advertise their services and have little to a non-existent presence on the internet. You may find yourself digging through telephone directories the old-fashioned way to find a family tree service near you.
Here are some tips to help you find a good family tree service that is near you:
You may lucky to know someone who works for a tree service, has a relative who works at a local tree service or has had their trees taken care of by a reputable tree service. If this is the case, then a referral could help a great deal as you will be sure that they will deliver on the job.
However, you still need to do your due diligence even after the referral. Sometimes, people recommend businesses because they have partial information or are just aware of their existence. What if the tree service was recently established and does not possess the expertise you need? Make sure you go through the research process and find out if the recommended tree service is right for you.
ii. The Internet- Local Business Search
If you are like most people, you will probably turn to the internet when trying to research or find a service or company to do a job. The internet is a great resource when it comes to finding businesses or linking up with experts but you need to know how to look and be careful when it comes to selection.
iii. Use this FREE service!
The fastest and easiest way to get 3 Estimates from the most affordable tree services near you would be by using this FREE service.
GoTreeQuotes helps to match you with the three local tree arborists who have been voted previous users in your area as being quality acts.
Scroll up to the top of the page and enter your Zip code.
Fill out the quick 23-second form with details about your tree job.
Your tree details are forwarded on to the closest three tree services who will bid on your job at a great price.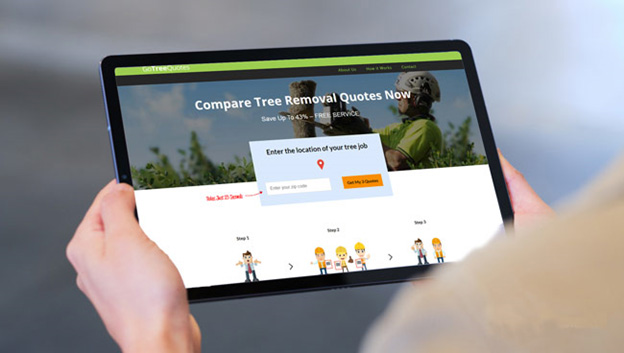 Questions to Ask Family Tree Services
Here are 6 important questions to ask a tree service when they are quoting your job.
You should only work with a tree service that is ready to provide a written estimate as soon as you brief them on what needs to be done. Experienced and qualified professionals can tell how much they would charge if given accurate information about the job that must include:
The type of tree (s).
Position in the yard
Age and size of trees
Type of service (trimming, pruning, cutting, normal maintenance, etc.).
Number of trees
Your location, etc.
Don't accept any verbal estimates when looking for tree services as costs can grow exponentially after a site visit or when the company is on-site. Details regarding payment should be ironed out before the actual job begins.
2. Are You A Certified Arborist?
It's best to work with a company that has trained and certified arborists in their team. An arborist is a trained professional whose job is to take care of trees of all types. They will be of great help in many ways. For instance, it's only a trained arborist who can write you a report to present to the authorities when you want to cut certain protected trees in or around your yard.
Working with licensed tree service is a no-brainer. It will help when it comes to clearing with the taxman and if there are disputes along the way. For instance, what would you do if the tree company improperly cuts a tree and it falls onto your neighbor's roof? For this and many other reasons, only work with a licensed company.
Ask the tree service if they have both public liability insurance and also workers compensation for their staff members. Third-party insurance will help if there is property damage when your trees are being worked on while staff insurance takes care of injuries.
Will You Be Taking All Green Waste?
It's important to know what will happen to all the waste that comes after the tree services are done with their primary job. Where will all the green waste go? Most tree services also provide clients with disposal services for things like dead trees, trimmed branches, tree stumps, etc.
How Much Experience Do You Have?
Ask them how long they have been providing tree services in your area. Ask for evidence to show that they have done jobs as far back as they claim.
Featured and Trusted by:




Cost calculator for tree services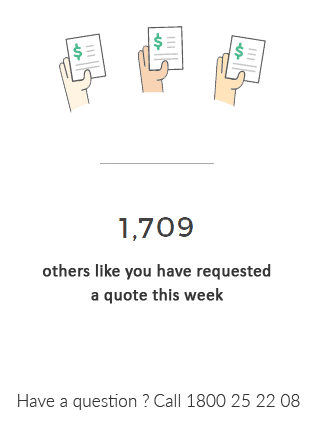 Hiring Family Tree Services in My Area
Here are some additional tips to help you select the best family tree service in your area:
Google and other search have improved their search capabilities to recommend businesses and experts closest to you. When you are searching for a family tree service near you, including your exact location in the search term for the most accurate and relevant results. For example, I could search for "tree trimming services, Fort Worth, Tx" to find trimmers in my area.
If you have elected to do the business research and find the best candidates, then it might make more sense to ignore the sponsored results first. Tree services may advertise their services all over the internet and appear at the top of your results page.
The beauty of searching online for businesses and experts is the ability to read unfiltered reviews and ratings from past customers. Be sure to browse through their business listing pages on the internet to know if they can be trusted and do great work. An overall rating below three stars should give alarm bells.
Be Thorough with Your Requirements
Be sure that the tree service you hire is competent and passes all your requirements. A bad selection can lead to costly problems. For instance, you wouldn't want to hire a company that ends up destroying your neighbors' property when they cut or trim your trees.
Finally- Put It Down on Paper
Ensure that you sign a written agreement with the tree service before they commence the work. You can also rely on promissory estoppel or quasi-contract should a dispute occur at some point without a written contract but this is not the recommended approach.