Flowering – April – October.
Habitat – Disturbed sites, roadsides, railroads.
Origin – Native to tropical America.
Other information – This weedy but attractive species can be found scattered throughout Alabama. The plant can be identified by its sessile leaves, pubescent stems, and blue flowers.
The genus name Heliotropium derives from the Greek "helio" meaning "the sun" and "tropi" meaning "turn" as it was once believed that the flowers of the plant turned towards and followed the sun.
The species epithet "amplexicaule" derives from the Latin "ample" meaning "embrace" and "caul" meaning "stem" referring to the sessile leaves.
Resource: Alabamaplants.com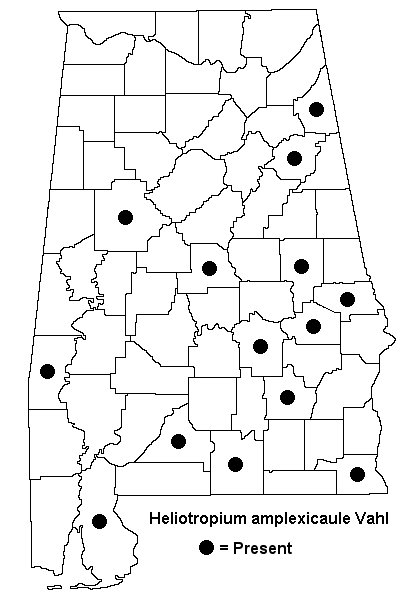 Photographs taken off Auburn-Opelika Rd, Opelika, AL., 10-5-05.